CATIA, all you need to know about this CAD software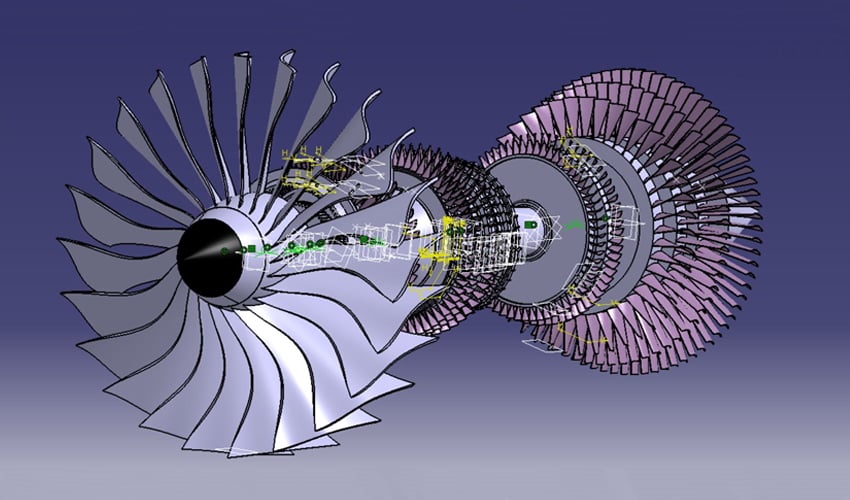 Today there are many different types of 3D modeling software for different types of users depending on their needs, from beginners to professionals. CATIA (Computer-Aided Three dimensional Interactive Application) software is a complete multi-platform solution for computer-aided design, manufacturing, engineering, 3D and PLM. Marketed by manufacturer Dassault Systèmes, the software is ideal for creating solids, surfaces, assemblies, drawings, fabrication and analysis. Like Solidworks, the program features powerful parametric modeling and photorealistic rendering tools. However, CATIA offers more advanced functionality for surfaces and modules for different industries.
CATIA was developed in the 1970s, initially for the in-house needs of Dassault Systèmes teams, notably for the development of the Mirage fighter aircraft. Later, they used the program for other means of transport in different industries, such as aerospace, automotive or marine. From its creation until today, Dassault Systèmes teams have continued to innovate and improve the software's functionalities until they reached the most recent version of CATIA (V5-6R2016). It is undoubtedly one of the most widely used CAD software programs in many industries, including additive manufacturing.
What are the features of the software?
As mentioned, the software was originally developed for use in the aerospace industry, which is why it is considered a complex tool used, first and foremost, by engineers and designers in the automotive and aerospace industries. The construction sector can also take advantage of this technology to develop architectural models, as is the case of the Guggenheim Museum in Bilbao, which incorporates great complexity in its form.
CATIA is capable of creating parametric and non-parametric 3D models. The program is compatible with Windows, Solaris, IRIX and HP-UX. CATIA is available in English, French, German, Italian, Japanese, Chinese, Korean and Russian. Like most design software, we will need to export the models in STL format in order to bring them to life with our 3D printer. If you have earlier versions of the program, Dassault Systèmes provides tools to convert the files to be compatible with the most recent versions. In addition, the software is available in two types depending on the functionality required: CATIA V5-6R Experience and CATIA 3DExperience.
CATIA V5-6R
The latest version (CATIA V5-6R2016) is characterized by improved user productivity and ease of use. It also offers high compatibility with other versions and a smoother transition to 3DExperience. This version will provide a superior collaboration experience where teams can cooperate using a "plug and play" virtual reality screen to interact with the product. Users can take advantage of more than 80 enhanced features such as room design, Generative Shape Design applications and more.
CATIA 3DExperience
The second version, CATIA 3DExperience, is similar to the V5, but with the additional integration of other Dassault Systèmes brands such as Simulia, Delmia and Enovia. In order to cover other areas of activity, CATIA 3DExperience offers the possibility to visualize models without having to install additional applications, which contributes to the ease of use and enrichment of the experience. In general, this version offers 3D modeling and simulation capabilities that optimize the efficiency of all types of users, both experienced and inexperienced.
The various CATIA applications form the core of Dassault Systèmes' solutions to meet the needs of the industry. These programs revolutionize the way companies design, develop and bring new products to life. To purchase one of the CATIA versions, you can consult the licenses on the Dassault Systèmes website HERE.
What do you think about this software? Would you use it? Let us know in a comment below or on our Facebook and Twitter pages! Sign up for our free weekly Newsletter, all the latest news in 3D printing straight to your inbox!