Carbon and Kú Cycle Are Working Together to Improve the Performance of Triathletes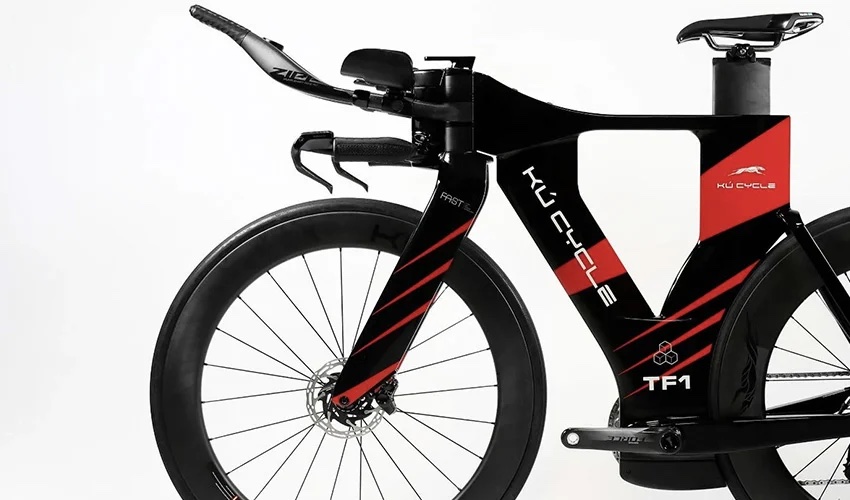 In sports like triathlon, what matters most is being the fastest. And though of course the athlete is largely responsible for the speed, high performance equipment is also paramount to going as fast as possible. Due to this, companies are constantly looking for new innovations to improve the features of their bikes, and 3D printing seems to be becoming an increasingly popular technology. One example is with Pinarello, which made the BOLIDE F HR 3D, the world's fastest bike that incorporates 3D printed parts. Mythos and IXO have also collaborated to produce a new stem using metal additive manufacturing.
It is now Kú Cycle's turn to benefit from 3D printing to manufacture its new product. The Netherlands-based company aims to design a high-performance bicycle that is perfectly suited to cyclists. It is collaborating with QDP, a company that designs plastic solutions for many applications. With the help of Carbon, Kú Cycle has now introduced the Kú TF1, a custom-made triathlon bike.
The Kú TF1 Is a Customized Bike for Cyclists
You have almost certainly already heard of Carbon. In the world of sports, the 3D printer manufacturer has already contributed to the creation of numerous sports equipment. Indeed, it has already 3D printed a baseball glove, the FutureCraft 4D in collaboration with adidas, and the world's first field hockey helmet liner, among other projects. For these reasons, QDP contacted the company to manufacture the Kú TF1. As it was looking for a way to build faster while lowering manufacturing costs, Carbon's 3D printing solution seemed to be the right choice. Moreover, QDP was able to create durable lattice structures by using the Carbon Design Engine software.
When designing the Kú TF1, Kú Cycle and QDP wanted to create a custom bike which was perfectly adjusted for the comfort of the cyclist while still improving performance. The partners therefore focused on the handles and armrests. These devices had to be both rigid to ensure control of the bike and comfortable for the rider. Numerous tests were carried out, and in the end the EPU 41 material from Carbon was chosen. This material not only met all the requirements, but also could resist sweat, a key factor when racing.
Meanwhile, for the bike's gearshift, EPX 82 was chosen. Based on the customer's feedback, QDP tailored the printed part to be as accurate as possible for the cyclist. With Carbon's 3D printing solution, Kú Cycle and QDP were able to produce a prototype in one month, compared to several months with a traditional manufacturing technique. No figures were given, but the additive manufacturing technology also helped minimize costs.
Since the launch of the Kú TF1, several Ironman and triathlon world champions have been able to try it out, and according to Carbon, the feedback is satisfactory. Over the next 12 to 18 months, Kú Cycle is looking to produce between 500 and 1,000 bikes. For more information on the Kú TF1, click HERE.
What do you think of Kú Cycle? Let us know in a comment below or on our LinkedIn, Facebook, and Twitter pages! Don't forget to sign up for our free weekly Newsletter here, the latest 3D printing news straight to your inbox! You can also find all our videos on our YouTube channel.
*Cover Photo Credits: Carbon