Canon introduces new ceramic 3D printing technology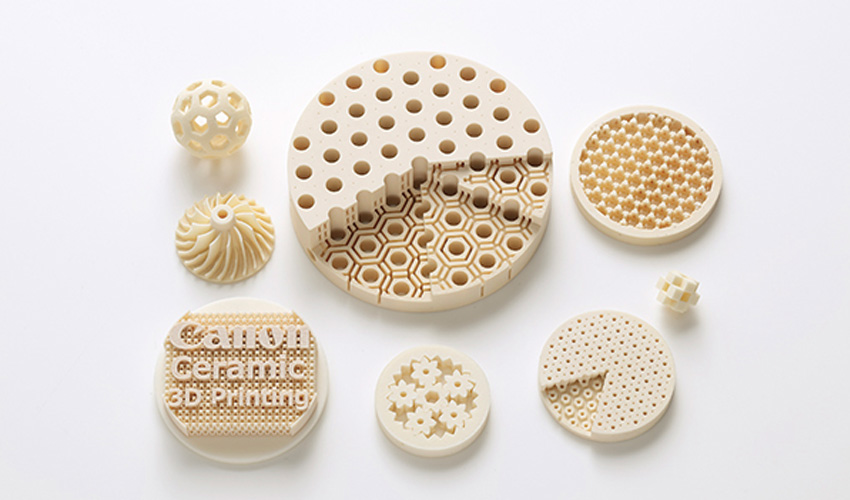 The Japanese group Canon, a specialist in cameras, copiers and printers, entered the additive manufacturing market last year. When they manufactured its FDM MARV 3D printer. This small office machine didn't met a huge success. As it was confined to the Chinese, Korean, German and Polish markets. The 2D specialist, however, has announced that they are developing a new 3D ceramic printing technology and its proprietary material. The manufacturer states that the new Canon ceramic 3D printing technology could allow the creation of complex geometries such as honeycomb structures.
Ceramic additive manufacturing is a growing niche market, although it has yet to gain as much hight as plastics or metal processes. Ceramic-based materials require an annealing process that can cause shrinkage of the workpiece and a lack of precision. Technology seems to be slowed down by these few challenges, even though some players have managed to succeed like the New York based Kwambio or the Israeli XJet. Note, however, that 3D ceramic printed parts have interesting properties. Such properties consist of good resistance to heat and corrosion, as well as insulating properties. Attributes that makes it good for sectors such as the dental industry.
The Canon ceramic 3D printing Technology
Canon claims to have developed a ceramic material based on alumina, adapted to its new technology but also to selective laser melting. The manufacturer, however, remains quite discreet about the technology itself. The material would stably produce complex parts such as hollow and porous structures. That would otherwise be more difficult to obtain by a process of molding or cutting metal. For example, when creating honeycomb shapes with hexagonal recesses and a diameter of about 19 mm. High accuracy can be obtained with differences in external dimensions of less than 0.8% before and after the annealing phase.
Regarding the applications of this ceramic additive manufacturing technology, Canon says: "Ceramic parts manufactured using this technology are expected to be used in all kinds of industrial fields, from parts for equipment that demands heat resistance and insulating properties, such as electric furnaces, to parts facing exposure to chemicals that require corrosion resistance." Eventually, the Japanese manufacturer hopes to expand its 3D printing process of ceramics in the health sector. This by developing a material compatible with medical and surgical uses. Find more information on the Canon ceramic 3D printing process HERE.
3D printed ceramic parts

What do you think of this new Canon ceramic 3D printing technology? Let us know what you think in a comment below or on our Facebook and Twitter pages! Don't forget to sign up for our free weekly Newsletter, with all the latest news in 3D printing delivered straight to your inbox!