Can 3D Printing Reduce the Carbon Footprint of Footwear Production?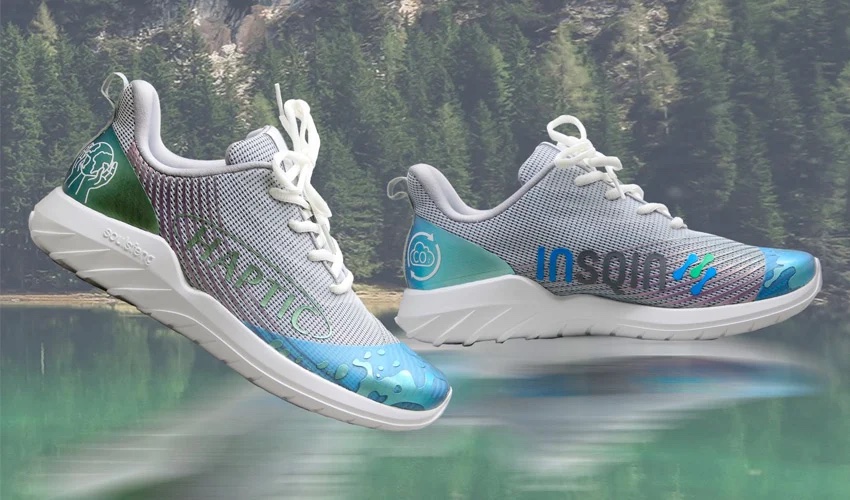 Did you know that 3D technologies could also be used to reduce the carbon footprint of sports footwear? The idea of doing just that was recently realized thanks to a collaboration between the companies Covestro, Huafeng and Cyclone. Specifically, they have developed a solution to produce footwear in a more sustainable way. Using recycled polyester-based fabric (rPET) and the HAPTIC® 3D manufacturing system, the initiative has been a success and has resulted in creating these original sneakers, which are more environmentally friendly.
Nowadays, the combination of additive manufacturing and footwear is nothing new. Many of the projects we have already highlighted seek to offer original shoes quickly and optimally. Companies such as Adidas, New Balance or even Reebok are already relying on this new manufacturing method that offers customized solutions, at a lower cost and locally. Another one of the great advantages offered by the process is the reduction of wasted material, as well as the possibility of using recycled materials, which is the key aspect that makes the difference in the Covestro, Huafeng, and Cyclone project.
The 3D HAPTIC® Technology
To manufacture the shoe and reduce its carbon footprint, the teams used CYCLONE® recycled polyester for the upper area of the shoe, which is selectively coated using Huafeng's HAPTIC® technology. This process is based on the dispersion of polyurethane. Half of its carbon content comes from bio-based raw materials. Thanks to that, greenhouse gas emissions are significantly reduced compared to other production systems. "This is good news for anyone who wants to maintain an athletically active and healthy lifestyle in the most environmentally friendly way possible," says Tony Wu, Global Marketing Manager, at Covestro.
Tony Wu also explains that the combination of Huafeng's HAPTIC® 3D printing technology with other methods allows complex 3D shapes to be applied to footwear fabrics. This creates original, modern, high-performance designs that are ideal for the world of sports footwear. With regard to environmental responsibility, Dr. Thomas Schmidt, Head of Innovation at Huafeng, says: "Sustainability is key to our market success at Huafeng. With the help of Covestro's partially bio-based PU dispersion, we were able to introduce more renewable ingredients into our HAPTIC coatings, further enhancing their sustainability." You can find more information on Covestro's website HERE.
What do you think of the use of 3D technology to reduce the carbon footprint in the production of footwear? Let us know in a comment below or on our Linkedin, Facebook, and Twitter pages! Don't forget to sign up for our free weekly Newsletter here, the latest 3D printing news straight to your inbox! You can also find all our videos on our YouTube channel.
*Cover Photo Credits: HUAFENG Textile Technologies