Introducing Cacao Eco Village, a Sustainable Village Made from 3D Printed Cocoa Waste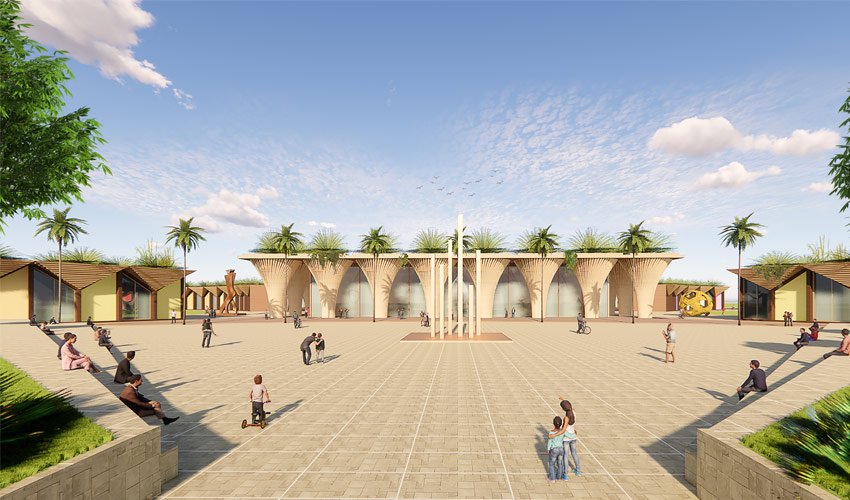 The architecture studio Valentino Gareri Atelier has imagined a new concept for a sustainable and smart village. Called Cacao Eco Village, it has been conceived as a hub of technologies, a space for the innovators of tomorrow, a place of co-creation respectful of the planet. The studio has decided to rely on local and natural resources to create the village, notably cocoa beans, with which it will 3D print some of the infrastructure. This architectural design, whose construction starts this year in Ecuador, is based on 5 pillars: modularity, connectability, functionality, sustainability and access to tech .
The village is planned to be in Pedernales, Ecuador, in the middle of panoramic beaches, in an idyllic setting. The studio is creating this infrastructure for the chocolate manufacturer MUZE Cacao and the association Avanti and was largely inspired by the concept of circular economy. Valentino Gareri, founder of the eponymous architecture firm, explains, "We have pushed the circular economy core principles so much that they informed the design philosophy of the entire project. The cacao waste, result of the chocolate production process, will be re-utilized for 3d-printing parts of the village. Waste is not only turned into a resource, but into architecture.  In the not-too-distant future, we will be able to design buildings entirely made of natural materials and recycle them at the end of their life cycle in order either to create new ones, or to return them back to nature."
It is thus from cocoa waste that some of the buildings will be made, more particularly 3D printed. The shells of the fruit are intended to be transformed into bioplastic, material which is then extruded by the printer. It is not specified exactly what will be 3D printed, but it is in any case a production method that fits into the pillar of sustainability. The firm does not stop at additive manufacturing; it has in fact imagined a rainwater collection system in the roofs, a ventilation method and uses local materials like wood and bamboo.
Cacao Eco Village will bring together a cocoa processing plant, an education and research center, a chocolate factory, but also a place to live and work together. It is entirely modular and can be adapted to different sites according to the architectural firm. The objective is to be able to reproduce it elsewhere and thus propose a real network of sustainable and connected villages. The firm concludes, "Cacao Eco Village will be the 'Silicon Valley' for circular economy innovators; a space for inventions and a testing ground for AgTech, FinTech, FoodTech, startups, and companies; manufacturers, producers and researchers. A destination and co-living space for change-makers to connect, co-create, get inspired, and ignite social impact."
We will keep you updated on the evolution of this innovative project! In the meantime, you can read the official press release HERE.
What do you think about the reuse of waste materials in construction? Let us know in a comment below or on our Linkedin, Facebook, and Twitter pages! Don't forget to sign up for our free weekly Newsletter here, the latest 3D printing news straight to your inbox! You can also find all our videos on our YouTube channel.
*Cover Photo Credits: Valentino Gareri Atelier