U.S. Air Force installs 3D printed parts on C-5 Super Galaxy to reduce sustainment costs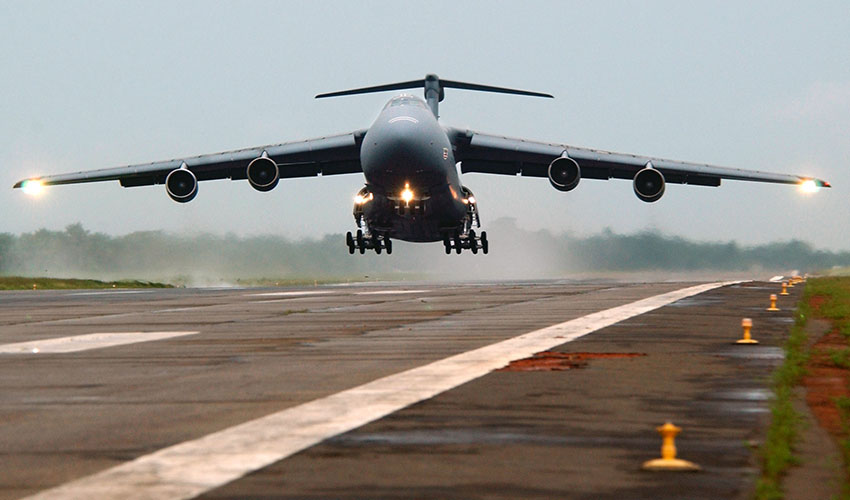 A C-5 Super Galaxy with tail number 70035 is the latest beneficiary of additive manufacturing technologies. In fact, at the Dover Air Base in Delaware, the large military aircraft has been upgraded with 3D printed metal and plastic parts. The aim is to reduce sustainment costs by integrating the 3D technology on the aircraft.
After several weeks of printing, 17 parts in both polymer and metal were installed in less than three days. Eddie Preston, a senior materials engineer for the Rapid Sustainment Office (RSO) declared, "It is innovative ideas such as these that continue to drive down sustainment costs, leading to improved weapon system readiness. If you can imagine sitting on a commercial aircraft, everything around you including parts of the seat you are sitting in, we can print."
The RSO worked with innovative engineers at the C-5 Program Office, Air Mobility Command and the 436t Airlift Wing (which operates the aircraft). The 3D printed parts included cabin components, crew bunk areas of the plane, including overhead panels, reading and emergency light covers, window reveals, gasper panels and aluminium seal retention handles.
What are the advantages of integrating the technology?
One of the goals of the U.S. Department of Defense (DoD) is the rapid adoption of additive manufacturing. The Rapid Sustainment Office was actually set up the year before to reduce the sustainment cost of aging aircraft. John Hedke of the U.S. Air Force (USAF) Life Cycle Management Centre (Product Support Engineering Division) commented, "Currently, the Air Force lacks a standardised and centralised process to rapidly implement new technologies at scale […] The RSO is resourced and empowered to discover/ implement new technological methods for the Air Force".
For example, the RSO engineers redesigned the seal retention handles to be ergonomically friendly, lighter weight and more robust to installation variation. According to the engineers they were able to reduce build time and eliminate two tone, multi-coat paint scheme that had been used since the inception of the aircraft, continuing to drive cost down.
Also, the engineers collaborated with the polymer raw material supplier to reduce post-processing time by printing the parts directly in a "gunship grey".
Compared to traditional means of obtaining the replacement parts, it only takes a couple of days to print parts. This means huge savings in terms of time and cost considering it could have taken weeks, months or even years otherwise. Finally, as the USAF's AM library of parts grows, the benefits of additive manufacturing will become exponential.
Find out more information HERE.
What do you think of the C-5 Super Galaxy integrating 3D technologies?  Let us know what you think in a comment below or on our Facebook and Twitter pages! Don't forget to sign up for our free weekly Newsletter, with all the latest news in 3D printing delivered straight to your inbox!