Bugatti Bolide: a light and fast vehicle thanks to 3D Printing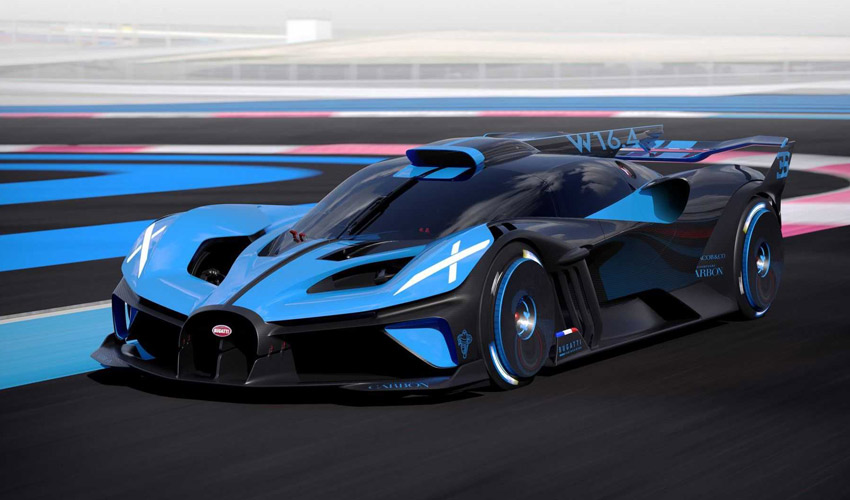 The French carmaker Bugatti has probably imagined the lightest, fastest and most aggressive vehicle in its range. Called Bolide, this sports car is an assortment of new technologies, relying, in particular, on additive manufacturing to reduce the weight of its components. It weighs about 1,240kg (2733.7lbs) compared to the 1,996kg (4400.4lbs) of its flagship Chiron model, while achieving a weight-to-power ratio of 0.67. For now, the hypercar is only an experimental study, but it could very well go beyond the project stage by demonstrating all the benefits of automotive additive manufacturing.
In January 2018, the French brand revealed a first brake caliper printed in 3D metal, more precisely titanium. This first in the automotive sector reduced the total weight of the part by 2kg (4.4lbs), a 40% reduction. One year later, Bugatti renewed its confidence in 3D printing technologies by relying on the SLM Solutions process to build not only a spoiler support but also an engine mount. Henrik Hoppe, a doctoral student at Bugatti, explains: "Through the process known as selective laser melting, commonly known as 3D printing, new, hollow, ultracomplex components that are stiffened from the inside can be produced which are very lightweight and yet extremely rigid and strong. We are using these advantages for a growing number of components in our hyper-sporty cars."
Bugatti Bolide, a compilation of new technologies
Bugatti has drawn on its experience in additive manufacturing to design this new sports car, which incorporates numerous 3D printed parts, with the ultimate goal of reducing weight while maintaining high rigidity. Looking at the additively designed components, we can cite push rods weighing only 100 grams, which have an internal support arch that provides sufficient strength to support loads of up to 3.5 tons. It would appear that topology optimization methods were used in order to obtain a structure that could withstand pressures mainly concentrated in the center of the part.
Another part printed in 3D on the Bugatti Bolide: a mounting bracket for the front wing. Printed in titanium, it weighs only 600 grams, with an inner wall thickness of 0.7 mm. According to the manufacturer, it could withstand an aerodynamic force of 800 kilos! If we stay on the wings of the vehicle precisely, the one at the rear would be connected to the central carbon fiber wing by another titanium component printed in 3D. This joining element would weigh only 325 grams. Finally, there are radial compressors mounted on the wheels that cool the brakes while reducing lift at higher speeds. They would be made with a 3D printed titanium bowl with a thickness of 0.48 millimeters.
Frank Götzke, Head of New Technologies at Bugatti, explains: "As an experimental vehicle in the form of a racing car, the Bolide is no show car: it is an uncompromisingly road-ready extract of Bugatti's complete technological expertise. Bugatti enthusiasts will also find these cutting-edge technologies in other vehicles in the future. It is the Bolide's many technological highlights that make it so special. But these can also be transferred to production vehicles. This is what we are continuing to develop and work on, because Bugatti has set itself apart with its impressive innovations for over 110 years – and will continue to do so in the future." So it would appear that the manufacturer has not finished surprising us! In any case, you can find more information HERE.
What do you think about how the Bugatti Bolide has used additive manufacturing? Let us know in a comment below or on our Facebook and Twitter pages! Sign up for our free weekly Newsletter here, the latest 3D printing news straight to your inbox!
*Thumbnail photo credits: Bugatti