Bottletop: the 3D Printed Store in London
Published on December 13, 2017 by
Jamie D.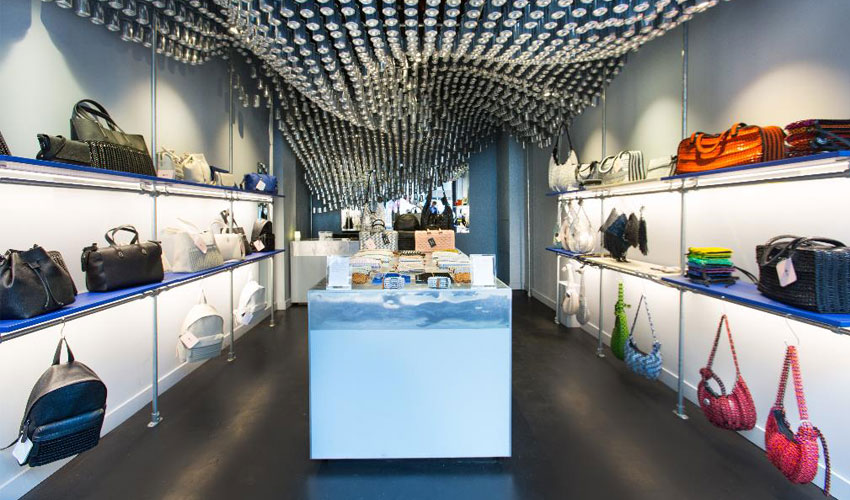 It is of the utmost importance that you visit Regent Street in London soon. Not just because of the picturesque scenery, fashion and art in the centre of London, but because a 3D printed store has opened its doors. Bottletop's incredible store features an interior that was 3D printed from 60,000 recycled plastic bottles and 5,000 cans!
Bottletop specialises in the manufacturing of handbags made from bobbin tabs since working with leather goods firm Mulberry. Turning to sustainable materials, Bottletop have opened a store consisting of 3D printed parts from plastic bottles. In addition, they have a KUKA 3D printer on display next to their keychains and jewelry bags.
Bottletop: 3D Printed Store
However, the store isn't finished yet. Many additional upgrades are planned. "The store will change over time and become a real recycled paradise", says Oliver Wayman Bottletop co-founder. "There are not many people who are familiar with 3D printing or robotics. If we can show how these technologies can be used to reduce waste in the construction and fashion sectors, then this is a very convincing argument." Some of the planned upgrades include covering the walls with 3D printed panels to offer customers a more novel shopping experience.
Krause Architects designed the main store's interior. In addition, Al Build's KUKA 3D printers created the majority of the store's structures. These powerful machines are capable of printing the recycled filament and can create structures up to 3.2 x 2.4 x 2.8 metres!
3D Printing and the environment
Discussing the store, Wayman added, "For the first time, our visitors will see how this technology can be used sustainably while shopping. It is very satisfying for us to know that our customers can witness the transformation of the store, from a sleek exhibition space to an "upcycled" ecosystem. On the ceiling, we will find our metal canopy with thousands of cans embedded in a 3D printed lattice structure suspended from the ceiling."
Bottletop is a project that could bring to the public's attention 3D printing and it's environmental opportunities. Through integrating 3D printing and recycling, this shows a store can be fun, fashionable, and environmental.
Did you find this interview interesting? Let us know in a comment below or on our Facebook and Twitter pages! Sign up for our free weekly Newsletter, all the latest news in 3D printing straight to your inbox!