Boom Supersonic using 3D printing technologies to build the world's fastest airliner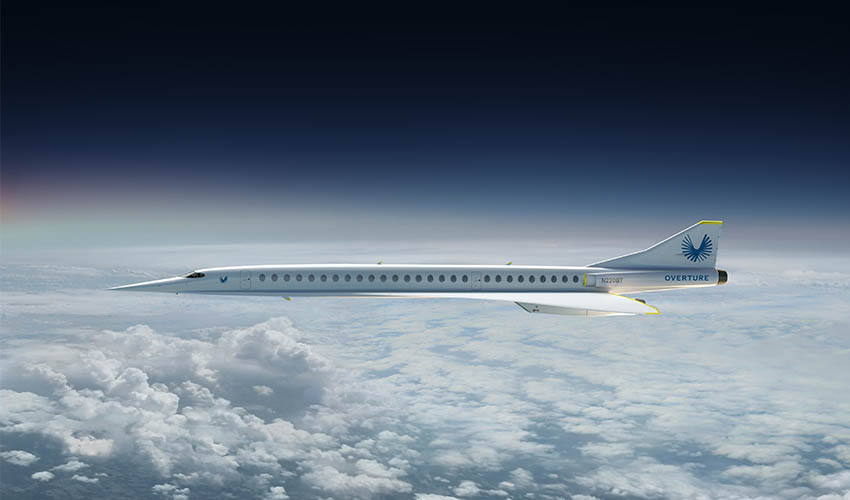 The airplane manufacturer Boom Supersonic seeks to redefine what it means to fly by building Overture, the fastest commercial airliner in the world. In order to advance the development of Overture, the company had announced that it would be using Dassault Systèmes' 3DEXPERIENCE platform to accelerate the design and the development of its revolutionary Mach 2.2 airliner. Since then, they have raised $100 million in a Series B venture round. Moreover, they have just announced that they are extending their partnership with Stratasys to manufacture parts for their XB-1 demo aircraft, using Stratasys' F900 3D printing solution.
How will Boom Supersonic benefit from the 3DEXPERIENCE platform?
The Colorado-based company is using Dassault Systèmes' 'Reinvent the Sky' solution to support product development from concept, through manufacturing and certification. The advantages of 3D printing technologies for prototyping are no secret anymore and by using the 3DEXPERIENCE platform they should be able to cut development time of their first prototype by half. Moreover, the company will be able to improve product quality by reducing program complexity, inefficiency, costs and resources that often constitute barriers to market entry.
Joshua Krall, co-founder and VP, technology at Boom Supersonic explained, "Overture takes new advances in aerodynamics, materials, and propulsion and uses them to revolutionize long-haul commercial airline travel. We need powerful design tools to deliver our vision of a supersonic future, and that is exactly what Dassault Systèmes provides. As a startup, we aren't constrained by legacy software systems and aim to keep IT costs low. We quickly and easily deployed Dassault Systèmes' 3DEXPERIENCE platform and expect to scale up to hundreds of users as our project matures."
How can additive manufacturing shaping aircraft design and concept?
Well, the 'Reinvent the Sky' solution offers scalable access digital design and simulation applications in a single, secure, and standards-based environment. It is especially appropriate for aerospace startups, new market entrants and small original equipment manufacturers. David Ziegler, Vice President, Aerospace & Defense Industry at Dassault Systèmes said, "Aerospace companies are working to deliver faster, lighter, more efficient aircraft without sacrificing passenger comfort. Smaller innovators need tools for their product development programs that offer them the infrastructure of more established companies yet allow them to stay nimble and incur minimal IT-related expenses. The 3DEXPERIENCE platform delivers this support. Boom Supersonic can create the next generation passenger experience with digital applications that have long been at the core of the industry's major milestones."
Boom Supersonic is currently building the XB-1 – it is a two-seat demonstrator aircraft, to prove key technologies for supersonic flight. Once operational, the company's flagship airliner, Overture, will become the fastest commercial airliner in history. It should be able to fly its Mach 2.2 airliner from New York to London in 3.25 hours and from Tokyo to San Francisco in 5.5 hours.
Finally, the aim of the agreement between Boom Supersonic and Stratasys is to to create repeatable development of aircraft production parts. It is a seven year partnership extension to their previous partnership.
Find out more HERE.
What do you think of Boom Supersonic? Let us know in a comment below or on our Facebook and Twitter pages! Don't forget to sign up for our free weekly Newsletter, with all the latest news in 3D printing delivered straight to your inbox!