BMW Balance Bike with 3D Printed Parts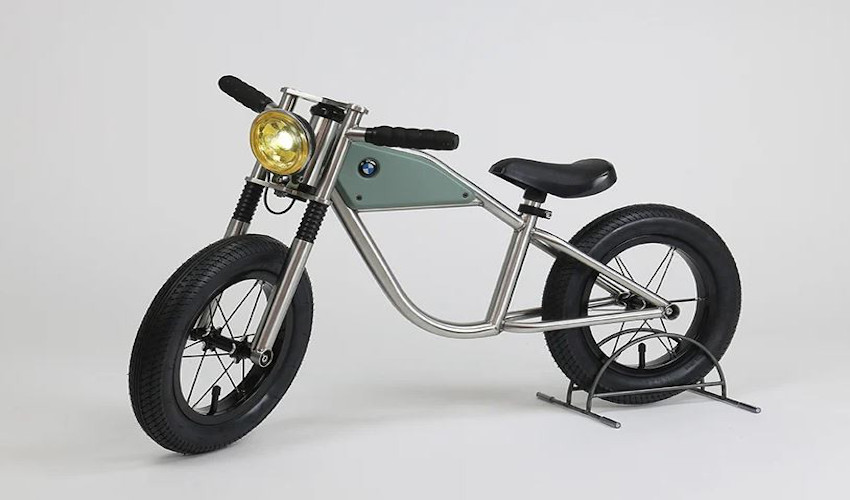 Balance bike is a training bicycle that helps children learn balance and steering. It has no foot pedals, no chain, no gear and no gear shifters. The first balance bicycle was built in 1817 by a German inventor; now it's 2020 and a Dutch designer creates a bike that is still for children, but a luxe BMW and parts of it are 3D printed – unimaginable two centuries ago!
Roel van Heur is a talented Dutch designer that recently independently built a BMW K75 balance bike with the help of 3D printing technology. It's not the first time van Heur replicated a BMW, a little while ago he helped a friend build a custom K75 Café Racer. Now that his friend is expecting a baby, Roel got inspired to design a matching balance bike, and used additive manufacturing to facilitate the process, which also contributed to the gorgeous look of the Café Racer.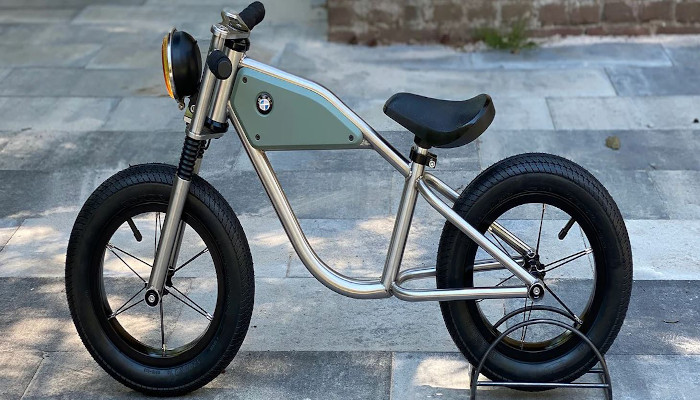 The Dutch designer started by sketching the two-wheeler in the CAD program SOLIDWORKS. Then, he bought a large amount of stainless steel tubing to bring the Café Racer to life. The frame and forks were bent, cut and welded into shape and then hand-brushed for an authentic touch. To preserve a retro style of the bike, a 3-inch yellow glass headlight—the same old bolt-on part from classic cars—was attached to the front. Additionally, its LED is powered by batteries hidden in the steering tube. Van Heur chose to wrap the standard 12-inch balance bike wheels in Kendra tires because of their classic tread pattern and minimalist spokes to match the overall aesthetic of the Café Racer. The BMW badge was etched onto the body, while Heur's own logo, which is tastefully small but clearly visible, appears on the top yoke of the bike.
Additively Manufactured Parts
Additive manufacturing proved useful for more than just one part of van Heur's creation – the faux fuel tank and fork boots were both 3D printed. The fuel tank was 3D printed in two halves that are easy to unscrew if one day the father or child decide to bolt on a new set of a different color. For this model the tank was finished in the same green as the dad's adult-sized bike. The design ended up having a graceful silhouette and clean, simple lines – a treat for the eyes, whether you are bike savvy or not.
The BMW itself is an automotive manufacturer who started investing in 3D printing technologies as long as several decades ago. It incorporates 3D printed parts onto their creations, like the i8 Roadster model with a 3D printed convertible top. It will not be too big of a surprise if we soon start seeing more and more additively manufactured elements in their cars and bikes, especially considering they have a whole special center dedicated to additive manufacturing.
Perhaps, after Roel van Heur's success with the luxe balance bike for a child, BMW will take a hint and launch production of such bikes that are both practical and undeniably beautiful.
What do you think about this custom balance bike featuring AM parts? Let us know in a comment below or on our Facebook and Twitter pages! Sign up for our free weekly Newsletter, all the latest news in 3D printing straight to your inbox!