BMW accelerates the integration of additive manufacturing into its production cycle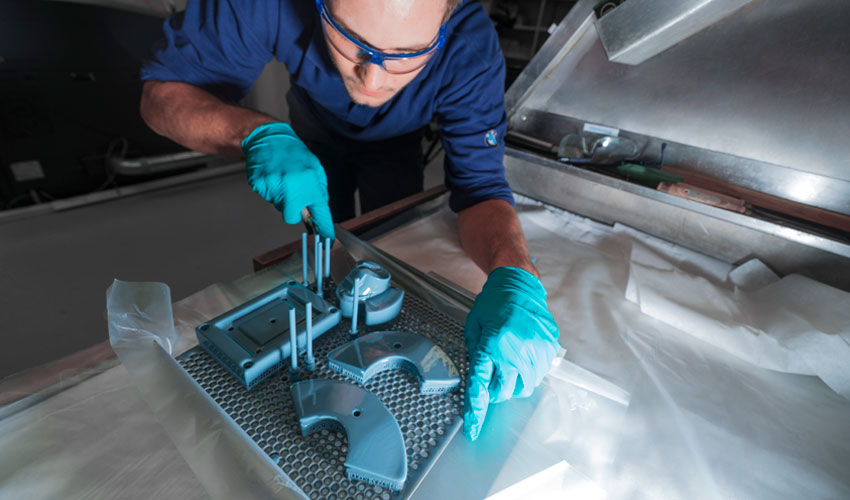 German automaker BMW has announced the launch of a new additive manufacturing plant to accelerate the implementation of the technology in its manufacturing process. The construction of this additive manufacturing campus will cost 10 million euros and is expected to open in 2019 in Oberschleissheim, north of Munich.
With the opening of this campus, BMW hopes to further push itself into additive manufacturing within its production cycle. The automaker turned to 3D technology to design the convertible top of its i8 Roadster; but has also invested in promising start-ups like Desktop Metal, thereby affirming its desire to help further develop additive manufacturing. They have already opened an Additive Manufacturing Center in Munich, where more than 100,000 components will be 3D printed every year, be it spare parts or parts of metal frames.
A 6,000 square meter additive manufacturing center
This additive manufacturing campus will be located in an existing 6,000 square meter building and is expected to accommodate up to 80 employees and over 30 industrial metal and plastic additive manufacturing solutions. BMW says the center will focus mainly on rapid prototyping but also on serial production and custom solutions. The latest innovations in the 3D printing industry should be tested in this campus, bringing it closer to existing pilot plants. It would also enable a new level of interdisciplinary collaboration and training, for engineers and designers at different levels of the BMW manufacturing chain.
According to Jen Ertel, Director of the BMW Additive Manufacturing Center, "Our new facility will be a major milestone in additive manufacturing at the BMW Group. The team there will evaluate new and existing technologies in both plastics and metals printing and develop them to series maturity. Our goal is to provide the optimum technology and process chain, be it for individual components, small production runs or even large-scale manufacturing." The German manufacturer, therefore, asserts its strategic positioning on additive manufacturing, convinced of the benefits it can bring to the automotive sector. As an example, BMW explained that it was able to gain strength and lightness in the design of its i8 Roadster car.
Moving towards a decentralization of production?
BMW Group hopes that over time it will be possible to produce parts directly where there is a need – an idea that has enormous potential, according to a study published by the VTT Technical Research Center of Finland. Jens Ertel continues: "The 3D printers that are currently operating across our production network represent the first step towards local part production. We are already using additive manufacturing to make prototype components on location in Spartanburg (US), Shenyang (China) and Rayong (Thailand). Going forward, we could well imagine integrating it more fully into local production structures to allow small production runs, country-specific editions and customizable components – provided it represents a profitable solution."
Find all the information on this new campus in the official BMW press release and in the video below:
What do you think about the use of 3D printing in the automobile sector? Let us know in a comment below or on our Facebook and Twitter pages! Sign up for our free weekly Newsletter, all the latest news in 3D printing straight to your inbox!