BMW incorporates 3D printed parts onto their new motorcycle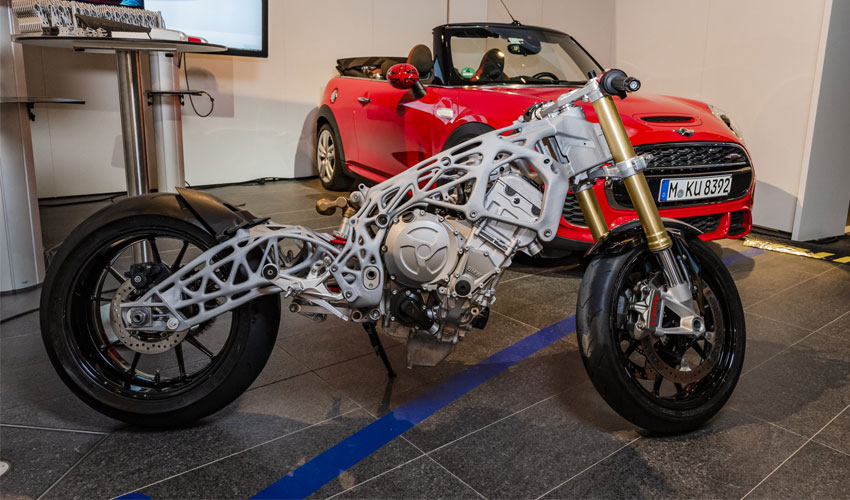 BMW has unveiled one of their latest projects involving the use of additive manufacturing, the prototype of their new bike, the S1000RR. It will incorporate a 3D printed frame as well as a swingarm designed by 3D technologies. This initiative will allow the German automaker to create parts faster and more efficiently, two key points in the automotive sector. The bike will join the ranks of the many vehicles that include 3D printed parts and have seen an improvement in their performance.
BMW announced last week the opening of a new center dedicated to additive manufacturing, representing an investment of 10 million euros to integrate the technology into their production cycle. Since investing in an HP Multi Jet Fusion 3D printer in 2016, BMW has been re-imagining their cars with 3D printed parts, like their i8 Roadster model. They want to be more complex in their designs but also lighter.
A motorcycle with an organic design
At Digital Day, which was organized by the BMW Group in Spain, the manufacturer revealed their latest project, the S1000RR motorcycle, which at the moment is still in the prototype stage. BMW explained that they have used a powder-based selective laser melting technology to create the swingarm and frame. A result that has been achieved thanks to the topological optimization that eliminates all the parts not subject to efforts and thus offers a reduction of materials and cost. The prototype obtained reminds us of the Light Rider, the motorcycle created by APWorks whose weight had been greatly reduced thanks to additive manufacturing. It takes the same organic design and fluid that gives it a futuristic look.
BMW states that "three-dimensional parts made from plastic or metal take shape layer by layer. Additively manufactured parts offer a high degree of freedom in terms of their design, and they can be produced quickly and to the requisite quality. There is no need for traditional production tools such as press or casting moulds; the geometry of the parts is determined entirely by a digital dataset." Even if BMW is not ready to release a fully 3D printed motorcycle just yet, they are convinced of the potential of this technology, especially for everything concerning the personalization of vehicles as seen with their MINI brand.
Find out more by visiting their official website here.
What do you think of BMW's 3D printed motorcycle? Let us know in a comment below or on our Facebook and Twitter pages! Don't forget to sign up for our free weekly Newsletter, with all the latest news in 3D printing delivered straight to your inbox!