BMS Circuits Is Optimizing its Production Flow by Integrating 3D Printing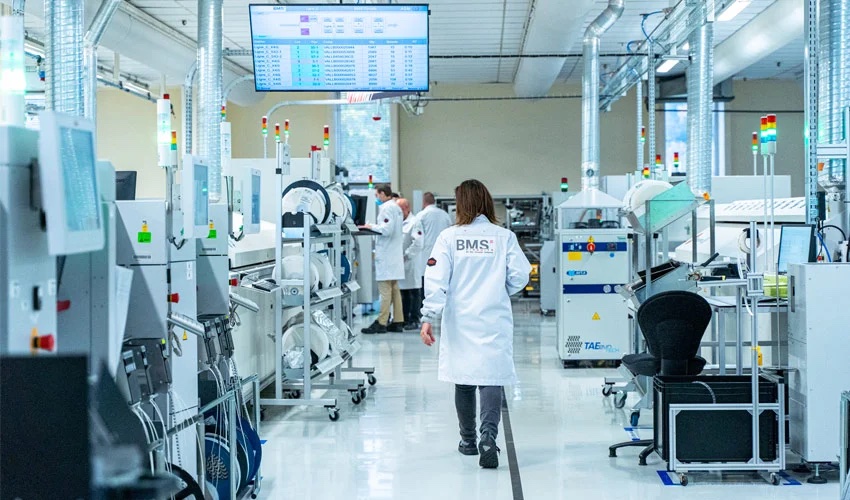 All Circuits is an electronics subcontractor that designs electronic boards for the automotive, medical and mass-market sectors. Its Bayonne site, BMS Circuits, which is responsible for medium and large production runs, has been investing in fused deposition modeling 3D printing since the end of 2020 in order to produce prototypes and end-use parts, which are installed on operators' workstations. Supported by the French distributor Atome3D, BMS Circuits has been able to reduce its manufacturing times and costs, while being able to test and trial several designs. 3D printing has become an integral part of the company today; it is a work tool that the teams can no longer do without.
It was the Methods department at the Bayonne site that was the driving force behind this investment, the department in charge of product industrialization. Its manager, Jules Cote, was already familiar with 3D printing and was quickly convinced of its benefits. He explained: "I knew Atome3D and I made the choice to invest in a machine for the department. To invest, you have to convince management of the benefits of the technology. It was quite quick because when you look at the prices of what can be done on machining and the prices we will have internally in 3D printing, the machine is quickly profitable." Many of the parts used by BMS Circuits were in fact subcontracted, which lengthened manufacturing times. Thanks to 3D printing, the teams can produce some of these parts directly in-house and considerably reduce the time between design and delivery of the object. For example, on average, it takes one week to manufacture a part using machining, compared to 2 hours and 20 minutes using a 3D printer. And on the price side, in machining, the teams are on average around 200 euros per part against 10 euros in 3D printing.
The choice of the 3D printer was facilitated by the expertise and advice of Atome3D, according to the needs and specifications of the French group. Indeed, antistatic constraints had to be respected in the workshop and materials had to be chosen to meet them. Moreover, the machine had to be easy to use and quick to learn. This is why Atome3D recommended the M200 Plus from Zortrax, coupled with the PLA-ESD material from 3Dxtech. This is a material that provides protection against electrostatic discharges. Jules Cote adds, "To make things easier, once we find a material that works well, we leave it in the machine and only run with that one at 90%. Our goal is for it to work quickly and easily." The printer has been running in the shop since October 2020, with very satisfactory results.
Which Parts Are 3D Printed by BMS Circuits?
Currently, two main types of applications are identifiable. Firstly, prototypes, made before being subcontracted to the factory. These are sensors and various tools that are tested, proven and possibly modified if necessary before final manufacture in aluminum. Thanks to 3D printing, the teams can afford a greater margin of error. The designer at the Bayonne site says, "I draw the part and the next day I have the part in my hands. The subcontracting loop is much longer because we have to go through a quote, a manufacturing time, pull out all the detail drawings, it's much more time consuming."
Finally, 3D printing allows the teams to design all the parts that are put into production directly, whether it be for tooling, or parts where little mechanical resistance is required, where there is little friction but which still hold up well over time. BMS Circuits also creates parts that are used in the workplace, such as slice clamps, for example, which allow two electronic component coils to be connected with a clip much more easily and quickly.
The Integration of 3D Printing in the Company
The Zortrax M200 Plus is now used by four people in-house, which makes it easier to manage priorities and scheduling. They were all trained directly by Jules and quickly mastered the printing process. The teams can also count on Atome3D's support in case of technical problems, a point particularly appreciated by BMS Circuit, which underlines the reactivity of the French distributor.
The main thing that changed internally when the department integrated 3D printing was the role of the designer. He had to learn new processes, a machine, and settings that were not part of his responsibilities before. His way of designing has also evolved, taking into account design rules specific to 3D technologies. This is a point to be careful about when you decide to integrate 3D printing into your business: who will be in charge of the tool? What will it change in the daily life of employees? In what way, etc.? Jules Cote also notes that the teams have become quite dependent on the 3D printer because it is constantly running and allows multiple projects to be carried out. As a result, if it breaks down or makes mistakes, it has to be fixed very quickly.
Finally, the integration of 3D printing at BMS Circuits was largely facilitated by Atome3D, which was very responsive and present. One of the advantages noted by the teams is the availability of parts from the distributor's catalog, delivered in just 24 hours. This avoids having a stock that takes up space. Jules Cote concludes:
We are convinced of the benefits of additive manufacturing and it is an important technological shift that should not be missed since it is developing and becoming more and more commonplace. It is necessary to arrive at the 3D technology but it is necessary to do it in the good way, that is to say to be accompanied by a partner and not to launch out all alone and to buy a machine and not to know how to use it.
If you want to know more about 3D printing solutions offered by Atome3D, go to Atome3D.com. What do you think of BMS Circuits decision to switch to 3D printing? Let us know in a comment below or on our LinkedIn, Facebook, and Twitter pages! Don't forget to sign up for our free weekly Newsletter here, the latest 3D printing news straight to your inbox! You can also find all our videos on our YouTube channel.
*Cover Photo Credits: BMS Circuits