A portable bioprinter could heal even the most severe burns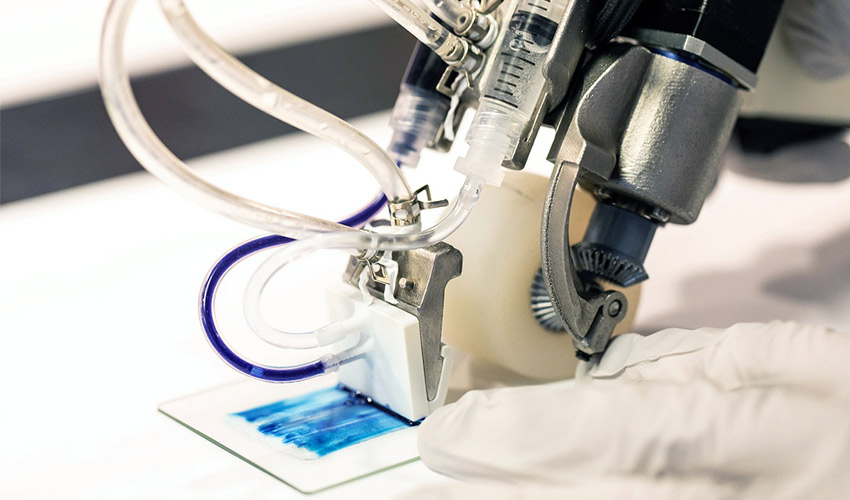 3D printing of skin is really within reach: researchers at the University of Toronto and Sunnybrooke Health Sciences Centre have developed a portable bioprinter capable of creating sheets of skin to accelerate the healing of serious wounds and burns. The device is easy to handle and ultimately resembles a glue gun, also incorporating a roller to spread the material. It could be used in hospitals and health care facilities to treat the most serious skin problems and to meet the challenges posed by transplants.
Richard Cheng and Professor Axel Guenther began their project in 2018 and presented a first prototype, based on the observation that current bioprinters are too bulky, slow, expensive and incompatible with daily use in a hospital. Two years later, the researchers claim that their portable bioprinting solution can heal wounds: they demonstrated that the bioink they developed accelerated the healing process. It would thus provide an alternative to autologous transplants, which are not a viable solution in the case of very severe burns since the doctor cannot remove enough "healthy" skin from the patient.
This portable 3D bio-printer is not the first of its kind, but what differentiates it from other "mobile" solutions is the use of a roller that spreads the bio-ink on a sheet that will then be placed on the wound to heal. The material is deposited by a single-use microfluidic print head to ensure sterilization – the flexible roller would finally allow the material to follow the head's track to better control larger wounds. As for the material itself, the researchers explain that bio-ink is made up of mesenchymal stem cells (MSCs) that promote healing and skin regeneration.
Richard Cheng adds: "We want to reduce the number of scars, in addition to helping wounds heal. Our main focus in the coming years will be on the in-vivo side. I think that within 5 years our 3D bio-printer will be able to come to hospitals and clinics. Once it is used in an operating room, it will be a game-changer to change lives. A device like this will change the way we care for the seriously burned and injured." Since the beginning of the project, the bio-printer has gone through about ten iterations and it seems that this one is the right one. We will most likely have to wait a few more years before seeing this portable 3D bio-printer in our hospitals, but the results are encouraging! You can find more information HERE.
What do you think of this new research? Let us know in a comment below or on our Facebook and Twitter pages! Sign up for our free weekly Newsletter, all the latest news in 3D printing straight to your inbox!
Don't forget that we have a webinar coming up on the 26th of February focusing on how to adopt additive manufacturing for your projects! You can sign up for free as of today HERE.