3D startup of the month: BIOMODEX, the printers of 3D organs and simulation models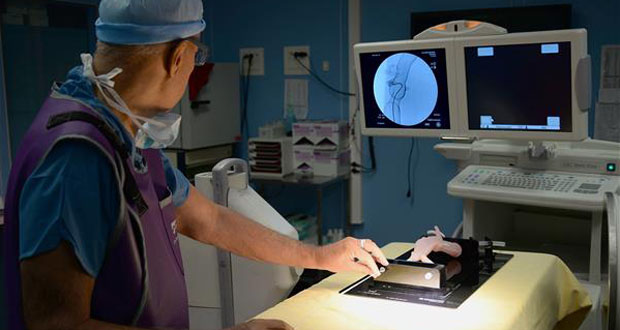 Last month, we presented OWA 3D, the startup that is helping to lead 3D printing towards a circular economy. Today, we have chosen a startup that offers you a look into a completely different field, the medical field.
After realizing that medical errors were the third leading cause of death in the United States, Thomas Marchand and Sidarth Radjou devised a solution to address this problem. The result, a startup that prints 3D organs and simulation models. These 3D printed models can then be used by surgeons, to allow them to practice before an operation, thus helping to reduce errors and associated risks during surgeries. So, without further ado, we present BIOMODEX: the revolutionaries of the surgical world.
3DN: Can you gives an introduction to BIOMODEX and tell us a little bit about how you came up with this concept?
BIOMODEX is a French startup that is based in Paris and Bostonx, that develops synthetic organs that are printed in 3D form from medical imaging of patients. With our startup, we responded to the need of training for surgeons when it comes to specific pathologies training and preoperative training.
This project came together as a result of a meeting I had had with Sidarth Radjou, the co-founder of the company. He had previously worked on how to enhance medical imagining in 3D printing at the Centrale Paris School and for me, I had worked on my master's thesis at ESSEC, with the topic "3D printing in health, what are the opportunities?". Considering our backgrounds, us teaming up 15 days after our first meeting was the only natural thing to do.
3DN: What is your role at BIOMODEX and what is your link to 3D printing?
Our role is to improve surgical training through two ways: The first is to reproduce organs, such as an ear and the complexity of its anatomy (such as the bone chain or inner ear) or an organ that has experienced trauma (such as a wrist fracture). This allows us to offer a real alternative to surgical training solutions that are not satisfactory today. This can be seen with training on patients, using anatomical parts of dead bodies, or animals, which poses ethical and logistical problems.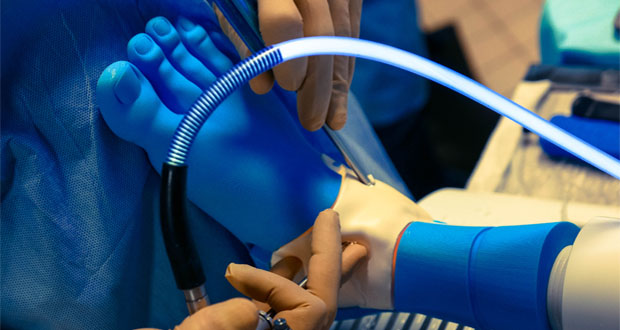 The second way has to do with the development of pre-operative training. Through a web platform, the doctor can upload medical images of his patient from scanners, an MRI, or an ultrasound. A few days later, he receives a delivery right to his hospital of a BIOMODEX synthetic organ. He can then use this synthetic organ to train with, in order to help him choose the right approach, the right surgical strategy and the correct prosthesis adapted for his patient (such as size and positioning). We are thus, fully committed to the field of personalized medicine and hope to substantially reduce operative risks. In addition, our offer of pre-operative training will generate savings to state health systems as well as to private insurances, as surgeons will spend less time in the operating room ($50 per minute without staff in the USA) and patients will experience less complications that would require costly re-hospitalization.
In 2017, we will print 1,000 synthetic organs under pilot programs, mainly in the United States.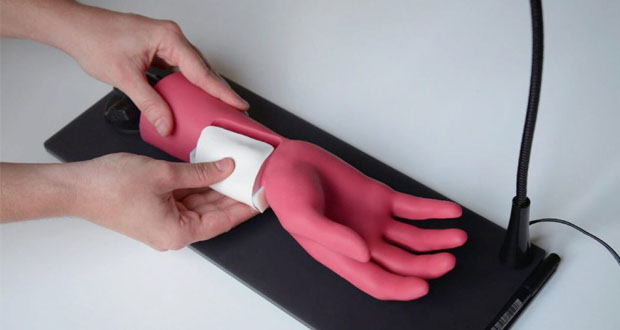 3DN: How do you create your simulation models for surgeons?
BIOMODEX had developed a proprietary and patented technology called INVIVOTECH. Using standard medical imagery that is recovered in the classical care path, as well as numerical steps, we are able to reproduce organs that respond very similarly to a real organ under the clinician's surgical tools. The core of our technology is to create composite materials that will have the same biomechanical characteristics as human tissues, whether they are hard or soft. For example, we can print an ankle with all the anatomical elements such as skin, bones, ligaments, tendons, arteries, veins, cartilage, etc., in 3D.
We are very fortunate to have been mentored during our first 5 years by 3D Experience LAB, the mentors of Dassault Systems, Which, without whom, our development would not have been the same. Moreover, this high-level support allows us to have an additional competitive advantage. Thus, BIOMODEX has the potential to become the world leader in its field.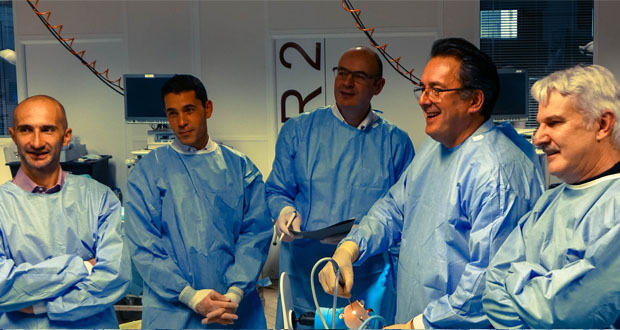 3DN: What future plans do you have for BIOMODEX?
After developing simulators in the field of END and orthopedics, our priority for the coming years will be to concentrate on the vascular and cardiovascular parts of the body. Cardiovascular pathologies are the leading cause of mortality in the world; BIOMODEX has a role to play in this very interesting, yet challenging field. We are joined and supported by some of the world's leading surgeons, such as Professor Jacques Moret, professor Alain Cribier and Professor Jean-Pierre Becquemin. This already gives us international clinical credibility. With the help of these experts, our objective is to now prove that we enable surgeons to be better trained and prepared for their surgeries, and that surgical risks can be reduced using scientific studies and publications.
A surgical simulation of an ankle arthroscopy:
3DN: What do you see for the future of 3D printing in surgery?
We anticipate customization of treatment will be a revolution in surgery that will treat patients in a less risky and effective manner, whether that is clinically or economically. This is one of the main values offered by 3D printing: easy customization at a lower cost.
3DN: Any last words for our readers?
Today it feels rather gloomy for the 3D printing market, with, for example, the intense drop in value of 3D printing companies on the stock exchange in the US since 2012. Or even with the recent reduction in the size of the Makerbot by 50% in the last 2 years. However, one must remain confident in this technology, which is truly unique and revolutionary. After all the buzz and hype of 3D printing, we are now in a phase of market correction. We are shifting from a need for prototyping, into an era of mass production. BIOMODEX aims to be one of the first actors that manufacture synthetic organs industrially.
Check out our video with Thomas Marchand at CES 2017 below:
Do you think that 3D printing can revolutionize the way future surgeons will operate? Let us know in a comment below or on our Facebook and Twitter page!