BIOLIFE4D bioprints small human heart for the first time in the U.S.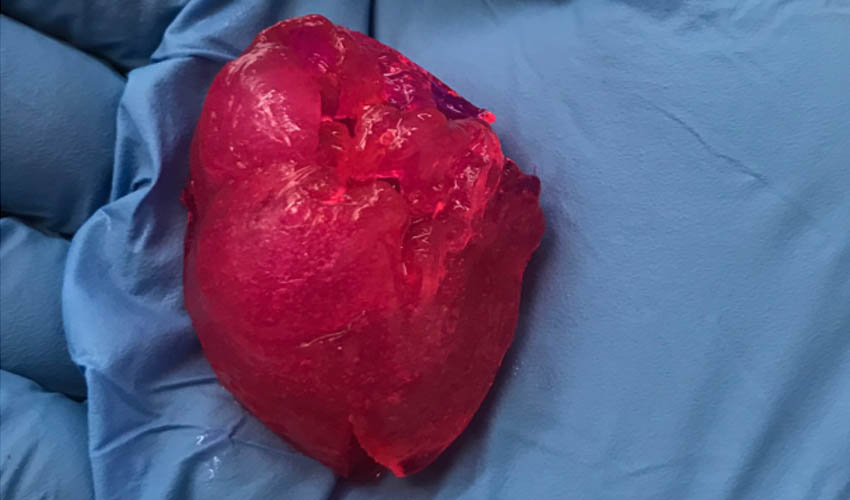 BIOLIFE4D, one of the pioneers in the bioprinting field, has been able to bioprint a miniature human heart – making it the first U.S. company to successfully achieve this. The company's mission is to create a fully functioning human heart through bioprinting and using patient's own cells in order to eliminate the challenges of organ rejection and long donor waiting lists. This is a big milestone for BIOLIFE4D, and one step closer towards it goal of producing a full-sized human heart viable for transplant.
Dr. Ravi Birla, Chief Science Officer at BIOLIFE4D explains: "We are extremely proud of what we have accomplished, from the ability to 3D bioprint human cardiac tissue last summer to a mini heart with full structure now. We believe we are at the forefront of whole heart bioengineering, a field that has matured quickly over the last year, and well positioned to continue our rapid scientific advancement. Today is an exciting day, but we continue forward earnestly toward the end goal of 3D bioprinting whole human hearts."
Back in April, a team of scientists at Tel Aviv University, in Israel, managed to produce a tiny heart, the size of a cherry and with patients' own cells. This bioprinted heart contained cells, blood vessels, ventricles and chamber. Even though the cells were able to contract, at the time they did not have the ability to pump yet. 
BIOLIFE4D bioprints small human heart
In the United-States, BIOLIFE4D is the first company to create a small human heart. The company developed a bioink using a unique composition of different extracellular matrix compounds that closely replicate the properties of the mammalian heart. The heart, while smaller in size than a human one, performs in a similar way. BIOLIFE4D's bioprinting process provides the ability to reprogram a patient's own blood cells (white) to iPS cells and then differentiate those iPS cells into different types of cardiac cells needed to bioprint individual cardia components. Ultimately, this technique enables the creation of a human heart viable for transplant. 
In June 2018, the company had managed to bioprint human cardiac tissue, by the beginning of 2019 it had managed to bioprint various heart components, including valves, ventricles and blood vessels. Steven Morris, CEO at BIOLIFE4D adds: "This is an incredibly exciting time for BIOLIFE4D, and we are so proud of Dr. Birla and the team for this tremendous accomplishment. We began this journey with an end goal of developing a technology that has the potential to save lives, and we are a step closer to that today. We will continue our work until we are able to 3D bioprint full-sized hearts viable for transplant, and change the way heart disease is treated forever."
What do you think of BIOLIFE4D's achievement? Let us know in a comment below or on our Facebook and Twitter pages! And remember to sign up for our free weekly Newsletter, to get all the latest news in 3D printing send straight to your inbox!