Poietis signs agreement with Prometheus to bio-print cartilage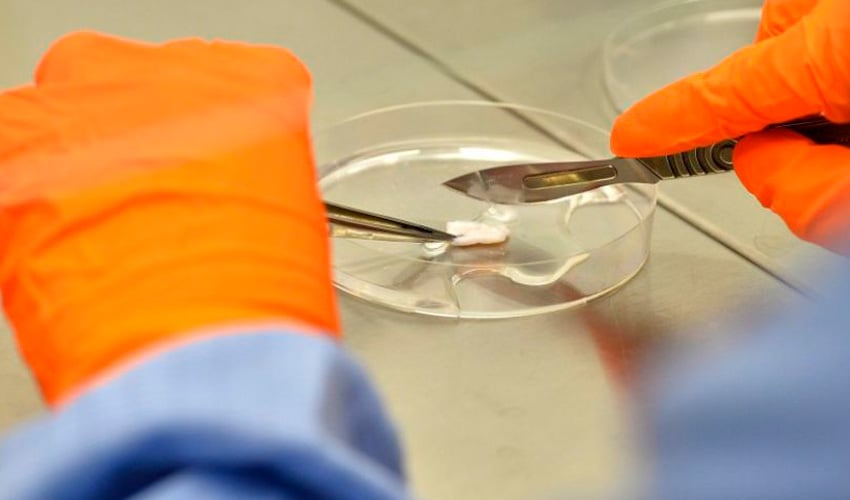 French bio-printing specialist, Poietis, has announced a new research agreement with Prometheus, the tissue engineering department of KU Leuven in Belgium. Their goal is to develop bio-printing of advanced therapy drugs in cartilage regeneration. For two years, both actors will be working in the field of tissue engineering to create cartilage cells.
Tissue engineering enables researchers to understand the different functions and structures of both normal and pathological tissues. Through this, they are then able to find biological substitutes that can restore, maintain or improve the functions of these tissues. In 2014, this market was worth $4.7 billion and is expected to reach $11.5 billion in 2022. The development of different bio-printing technologies is a major contributor to this growth as it allows for the creation of complex cellular structures more quickly, efficiently and cheaper.
Bio-printing for tissue engineering
By signing this research agreement with Prometheus, Poietis will benefit from their expertise in tissue engineering and more specifically in osteocartilaginous regeneration. The Belgian platform is specialized in the development of innovative therapy drugs where medical needs are not met. The French company is expanding all of its partners, such as their recent agreement signing with BASF to bio-print skin and L'Oréal to reproduce hair follicles.
Prof. Frank Luyten, Director of Prometheus says "Regenerative Medicine holds great promise to provide effective therapies for non-healing large cartilage and bone defects, which remain unmet medical needs. When the environment is compromised, such as in long-standing non-union fractures, in the presence of other co-morbidities, such as diabetes and in the aging patient, the endogenous repair potential is insufficient and tissue engineering strategies need to be developed such as in vitro manufactured living provisional tissues. We envision combining Prometheus' cell-based technologies together with the Poietis' Bioprinting technology to treat these defects effectively."
The technology developed by Poietis will, therefore, make it possible to create directly implantable tissues on patients suffering from bone disease or fractures. The objective is to design therapeutic products that are more accessible and above all easily reproducible. A key benefit for Dr. Ioannis Papantoniou, Coordinator of Bio-Processes for Advanced Therapy Drugs at KU Leuven, who explains: "The ability to design and fabricate fabrics by 3D bio-printing opens up unprecedented possibilities for control characteristics and quality of living artificial implants for the regeneration of osteoarticular defects. The automation capacity of Poietis' technology will also be critical for the production of GMP (Good Manufacturing Practice) tissue products. This partnership represents the first clinical partnership for the French specialist, who previously used to work for pharmaceutical and cosmetic laboratories.
While this news is very exciting, it will take four or even five years before the first clinical trials are completed. Nevertheless, this agreement is a good start for the bio-printing sector. You can find more information in the official press release.
What do you think of this research agreement?Let us know in a comment below or on our Facebook and Twitter pages! Don't forget to sign up for our free weekly Newsletter, with all the latest news in 3D printing delivered straight to your inbox!