BiliScreen, the application that detects pancreatic cancer with a 3D printed box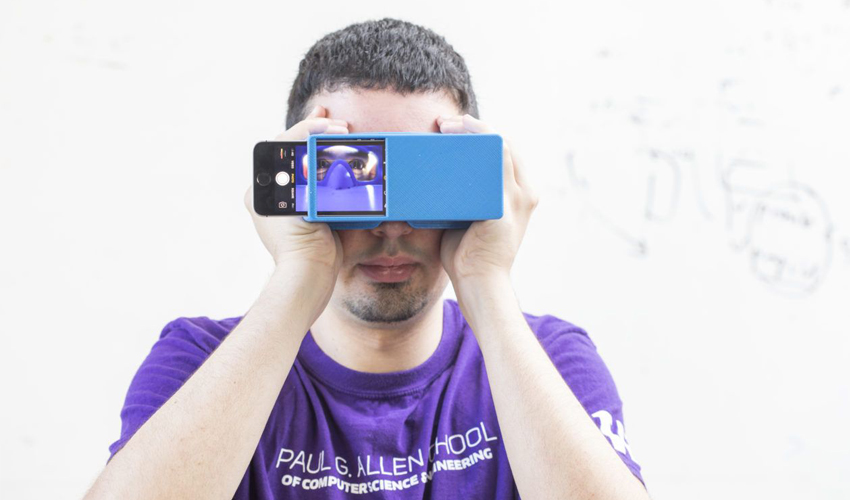 The detection of cancer early on could mean life or death for many who are diagnosed with it around the world. While many countries have low rates of pancreatic cancer, a new application called the BiliScreen could be a new solution for early detection. Combing a 3D printed box with a smartphone app, the BiliScreen provides a new solution to detect warning signs of pancreatic cancer and other diseases.
Created by researchers at the University of Washington's Ubiquitous Computing Lab, the Biliscreen uses the different computer and machine learning algorithms in order to detect jaundice through a photo of a person's eye. Through a simple photo, the device is able to measure for higher levels of bilirubin within the white area of the eye, a build up that typically occurs when there is pancreatic cancer involved. Typically, doctors measure the bilirubin by conducting blood tests, which can mean multiple visits to a doctors office and more time for the detection.
The system is not just a mobile application as it also includes a 3D printed accessory: a box that controls the exposure of light to the eye.  To use the device, the user simply takes a selfie of their face using their smartphone camera while wearing a pair of special glasses and a 3D printed box that blocks the light and allows the application to operate under optimal conditions.
During a study conducted on 70 patients with the Biliscreen, it was able to correctly identify cases of Jaundice 89.7% of the time compared to blood tests that detect bilirubin. "The problem with pancreatic cancer is that by the time you're symptomatic, it's frequently too late," explained lead author Alex Mariakakis, a doctoral student at the Paul G. Allen School of Computer Science & Engineering. "The hope is that if people can do this simple test once a month—in the privacy of their own homes—some might catch the disease early enough to undergo treatment that could save their lives."
Currently, the team is planning on improving the design of the device with the goal of eliminating the need for the glasses and light-controlling box. In addition, they will also be testing their app on more people who are at risk for jaundice and other underlying conditions other than pancreatic cancer.
To see how the device works, check out the video below:
Do you think that BiliScreen could help revolutionize the detection of pancreatic cancer? Let us know in a comment below or on our Facebook and Twitter pages! Don't forget to sign up for our free weekly Newsletter, with all the latest news in 3D printing delivered straight to your inbox!