The startup Arevo 3D prints a bicycle from carbon fibers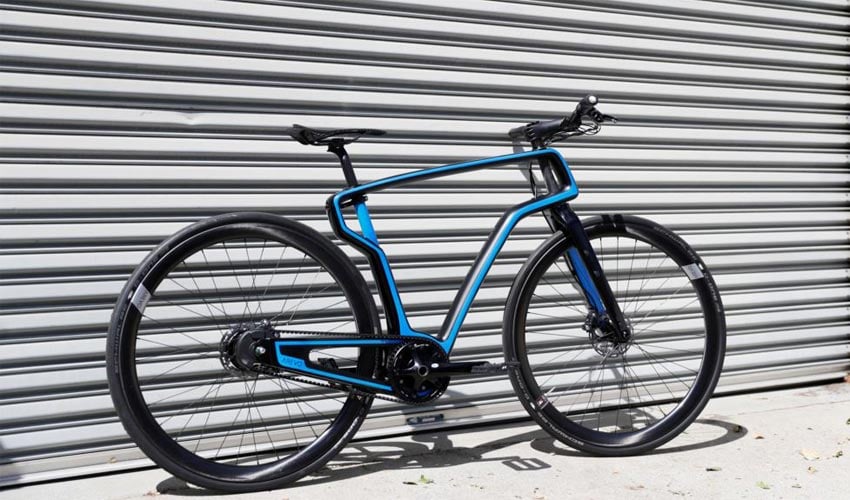 Arevo is an American startup that has just unveiled a new bike with a frame that has been 3D printed from carbon fibers. The bike was created to show the possibilities offered by additive manufacturing. Arevo is well known for their six-axis robotic 3D printing platform, which allows it to design composite parts. They also took this opportunity to announce a $12.5 million fundraiser and the arrival of their new CEO, Jim Miller.
3D printing is moving the bike industry forward with several initiatives that show how 3D technologies can help design more efficient custom finished parts. Examples of this can be seen with BigRep's tire, 3D printed to be indestructible, or the electric bike from Volkswagen, Kinazo. This time, the American startup wanted to rely on a lighter but more solid material, carbon fiber.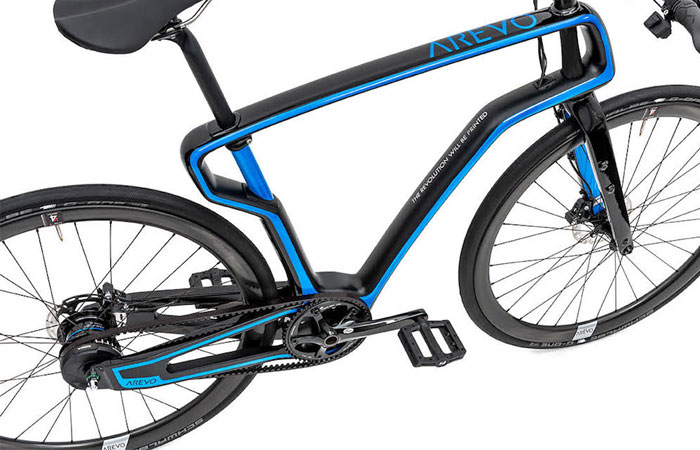 Generally, bicycles that are traditionally designed from carbon fiber are more expensive because manufacturers have to deposit individual layers with the resin around the frame mold; this work is done by hand and would be much longer. The frame would then have to be fired in an oven to melt the resin and bond the layers of carbon fibers together. Additive manufacturing would reduce these delays and the production costs, two key benefits for the startup.
The technology developed by Arevo combines 3D printing, online software, and custom raw materials. They use a print head that is attached to a robotic arm to 3D print the bike frame. The head then deposits the carbon fiber and melts a thermoplastic material to bind the layers together, all in one step. A process that allows Arevo to manufacture their bike frames for only $300. Co-founder of the startup, Hemant Bheda, also explains that they were able to create the framework in just 18 days, a delay of 18 months with traditional manufacturing methods. The bike would also be stronger thanks to a simplified design that would remove the maintenance of the seat between the saddle and the rear wheel.
An investment to accelerate the commercialization of technology
Arevo took the opportunity to announce its successful $12.5 million fundraising drive led by Asahi Glass. This funding should help the startup go beyond the R& D process and focus on the large-scale commercialization of their technology. The new CEO, Jim Miller, says: "Arevo is at an exciting inflection point in its business right now. We have the technology, team, and tools to commercialize our software and fabrication process to build high-strength parts that the manufacturing industry hasn't been able to conceive and construct before." Arevo's technology could easily be extended to areas other than cycling; 3D printed parts could be imagined for the aerospace sector as it offers a large print volume.
You can find more information on the startup's official website.
What do you think about this 3D printed bike and Arevo's technology? Let us know in a comment below or on our Facebook and Twitter pages! Don't forget to sign up for our free weekly Newsletter, with all the latest news in 3D printing delivered straight to your inbox!