BigRep Ships its 500th Large-Format 3D Printer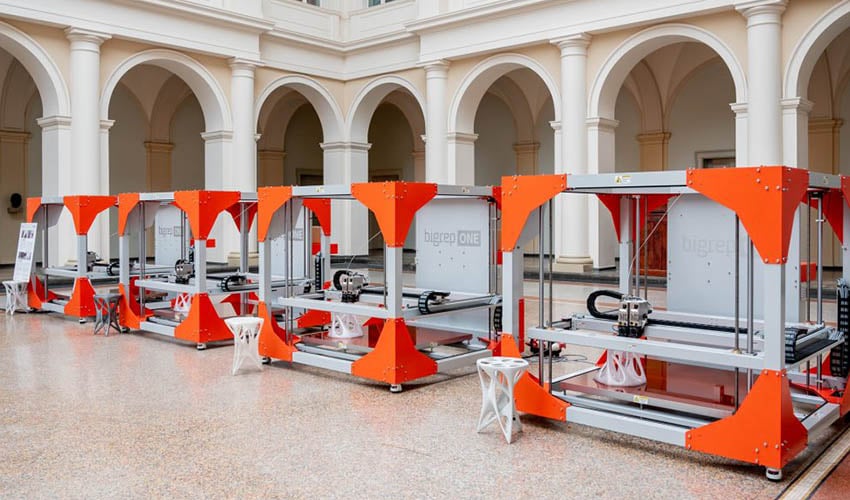 The leading large-format 3D printer manufacturer, BigRep, celebrated the delivery of its 500th industrial machine last week. The company was founded in 2014, and is well known in the additive manufacturing industry for having developed some of the world's largest serial production AM systems. Moreover, it has worked with leading companies in other industries to develop industrial prototypes and end use parts.
For example, in automotive, major global players such as Ford and Volvo rely on BigRep systems for prototyping, tooling, and other applications. In aerospace, Airbus and Etihad Engineering are using BigRep's 3D printers for a variety of applications. Other renowned customers include Bosch Rexroth AG and manufacturing companies such as JC Steele & Sons Inc. in the U.S. The Managing Director at BigRep, Martin Black comments: "This delivery is more than just a figure, it shows how much industrial customers value our products and the production freedom they create."
The 500th industrial machine acquired is none other than a BigRep ONE. It boasts a build volume of 1005 x 1005 x 1005 mm and is equipped with two modular extrusion heads. It was bought by the e-mobility tech company, JAMADE GERMANY. The company just launched underwater scooters AMAZEA, that are 75% 3D printed. Therefore, it made sense for the company to invest in a solution in-house for the production of these parts. "We are very excited about this delivery because it represents a new dimension of industrial AM in end- consumer products, both for us as a company and the industry. The new BigRep ONE will enable us to launch the serial production of AMAZEA as planned, completing our existing fleet of four BigRep ONE printers," explained JAMADE Managing Partner and Technical Director, Detlef Klages.
The BigRep ONE is among the three AM systems manufactured by BigRep, which also include the recently introduced STUDIO G2 and BigRep PRO – the company's next-generation 3D printers. The STUDIO G2 offers a smaller build volume of 1000 x 500 x 500 mm, however it is equipped with a fast-heating print bed and temperature-controlled filament chamber to work with abrasive and engineering-grade materials such as PETG, TPU, and PA6. The PRO on the other hand, boasts a build volume of 1020 x 970 x 980 and can print with the same engineering-grade materials. In addition, BigRep has entered into a partnership with BASF, to provide even more engineering-grade materials to take full advantage of their 3D printers' potential.
Large-format 3D printing is really taking off, with a growing number of applications emerging in different sectors. BigRep's innovation consultancy, NOWLAB has been collaborating and creating designs for a number of companies. Given that 3D printing offers a new level of design freedom, it's possible to innovate in many industries that have not shifted their designs for years.
What do you think of BigRep's large format solutions? Let us know in a comment below or on our Facebook and Twitter pages! Don't forget to sign up for our free weekly Newsletter, with all the latest news in 3D printing delivered straight to your inbox!