Romantic STL Files to celebrate Valentine's Day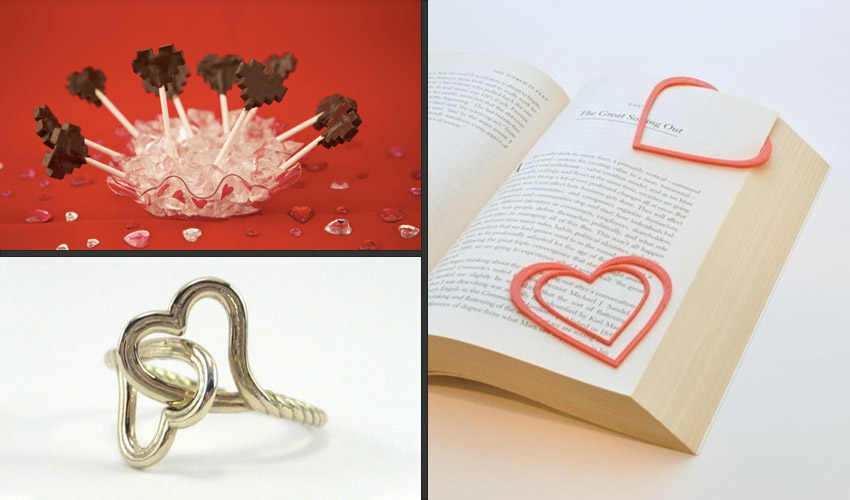 Most likely originating in ancient Rome, Valentine's Day is the feast of lovers, celebrated as you know on February 14th. With only  a few days left, it's time to buckle down and find the perfect gift for your other half. This year, we forget the traditional perfume and the eternal tie, instead making way for 3D printed heart eyes! To help you in your search, we present to you (in no particular order!) a list of original gifts that can be 3D printed directly at home or via a service if you don't currently own a printer. All the 3D models can be downloaded as STL files on the Cults platform. Between jewels, flowers, hearts and romantic objects, there's plenty to choose from! Happy Valentine's Day to you all!
Locked Love Ring
This size 7 ring represents a love that lasts forever. First, woven like a braid, the ring pattern ends in two intertwined hearts. On the profile, you can also see all the beautiful 3D printed jewelry from the excellent designer Fischfluous.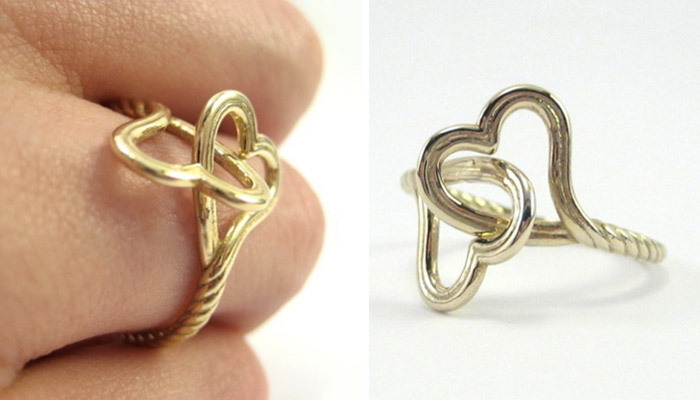 I Love You decoration
This 3D printed decoration will be perfect for showing off your love to your partner. The famous I Love You is very effective here, with a heart that cannot be missed. The creator offers the STL file for free, you just have to choose the color you like the most. Put it on a shelf and this object will undoubtedly brighten up any room.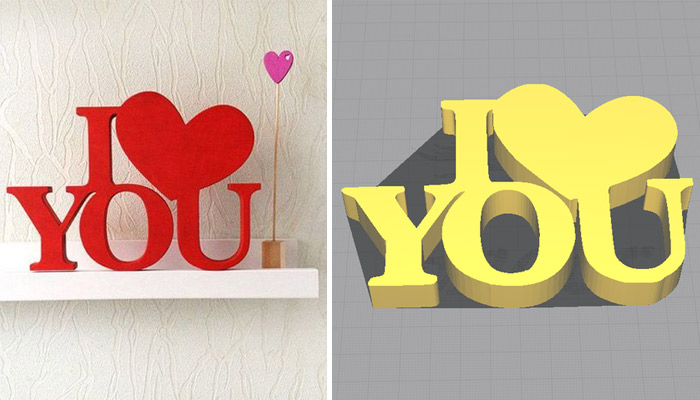 Synthetic Flower
The fresh bouquet of roses, romance incarnate, has become a Valentine's day classic. But like all flowers, roses too will shortly wither and die. PLA, on the other hand, is forever. So, if you're looking a somewhat less ephemeral demonstration of love, these 3D printed synthetic flowers are the perfect choice. This 3D model comprises 3D printable components to be super-glued together to create individual flowers. These include a flat leaf base for the final piece; a stem; a foliage of three to five leaves which should later be attached to the base; a chalice formed by four sepals; petals; and finally, a heart on which the petals close.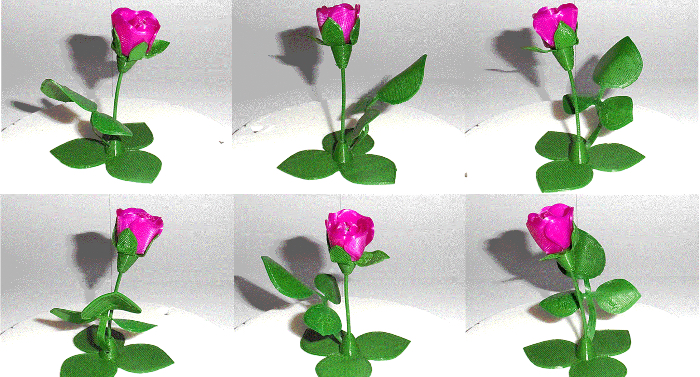 Wire Lapel Flower
If you're thinking outside of the box, why not add a little something extra to your partner's suit? For example, you could download the file and 3D print this wire lapel flower to hang on a lapel. Clothes make the man after all, and this stylized rose would be the perfect addition to any Valentine outfit.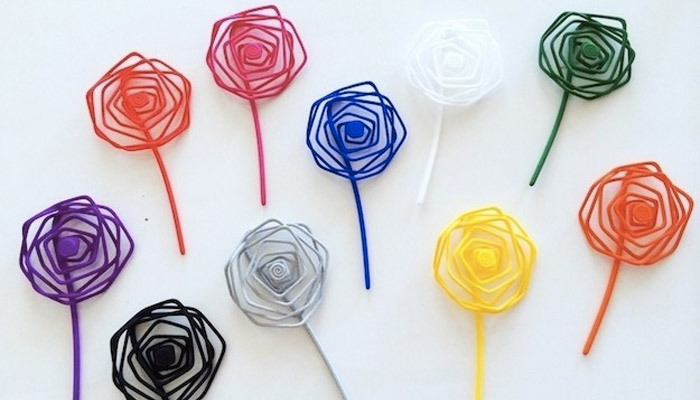 Heart Gear Keychain
So you've been busy tinkering in the lab all day and forgot to get something for that special someone. If you've got a nicely levelled 3D printer you could quickly print one of these cute heart keychains with a cyberpunk twist. As the creator says, the two top gears represent you and your partner while the bottom gear is the love that keeps you moving together in perfect harmony.

Emoji Keychain
Everyone uses emojis nowadays to communicate on social networks. But why not materialise your mood by printing these little heart eye emojis. If you are feeling particularly in love, hang this emoji on your keys and share it with the world!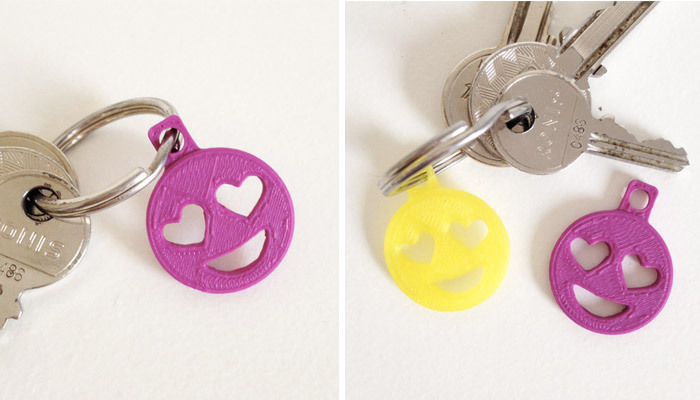 Heart Bookmark
Are you bored of giving or receiving the traditional roses and chocolates and also have a 3D printer at home? Then these practical, simple yet romantic heart bookmarks and paperclips might be the perfect gifts for you and your loved one!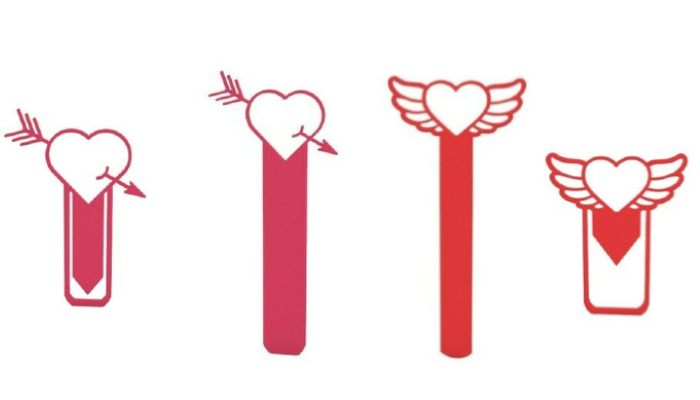 8 Bit Heart Chocolate Mold
3D printing chocolate directly from your own home is not quite yet possible on your 3D printing machine. However, you can still join in on the fun of 3D printed food this Valentine's Day with this incredible 8-bit heart chocolate mold casting! Once the 3D printed mold is complete, just put in melted chocolate and refrigerate to create your very own techy chocolate heart lollipops, perfect for sharing with a loved one.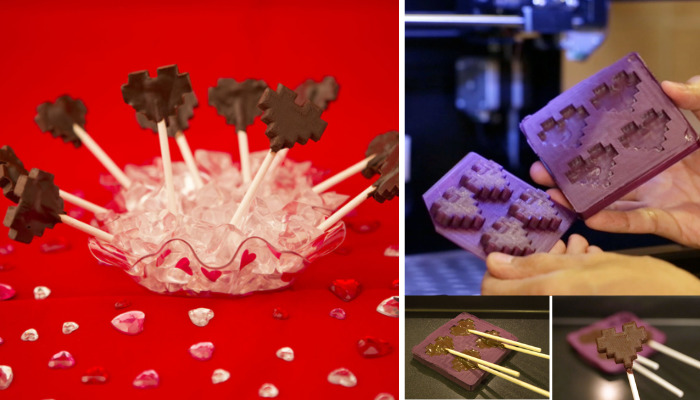 Heart Wings Cookie Cutter
Continuing on the theme of 3D printed food, this February 14 you can surprise your loved ones by baking cookies. And to give them a special touch, we bring you the perfect STL file for the occasion! These cookie cutters allow you to customize your cookies in the shape of your choice. Here you can see the example of a heart with wings, but the options are endless! Find the cookie cutter you like the most and get to work.
Romantic Candle Holder
If there's one thing you can't miss on this special day, it's candles! This 3D model of a candle holder has a heart shape and a relief like rose petals. In addition, it has a hole to include a small candle to provide ambient light… perfect for a romantic Valentine's dinner! The author of the 3D model states that no support structure is needed to print it and it is recommended to use PLA at 150 microns Z-axis resolution, 15% infill and a print speed of 75 mm/s.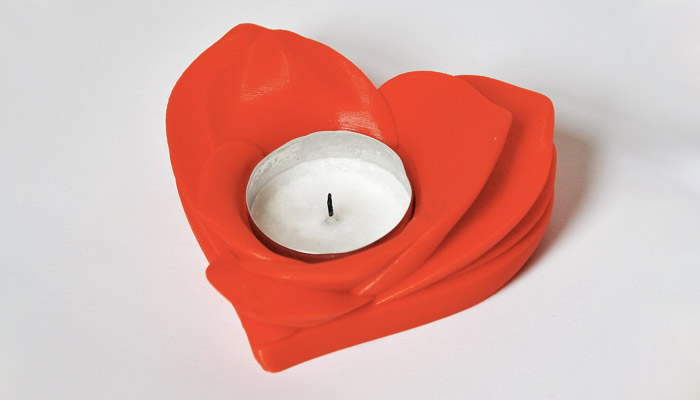 What do you think of these 3D printed Valentine's gifts? Let us know in a comment below or on our Facebook, Twitter and LinkedIn pages! Sign up for our free weekly Newsletter here, the latest 3D printing news straight to your inbox!