Romantic STL Files to Celebrate Valentine's Day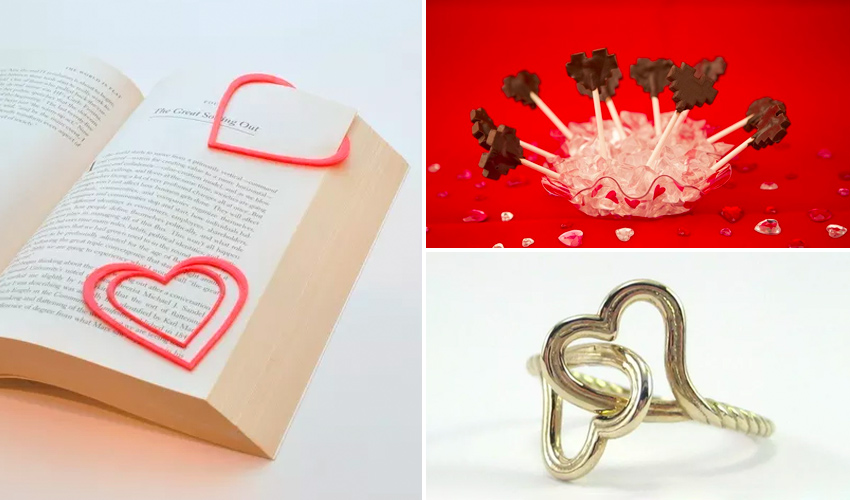 Most likely originating in ancient Rome, Valentine's Day, feast of lovers, is probably one of the most popular holidays around the world. As you know, it is celebrated yearly on February 14th and is coming up next Monday! You still have a few days to find the perfect gift for that special someone, but if you haven't found anything yet and want to give a more personal touch to this day, take a look at some of the below ideas for 3D printed gifts. Below, you will find a list with the 10 most original STL files to 3D print directly at home or through a 3D printing service for Valentine's Day. All the models can be downloaded through Cults. From jewelry, flowers and hearts, to all kinds of romantic and original objects, it is definitely not to miss! We wish you all a happy Valentine's Day!
A Locked Love Ring by Fischfuous
Jewelry is a must for Valentine's Day! And this year, we propose that you 3D print a ring symbolizing eternal love. It was designed by the young designer Fischfluous in two parts: they are actually two intertwined hearts. The ring is a kind of braid that gives the jewel its originality. The STL file is available from $10.50 on Cults and was designed for a size 7. And if you prefer necklaces, know that the designer has also imagined other 3D models of jewelry.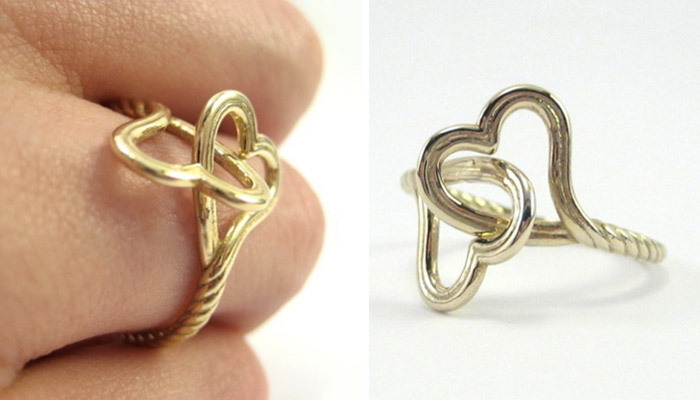 Declare Your Feelings with 3D Printing
Created by the designer ALLV, this decorative element is perfect for declaring your feelings to your better half. The structure, which shows the famous I Love You accompanied by a heart, is entirely 3D printable. The decorative element can easily be installed in a home. Whether on a table, a shelf or even a chest of drawers, the piece is sure to enhance any space. For those who would like to purchase it, the designer ALLV has made this Valentine's Day appropriate STL file available on Cults for free!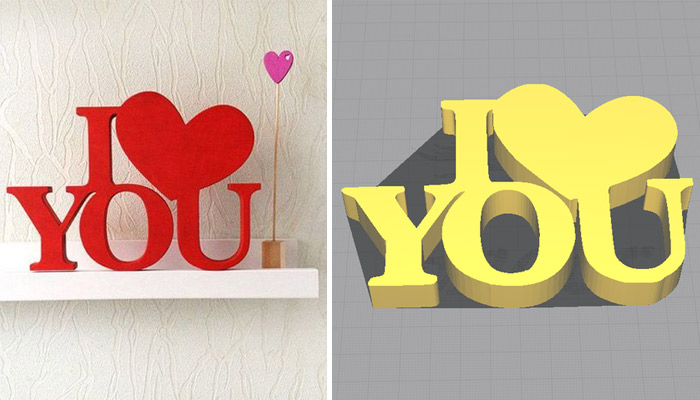 An Ever-Lasting Synthetic Flower STL File
The fresh bouquet of roses, romance incarnate, has become a Valentine's day classic. But like all flowers, roses too will shortly wither and die. PLA, on the other hand, is forever. So, if you're looking a somewhat less ephemeral demonstration of love, these 3D printed synthetic flowers are the perfect choice. This 3D model comprises 3D printable components to be super-glued together to create individual flowers. These include a flat leaf base for the final piece; a stem; a foliage of three to five leaves which should later be attached to the base; a chalice formed by four sepals; petals; and finally, a heart on which the petals close.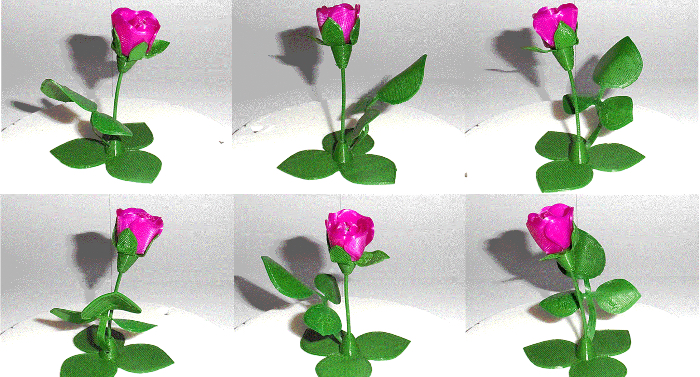 A Heart-Shaped Bookmark to Celebrate Valentine's Day Year-Round
Would you like to give something more original than roses and chocolate? If you have a 3D printer at home and your partner is a book lover, why not try this next idea? This 3D file consists of a heart-shaped bookmark that will serve as a reminder of which page of your favorite book you were reading. The 3D model can be printed in one piece using any color of filament, although obviously red or pink would be the most suitable. It weighs 2 grams and measures 70 x 75 x 2.5 mm. A practical, simple and yet romantic gift that you can 3D print for this Valentine's Day!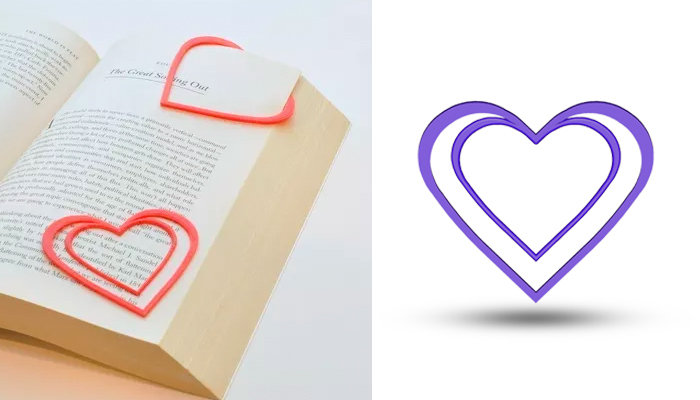 8 Bit Heart Chocolate Mold STL File for Valentine's Day
3D printing chocolate directly from your own home is not quite yet possible on your 3D printing machine. However, you can still join in on the fun of 3D printed food this Valentine's Day with this incredible 8-bit heart chocolate mold casting! Once the 3D printed mold is complete, just put in melted chocolate and refrigerate to create your very own techy chocolate heart lollipops, perfect for sharing with a loved one.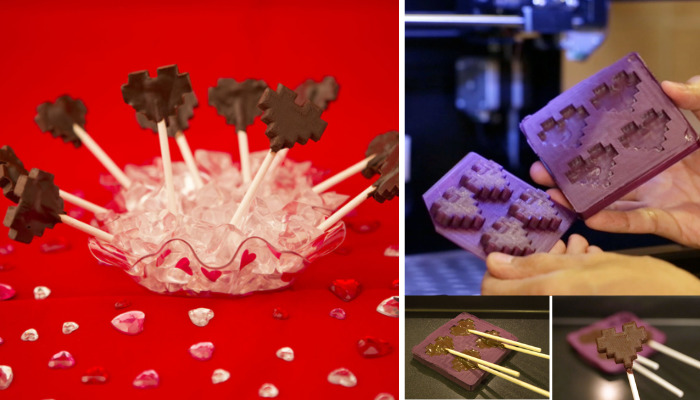 Different Molds for Romantic Valentine's Cookies
Everyone knows that the way to someone's heart is actually through their stomach! That's why this February 14th is the perfect time to make a plan in the kitchen with your partner and what better plan than making cookies with different shapes? We bring you these Valentine Day's cookie cutter mold STL files so you can create a variety using 3D printing. Would you prefer a heart with wings, or the shape of a ring? What about a couple of birds! The options are endless so you can easily find the one you like the most.
Romantic Candle Holder
If there's one thing you can't miss on this special day, it's candles! This 3D model of a candle holder has a heart shape and a relief like rose petals. In addition, it has a hole to include a small candle to provide ambient light… perfect for a romantic Valentine's dinner! The author of the 3D model states that no support structure is needed to print it and it is recommended to use PLA at 150 microns Z-axis resolution, 15% infill and a print speed of 75 mm/s.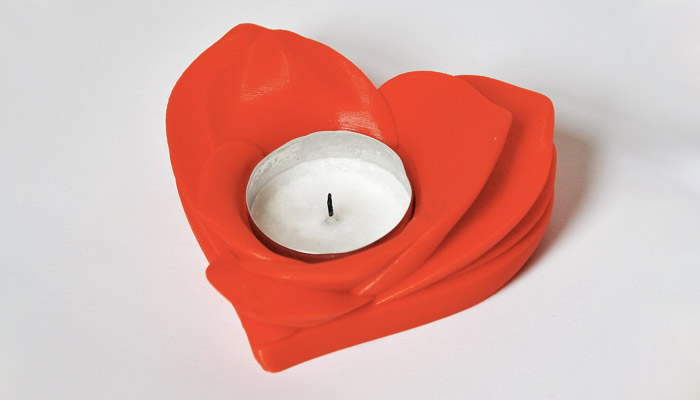 Flower Pots in the Shape of a Four-Leaf Clover
A bouquet of flowers withers very quickly and gives your sweetheart joy only for a few days. How about some 3D-printed flower pots that will also give you the luck of the Irish? With this STL, you can create something that will outlast Valentine's Day for an eternity and is especially eye-catching. Available for download on Cults, with this model you can make a total of five individual parts, which are then assembled. All you need is your FFF device and your desired filament. Afterwards you can plant the 3D-printed pots with different flowers and voilà, an original gift all ready for your love.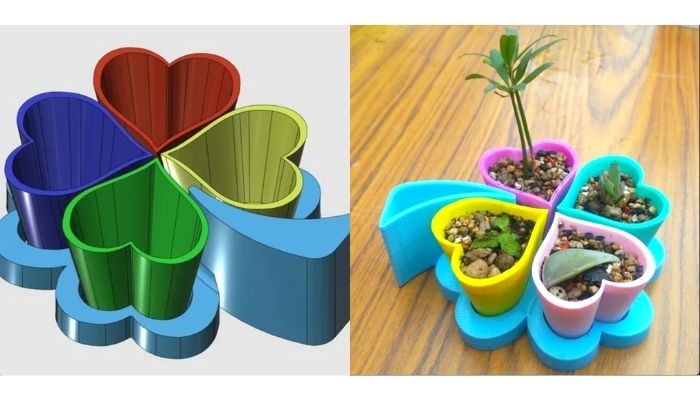 An Extra Dose of Romance for the Indecisive
If you are not sure what will please your beloved better, why not try a 2-in-1 declaration of love? Whether a heart combined with the word Love or yet something individual – the author of the 3D model states that he can personalize any combination. So there are no limits to your own creativity. For the printing process, it is recommended to use support structures. Also, the object should be printed so that the writing is readable from above. The romantic Valentine's Day model and many other creative ideas in STL format are already available from only $1.37.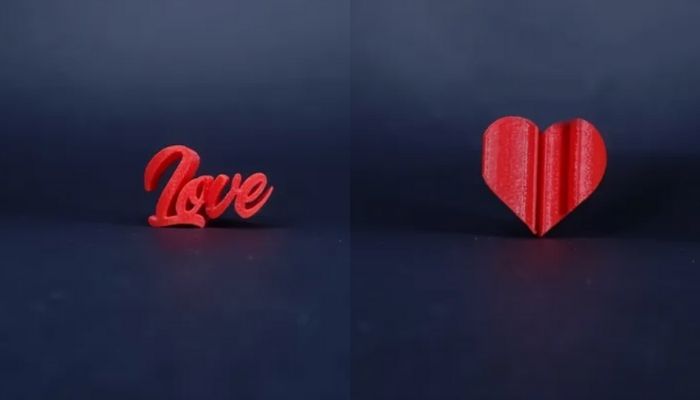 A Geometric Heart Keyring Valentine's Day STL File
What's the key to your love's heart? It could be many things, but regardless of what it actually is, they sure will need a key ring to hold it. Why not print this geometric heart keyring using this STL file in time for Valentine's Day? Unlike some of the more traditional hearts, the design of this heart is a little more creative, allowing you to express your appreciation of the season of love in a modern way. The file is downloadable free from cults and results in a heart of 52x45x7mm (not recommended to resize). The creator, Cancore_3D notes that no supports or rafts are needed for this design and that for the model the settings were 30% infill, 200 microns, 25mm/s.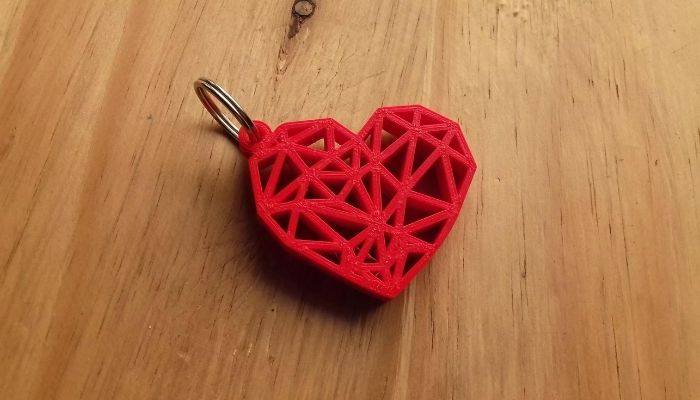 What do you think of these STL files in honor of Valentine's Day? Let us know in a comment below or on our Facebook, Twitter and LinkedIn pages! Sign up for our free weekly Newsletter here, the latest 3D printing news straight to your inbox!