The Best Large FDM 3D Printers Available on the Market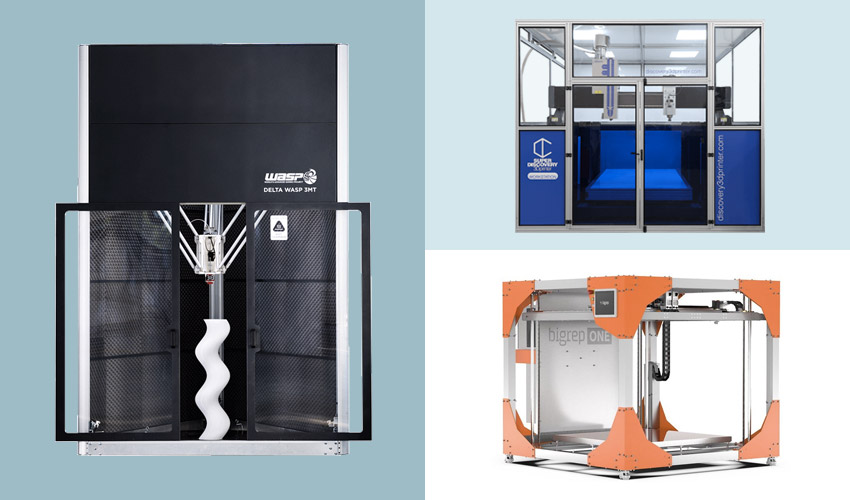 Additive manufacturing is not limited to small parts and models that can be made at home. Some machines offer very large print volumes going into cubic meters. This eliminates the need to assemble different components to create a larger part. These types of large format professional 3D printers can rely on different processes, whether it be powder bed laser melting with machines like ATLAS, or stereolithography with Azul3D's solution. Today, we will focus on fused deposition modeling (FDM) technology and have selected the largest professional FDM 3D printers (with volumes above 800 liters) to give a quick overview of the market and all the possibilities available to create XXL quality objects. The printers have been sorted print volume starting with the largest.
The Box from BLB Industries
THE BOX Large is a professional 3D pellet printer developed by Sweden-based manufacturer BLB Industries. Launched in 2019, THE BOX Large uses pellet extrusion (FGF) 3D printing technology, allowing for reduced costs and a choice of a wide range of materials. It can also be supplied with up to two medium- or large-sized extruder nozzles. This pellet 3D printer offers a maximum manufacturing volume of 2000 x 2000 x 1500 mm (6000L), positioning it as the highest capacity machine to date. This solution is ideal for prototyping as well as large-scale mass production.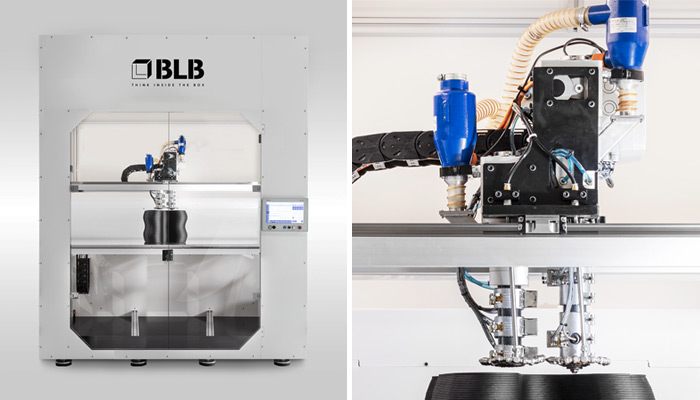 Super Discovery 3D Printer Workstation
Launched in 2017 by CNC manufacturer Barcenas, the Super Discovery 3D Printer Workstation is a workstation to support the needs of Industry 4.0. Based on fused granulate fabrication (FGF) technology, it is capable of manufacturing large parts at high speed, and also considerably reducing the cost of production, as it uses raw material in pellet form. In more technical aspects, it has a standard printing volume of 1.3 x 2.5 x 1 m³ (3250L), a closed chamber, a heated bed up that goes up to 150ºC, an extrusion system that reaches 410ºC, and integrates CNC technology for final quality post-processing by milling. In terms of materials, the machine can work with a wide variety of thermoplastics (ABS, ULTEM, PC, PPE, ASA, etc.).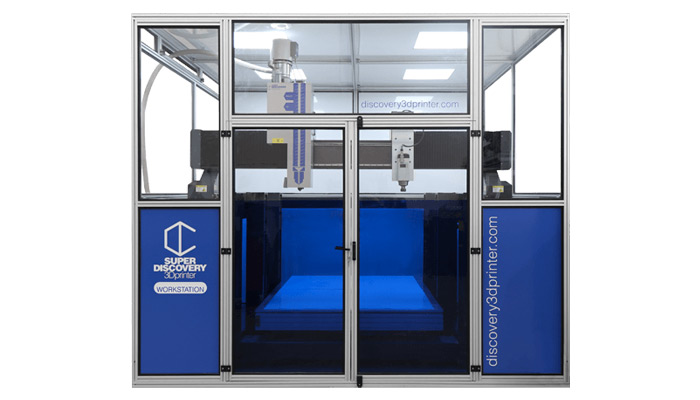 T3500 from Tractus3D
The Dutch manufacturer has developed a range of industrial, large volume 3D printers, the largest being the T3500. It has a printing volume of 1000 mm x 1000 mm x 2100 mm (1650L) and a speed of 300 mm a second. It possesses a heated bed that can heat up to 100°C which means it's compatible with PLA, ABS and all other plastics – other than thermoplastics ( > 300°C). It has a 7-inch colour touchscreen which enables users to access 4 GB of internal storage and control the 3D printing process. A dual extruder is also an available option for the T3500. Additionally, the nozzles heat up to 300°C.

Atlas 2.5 from Titan Robotics
The Atlas 2.5 is one of the large format industrial 3D printers launched in 2016 by Titan Robotics, a company based in Colorado, USA. Among its main features, it has an extruder that is compatible with filaments and pellets (hybrid manufacturing with both methods is also available) and that can reach the temperature of 400ºC. It is compatible with plastic pellets and filaments such as TPE, TPU, PLA, etc. Atlas, according to the manufacturer, is three times faster than competing solutions and reduces production time tenfold. With a maximum print volume of 1066 x 1066 x 1220 mm (1387L), this machine offers additive manufacturing solutions to meet demanding industry needs.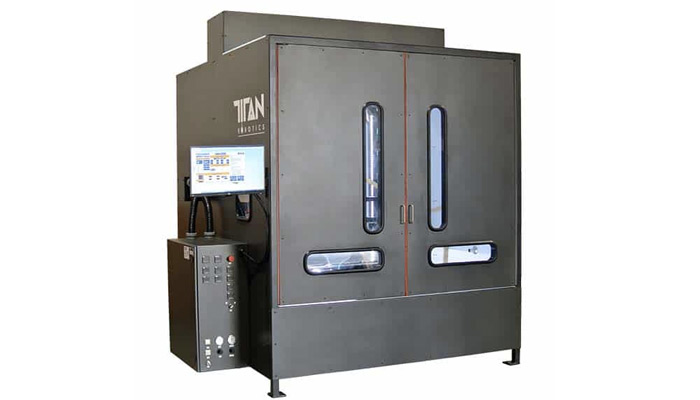 400 Series Workbench XTREME from 3DPlatform
The 400 Series Workbench XTREME 3D printer, from US-based 3DPlatform, offers more than just a 3D printer. Launched in 2017, this dual extrusion machine has a print volume of 1000 x 1500 x 700 mm (1050L), and can transform into a tool storage point to simplify your manufacturing tasks. The FDM 3D printer has a heated tray, a control screen for easier processing and automatic calibration to avoid wasted time and production errors. This large-format 3D printer offers a layer resolution of 70 microns.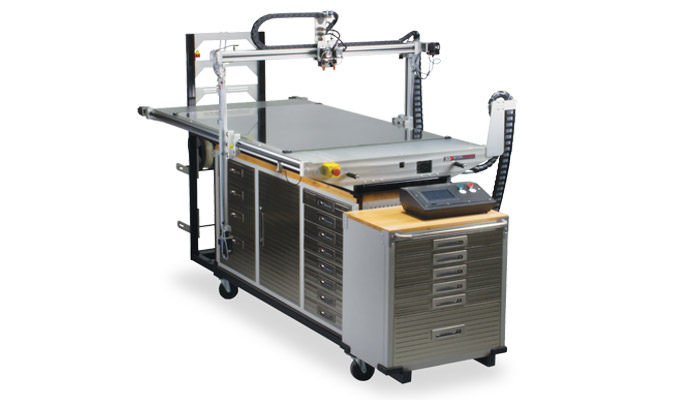 Modix BIG-Meter from Modix
Modix is an Israeli manufacturer that has developed a range of large format 3D machines for any type of application. In this case we are talking about the Modix BIG-Meter, a dual extrusion 3D printer that offers a print volume of 1010 x 1010 x 1010 mm (1030L). It is compatible with a wide variety of thermoplastics, from standard to the most technical. The machine is equipped with a plate that can reach a temperature of 130°C, an end-of-filament detector or a PEI printing surface for easy part removal.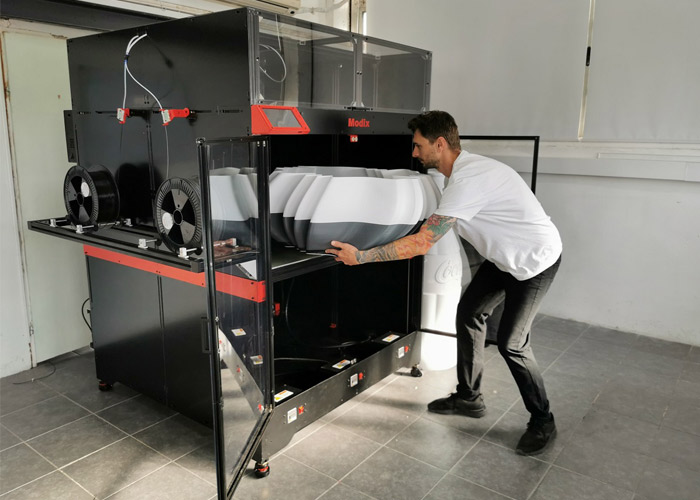 BigRep One v3
BigREP is a German manufacturer that became known in 2014 as a specialist in the development of large-scale 3D printers, with the launch of the first version of its BigRep One. From this first launch, the brand has been developing and innovating 3D printers, leading to the BigRep One V3. A 3D fused deposition printer with a printing volume of 1005 x 1005 x 1005 mm (1000L), it has a double extruder and is capable of printing on materials such as PLA or PETG.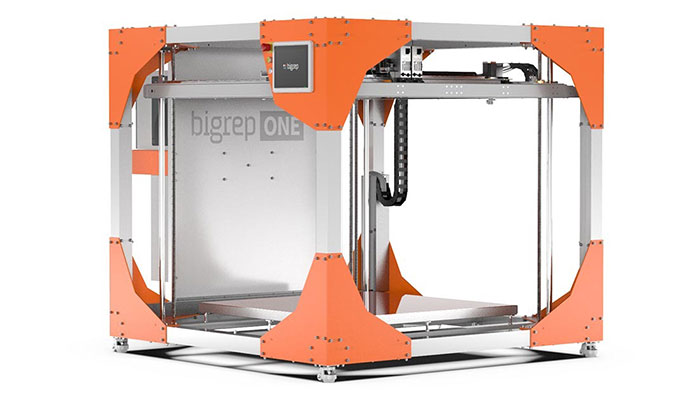 F100 from Creabot
Chinese manufacturer Creabot has a professional large-format 3D printer, the F100, capable of designing 1000 x 1000 x 1000 mm (1000L) parts. It has an extruder that can reach 420°C, a closed chamber that goes up to 60°C and a tray that reaches 100°C. The F100 is therefore compatible with ABS, composite filaments, PETG and even nylon. The machine also incorporates remote control to ensure successful prints and minimize errors. Finally, it offers an accuracy of 0.1 mm and a speed of 200 mm/s.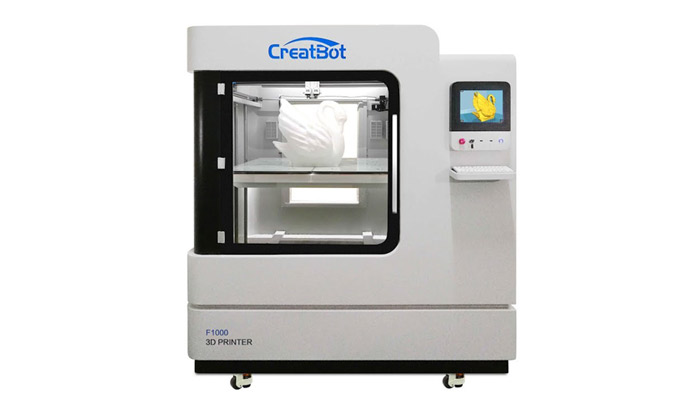 The Tobeca 1000 from Tobeca
Tobeca is a 3D printer belonging to the French manufacturer with the same name. The Tobeca 1000 is a dual extrusion 3D printer with a printing volume of 1000 × 1000 × 1000 mm (1000L). The 3D printer has a closed chamber that can reach 80°C, plus extruders capable of up to 300°C, which opens up the possibilities for printing with materials such as polycarbonate or carbon fiber-based filaments. It has a heated tray that reaches 150 ºC.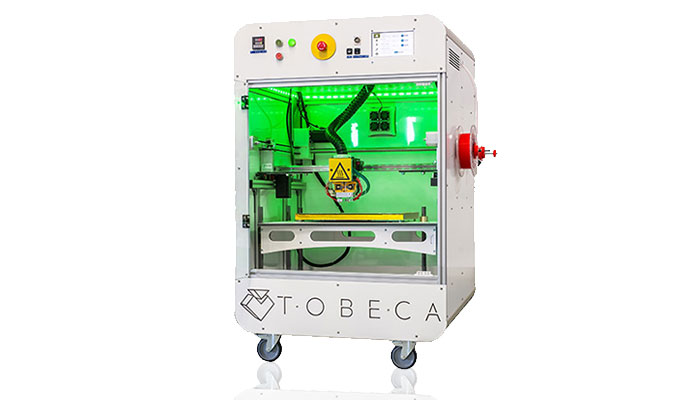 The Delta WASP 3MT Industrial from WASP
The Delta WASP 3MT Industrial is from Italian manufacturer WASP, known for large format 3D printers, including the Crane WASP, its modular 3D printer for construction. In addition to its commitment to housing development, this brand is also committed to large-scale FDM technology. Its 3D printer has an enclosed camera that prevents vibrations and printing errors. It is capable of printing with materials such as PLA, ABS, PETG as well as pellets. It has a print volume of 1000mm x 1200mm (943L).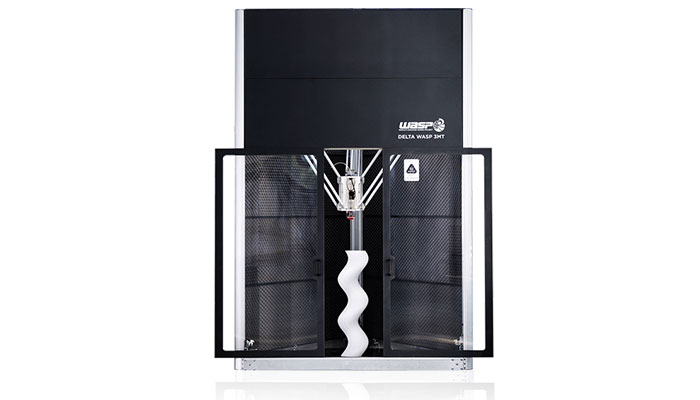 The Extreme 2000 Pro from Builder
The 3D printer Extreme 2000 of the Dutch company Builder offers an impressive print volume of 700 x 700 x 1700 mm in a closed chamber. During printing, the heating platform can reach a temperature of up to 60°C while an integrated camera allows control during printing. The FDM printer has automatic levelling and filament detection, making it much easier to use. Thanks to its two extruders, it can achieve a layer resolution of 0.05 to 0.06 mm and print various materials such as PLA, PET and flexible materials.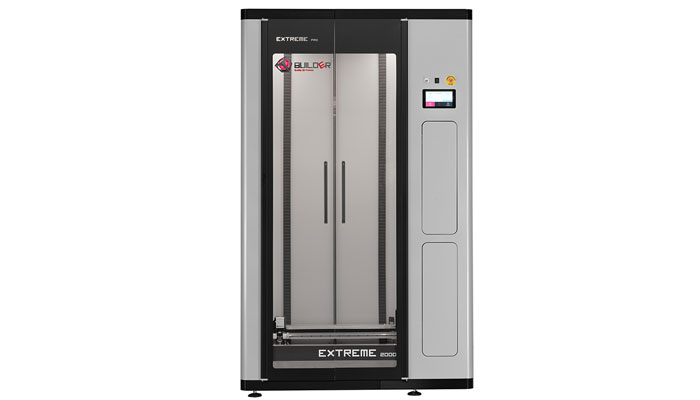 Terabot from re:3D
The Terabot is an FDM machine with a print volume of 915 x 915 x 1000 mm (837L). It is the largest 3D printer from manufacturer re: 3D, also known for its Gigabot XLT. Terabot is compatible with 2.85 mm diameter filaments with a melt temperature below 320°C. It features a print speed of 120 mm/s and an accuracy of 300 microns. In addition, it can be used with laminators such as Simplify3D or Slic3r; the machine is open to open source software.
What do you think of our selection of large FDM printers? Let us know in a comment below or on our Linkedin, Facebook and Twitter pages! Sign up for our free weekly Newsletter here, the latest 3D printing news straight to your inbox! You can also find all our videos on our YouTube channel.