The Best Examples of 3D-Printed Vehicles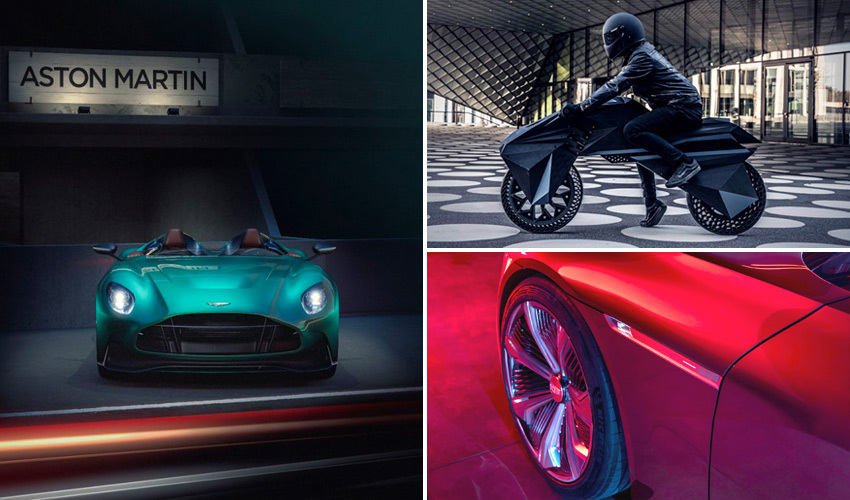 As you may have noticed, additive manufacturing is becoming widely popular in the automotive sector, and now, many vehicles are designed partially or entirely using 3D technologies. From sports cars to motorcycles and much more, there are a wide variety of 3D printed vehicles on the road! Without a doubt, additive manufacturing is changing production methods in the automotive industry. To highlight this growing production method for mobility, we have compiled a list featuring some of these vehicles that have been completely or partially created using 3D printing. Discover some of the most innovative designs and projects below with our list of some of the best examples of 3D printed vehicles!
3D Printing for Luxury Cars With the Aston Martin DBR22
British car manufacturer Aston Martin, one of the best-known luxury automotive firms in the world, has recently employed additive manufacturing in their car design. The DBR22 model is a two-seater design which celebrates the 10th anniversary of the firm's bespoke division, named Q. The car features a 3D-printed rear subframe with aluminium parts bonded together to form the finished subframe. By using this technology, the firm saved on weight without affecting the rigidity. The finished car was presented at the Peeble Beach Concours d'Elegance in California, one of the most prestigious automotive events in the world. With the DBR22 model and additive manufacturing technologies, the firm created an iconic and innovative sports car.
Porsche and its Use of Metal 3D Printing for the GT2RS
Car manufacturer Porsche has been using additive manufacturing for several years, and for a variety of applications ranging from prototyping to the production of finished parts. We wanted to highlight one of its latest engine-related projects: 3D printed pistons for its flagship 911 model, the GT2 RS. Working with Trumpf and Mahle, the German company was able to manufacture pistons that are 10 percent lighter and incorporate cooling channels in the crown – a design that would not have been possible via subtractive manufacturing methods. This weight reduction allows Porche to reduce the heat load on the pistons and optimize combustion, providing better efficiency. Six 3D printed pistons were mounted on an engine and successfully tested for over 200 hours.
The Ford Maverick Allows® For Customization With 3D Printing
When we think of American car manufacturers, one of the first that comes to mind should be Ford, the first to mass produce automobiles on a moving assembly line. More than 100 years later, the company continues to be a trailblazer, notably with its appropriately named Ford Maverick® pickup truck. The vehicle has been designed to allow its buyers to be creative thanks to its Ford Integrated Tether Systems (FITS). These are a series of slots at the rear of the center console and under-seat storage bins that allow for the customization of accessories, notably with owners' very own 3D printers. Essentially, the slots act as receivers for matching mounts for any accessories that a customer may want, and thanks to open-access 3D files they can even do it themselves. 
Campsite Carbon Makes 3D Printed Parts for Jeeps
If we are talking about well-known companies in the automotive industry, we definitely cannot forget about Jeep. And lucky for the loyal customers of this brand, they are also integrating additive manufacturing into its cars, namely the iconic Jeep Wrangler. Namely, the company Campsite Carbon is using carbon fiber 3D printing to create innovative parts for the exterior, interior and under the hood of the JL and JK Wranglers and the JT Gladiator. Though these products must be bought from Campsite Carbon directly, they seem to be popular already with users, notably the easy-to-install convex mirrors which can be included on the car even when the doors are on.
Cadillac Celestiq and its 3D Printed Parts
GM is certainly no stranger to additive manufacturing. The company turned to the technology  in order to print 60,000 parts in just five weeks. They also have integrated AM in their luxury brand, notably in their Cadillac, which GM invested around $81 million to build. This vehicle, which can be classified as ultra-luxury due to its design, the technology used and its performance, is said to contain more 3D-printed components than any other vehicle previously produced by GM. These more than 100 installed and 3D-printed parts are made of both polymer and metal, and can be found in structural and cosmetic parts. The manufacturer does not provide any information about the specific parts.
Ducati and its Use of 3D Printing for Sport Motorcycles
For the 2022 MotoGP season, the Ducati Corse team relied on additive manufacturing to create its sports bikes. The Italian company, part of the Volkswagen Group, enlisted the help of Roboze, another Italian manufacturer dedicated to the development of 3D printers and high-performance materials. Specifically, the technology was used to create parts for its Desmosedici GP series of motorcycles. Thanks to the collaboration between the two, it was possible to 3D print parts with polymer instead of metal counterparts. These components included the external coating and heat shields. The integration of additive manufacturing by such a renowned brand represents a before and after in the world of MotoGP.
Peugeot and its 3D Printed Accessories
The French car manufacturer Peugeot has been working with additive manufacturing in connection with its vehicles for several years now. For example, this technology is being used in the new Peugeot 308, although in this case 3D printing was not used for components but for the car accessories, similar to Ford FITS. For the production of, for example, cup or sunglasses holders or even spaces for  your telephone or card. Ultimately, the aim was to equip the Peugeot 308 with innovative products in joint cooperation with HP Inc, Mäder and ERPRO. But they went even further. That is because the companies always wanted the products to be pleasant to the touch, solid and easy to use, thus increasing the feel-good factor in the interior. HP Multi Jet Fusion technology was used, with a flexible polymer as the material.
Toyota and Stratasys Work Together for 3D Printed Parts for Vehicles
Starting in June 2022, Stratasys, a leading polymer 3D printing company, entered into a cooperation agreement with Toyota Racing Development (TRD). Stratasys machines would be used to produce parts for the new Toyota GR86 for the American GR Cup competition. More specifically, TRD has integratedthe  Stratasys Fortus® 450mc, F370, and F370®CR 3D printers at its Salisbury, N.C., and Costa Mesa, California, locations to print end-use parts and will internally print a hood scoop of the car's air intake from FDM® Nylon 12CF. A GR86 clamp, on the other hand, will be printed by Stratasys Direct with the Stratasys H350™ 3D printer powered by SAF™ technology and using Stratasys High Yield PA11 sustainable material. It will also be possible to customize the interior of the machine with 3D printed parts.
Nera: The Entirely 3D Printed Motorcycle From BigRep
BigRep, a Germany-based company, has created an entirely 3D printed electric motorcycle. Named NERA (New-Era), the prototype was designed by the company's NOWlab innovation lab. According to Daniel Büning, managing director of NOWlab, the bike pushes the boundaries of engineering creativity. Indeed, it has some amazing features, such as airless tires, a flexible bumper and a futuristic design. With the exception of the electronic components, all parts of the Nera are 3D printed with BigRep's FDM technology. For the design of the bike, PLA, Pro FLEX, a flexible TPU-based material, and ProHT filament, capable of withstanding high temperatures, were used.
The First 3D Printed Supercar, the Blade From Divergent Technologies
In 2015, Divergent, a California-based startup, introduced Blade, a concept car that incorporates 3D printed parts in the chassis. It later signed a partnership with Peugeot to improve its production capacity with the help of additive manufacturing. Over the years, the company has increased its volume of 3D printed parts, and the Blade has been able to benefit from this. All of the car's components are now designed with 3D printing technology. In addition, Divergent has developed software and an automated assembly system to design the parts. In 2022, the company raised $160 million to continue producing the car model and to expand its manufacturing capacity internationally. Furthermore, Kevin Czinger, the founder of Divergent Technologies, also founded Czinger which unveiled its first production car, the 21C, another 3D printed hypercar, in 2022.
BMW Continues its Use of AM With the ix5 Hydrogen
Numerous components in the BMW iX5 Hydrogen are being produced in a climate-friendly manner using additive manufacturing at the Additive Manufacturing Campus in Bavaria though exactly which parts are involved is unknown. In addition, the high-performance fuel cell and the optimized energy battery of the drive system make the vehicle unique worldwide. The modern luxury-class Sports Activity Vehicle (SAV) combines groundbreaking drive technology with the powerful proportions and versatility of a BMW X model. The car achieves an output of up to 125 kW/170 hp by converting hydrogen into electricity. This makes it possible to maintain consistently high speeds over longer distances. In terms of emissions, only water vapor is produced. In addition, energy is stored in an electricity battery during thrust and braking processes. As a result of the stored energy, a system output of 275 kW/374 hp can be achieved. This is attractive for particularly sporty driving maneuvers, which are characteristic of the brand.
Jane by Viba
The French company Viba is a fan of additive manufacturing: it uses it to produce certain components of its refined motorcycles. His model Jane incorporates a 3D-printed aluminum fuel tank. The part was designed on a laser fusion machine, more precisely on one of the machines from SLM Solutions. Its honeycomb structure makes it possible to reduce the total weight of the component while maintaining sufficient rigidity. The Viba motorcycle is also equipped with a mudguard and a front rack, both 3D printed.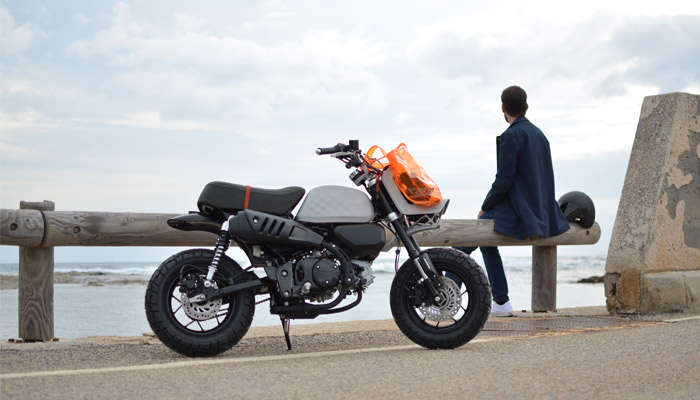 What do you think of this list of 3D-printed vehicles? Let us know in a comment below or on our Facebook and Twitter pages. Don't forget to sign up for our free weekly newsletter, with all the latest news in 3D printing delivered straight to your inbox!