The best 2019 videos about 3D printing!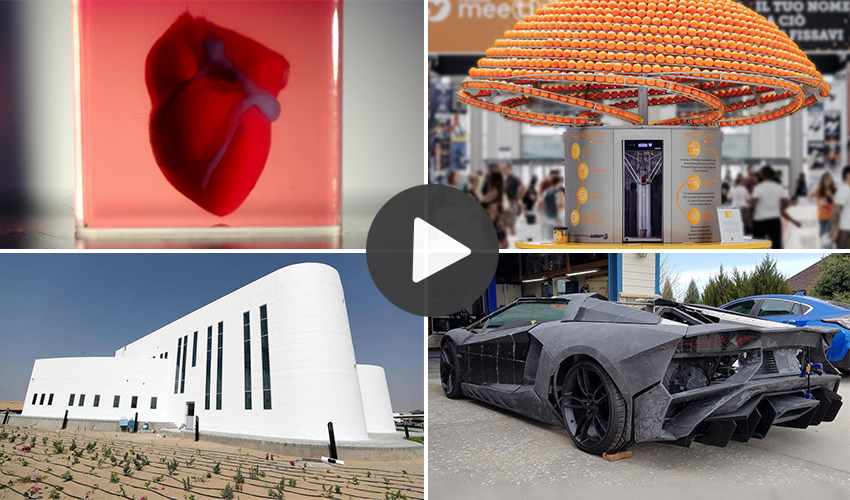 2019 has been a year full of exciting developments for the additive manufacturing industry across all sectors. New machines have been introduced to the market, many applications have broken records, better performing materials have been developed, etc. Fortunately, most of these innovations have been filmed, so we can show them to you today! Well-known companies and institutions such as HP, Desktop Metal or Harvard University made headlines in 3D printing this year – this shows us where the industry is at and what is possible in the future! Picked month by month, watch the best 2019 videos about 3D printing below!
1- NovaMeat's plant-based 3D printed meat
The Spanish startup NovaMeat wants to limit the excessive consumption of meat in the world, which is also very harmful to the environment. To do this, it has developed a meat substitute based on a mixture of proteins from rice and peas that can be 3D printed. This process is very complex because the muscle structures and consistency of 'normal' meat have to be reproduced in CAD modeling. In total, this production would be 95% more efficient in terms of land consumption, water consumption and greenhouse gas emissions compared to traditional production methods. This is an alternative to meat that is worth mentioning!
2- Israeli researchers develop a 3D printed human heart
A team of Israeli scientists has developed a bioprinted heart that they believe perfectly matches the immunological, cellular, biochemical and anatomical properties of the patient's organ. This is an extremely important breakthrough in the field of medicine, especially since they have succeeded in creating its blood vessels and tissues from stem cells. The heart is about the size of a cherry or the heart of a rabbit, with a printing process that took about 3 to 4 hours to complete.
3- The Met Gala 3D printed rose dress
Designer Zac Posen presented his new models at the Met Gala, one of the most famous fashion shows in the world. He worked with GE Additive and Protolabs to design, among other things, a unique dress called Rose. The garment, worn by model Jourdan Dunn, consists of 21 3D printed rose petals – each sheet is 53 cm long and weighs 0.4 kg. The dress weighs up to 13 kilos and takes 700 hours of printing and 400 hours of post-processing. The individual rose petals were produced on a 3D SLA printer – the entire process was handled by the Protolabs 3D printing facility in North Carolina. A great example of how additive manufacturing can be used in the design and fashion industry!
4- Sandvik creates 3D printed diamond composite
Swedish company Sandvik succeeded this year in developing a 3D printed composite diamond, an industry first! Diamond is considered to be the hardest natural material, which makes it very popular in many industries, especially in mining and the medical sector for designing very strong implants. Sandvik used light-curing technology to create a 3D printed composite diamond. After the printing process, post-processing played an important role in giving the material its hardness and strength.
5- Rady Children's Hospital & HP's partnership for innovative medicine
At Rady's Children's Hospital, HP's Multi Jet Fusion 580 colour 3D printer is used to produce medical models. The hospital is able to create anatomical models that very accurately reproduce a patient's organ from an accurate 3D scan. With this technology, doctors, especially surgeons, can shorten their operating time by preparing in advance on the 3D printed model. This also reduces the risk of error. HP's Multi Jet Fusion technology therefore offers precision and detail, two key benefits in the medical sector – colour, for example, makes it possible to distinguish blood vessels, arteries and so on.
6- A juice bar that turns orange peel into 3D printed cups
Here's a rather unusual way to drink your orange juice! It's a project by architect Carlo Ratti, called Feel the Peel, who has developed a very special juice bar that can be used to turn orange peel into 3D printed cups. The machine is 3.10 metres high, holds up to 1,500 oranges and contains a WASP 3D printer. The project aims to promote the circular economy in our daily lives and to create added value for our most important food waste. We leave you with the video, it speaks for itself
7- A father and son 3D print a Lamborghini in their garage
Some time ago, a father and son decided to build a Lamborghini with 3D printers. It all started with Sterling Backus, a physicist who wanted to show his son the possibilities of 3D technology and talk to him more generally about science. So he decided to create a life-size Lamborghini to be as concrete as possible. After more than a year of work and 220 filament reels used (PLA, ABS and ASA), the car is ready to roll! Other manufacturing processes were of course used to design the vehicle.
8- The largest 3D printed boat in the world
A team of researchers from the University of Maine has unveiled the world's largest 3D printed boat. It bears the name 3Dirigo and was developed on a large-format polymer printer designed by the UMaine Advanced Structures and Composites Center. The boat is 7.62 meters long and weighs 2.2 tons. The project teams received 3 world records for this masterpiece: the largest 3D printed part, the largest 3D printed boat and the largest 3D printer. This is a promising initiative for the maritime transport sector which could be more innovative and efficient thanks to additive manufacturing.
9- Dubai Municipality presents the world's largest 3D printed building
In Dubai, under the leadership of the government, the world's largest administrative building was constructed in part using concrete 3D printing. It is 9.5 metres high and has an area of 640 square metres. Despite the extreme heat, this masterpiece was completed during the summer in Dubai, directly on site, thanks to Apis Cor's 3D printers, capable of withstanding extreme conditions. This achievement is part of the project of the city of Dubai, which hopes to have 25% of its buildings printed in 3D by 2030.
10- A multi-nozzle 3D printer can switch between 8 inks
Researchers at the Harvard Wyss Institute for Biologically Inspired Engineering and the John A. Paulson School of Engineering have developed a new technique called Multi-Material Multi-Nozzle 3D Printing (MM3D). It allows the material used to be changed up to 50 times per second with a single print head. The process uses high-speed pressure valves to achieve this fast and consistent switching. The printer can also switch between 8 different printing supports – from a single nozzle to multiple nozzles. This opens up new areas of application, as materials such as epoxies, silicones and organic colours can also be used.
11- Formnext 2019 recap
From 19 to 22 November, the heart of additive manufacturing was beating in Frankfurt and 3Dnatives was able to participate in the world's largest trade fair – Formnext 2019. With more than 850 exhibitors and around 34,500 participants (compared to 27,000 the previous year), the 5th edition of Formnext filled a total of 4 halls covering more than 53,000 square meters. In this video, we summarize the trends of the show, meet the exhibitors but also the visitors to get their opinion. So take advantage of this recap, we look forward to seeing you next year!
12- Let's #Talk3D with Ric Fulop, CEO of Desktop Metal
The American manufacturer Desktop Metal has raised more than $438 million from investors such as Google, BMW and Ford over the past four years to develop its more accessible metal machines. Therefore, we conducted our first #TALK3D interview with Ric Fulop, CEO and co-founder of Desktop Metal, to learn more about his disruptive company! He tells us about the company's ambitions and his point of view on the market:
Was there a video about 3D printing that we missed? Let us know in a comment below or on our Facebook and Twitter pages! Sign up for our free weekly Newsletter, all the latest news in 3D printing straight to your inbox!