Besix 3D on concrete 3D printing & the benefits of this technology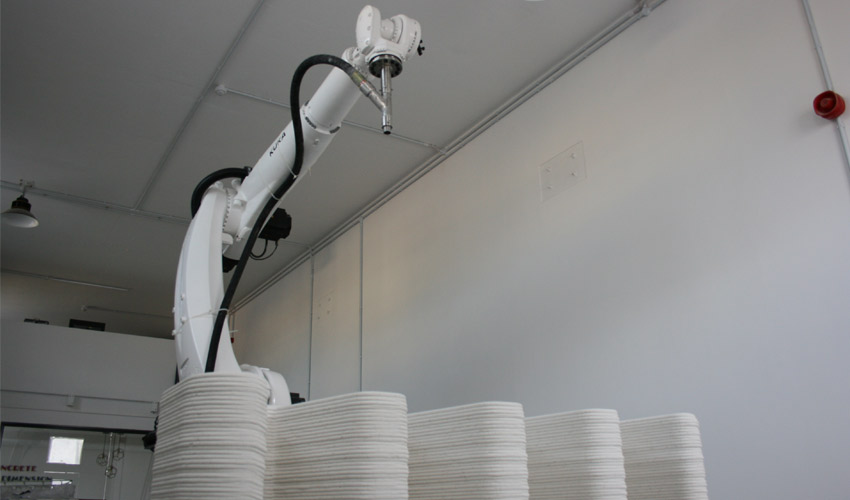 While 3D printing affects many industrial sectors, it also has a significant impact on construction, a market in which it now offers clear advantages over traditional methods. Manufacturers of concrete 3D printers are starting to present innovative and promising projects that could well become the future of tomorrow's houses, buildings and architecture. These machines generally extrude successive layers of a concrete mixture, in some cases allowing more complex geometric shapes to be created directly on site. We met one of these actors, Besix 3D, part of the Belgian group of the same name. This division is dedicated to additive manufacturing technologies and seeks to industrialise the market by democratising the use of concrete 3D printing. We met Jonas Vandeven, the director of Besix 3D, who presented us with some of the company's projects and benefits of this construction method.
3DN: Can you introduce yourself and your link to 3D printing?
BESIX is a leading Belgian group, active on five continents in the construction, real estate development and concessions sectors. Among its emblematic achievements, we can cite the Burj Khalifa in Dubai, the highest tower in the world, the Great Egyptian Museum on the plateau of the pyramids of Giza, the Carpe Diem and CBX skyscrapers, located in the Parisian district of La Défense, or port and airport infrastructures throughout the world, from Paris-Charles-de-Gaulle to Tangier Med in Morocco. BESIX is an international reference in the construction, maritime works, environment, sports and leisure facilities, industry and infrastructure sectors. The Group is active in nearly 25 countries and on dozens of projects on five continents.
BESIX's expertise is distinguished by an internal Engineering department at the forefront of contemporary technologies. It is based on the exceptional know-how of its experts, most of whom are academic references in their respective fields. The Engineering department enables BESIX to carry out unique and highly complex projects, particularly in terms of technical and environmental aspects.
The development of 3D printing began in 2017 when, during an internal ideation campaign, the idea of testing the applications of this technology in the construction sector was selected by our internal innovation program. 3D printing is part of a dynamic of industrialisation in the construction sector, a trend in which BESIX wishes to be a player.
3DN: Can you tell us more about the concrete 3D printing technologies?
3D concrete printing technology is an additive manufacturing process capable of producing building and architectural components on a large scale. This technology, compared to traditional construction methods, provides benefits such as shorter construction time, a safer working environment, greater freedom of form, less waste and lower CO2 emissions. It is a powerful tool.
3DN: At what maximum speed can you print structures?
The time saved with this technology was one of the objectives of the innovation program. In our 3D Lab in Dubai, we print structures using a KUKA industrial robotic arm. We can print objects very quickly, some of them in just 30 minutes. It all depends on the object itself. For example, a 2-metre high architectural column is printed in less than an hour.
3DN: What are the applications of Besix 3D? What are your future projects?
The Lab's techniques and tools are constantly being improved. It also serves as a showroom to convince potential customers to adopt new technologies for their future projects.
We also focus on marine works and in particular, the printing of breakwater elements. Since most of the construction costs of a breakwater are the logistical resources required to move the breakwaters from their production site to the construction site, the ability to print on site, and possibly in the water, would be very beneficial. 3D printing would also make it possible to create custom-made breakwaters, with more complex and optimised shapes according to the configuration of waves and marine currents.
3DN: What are the technical challenges of concrete 3D printing?
3D printing presents technical challenges that we must solve. In the maritime sector, for example, printing large parts, such as breakwater elements, is a real challenge. The high binder content of current printable mixtures may lead to thermal cracking and drying cracks. In order to guarantee the durability of the part in a marine environment, we are developing with our partners a printable mixture that will satisfy all requirements for printing the contour or both the contour and the filling pattern of the breakwater.
3DN: Any last words for our readers?
The construction sector has been engaged in a dynamic of digitisation and the use of innovative tools for some years now. With 3D printing, BESIX Group is taking the next step towards the industrialisation of the sector. Bricks & bytes: it's the future! Find more information on our official website HERE.
What do you think of Besix 3D? Let us know in a comment below or on our Facebook and Twitter pages! Sign up for our free weekly Newsletter, all the latest news in 3D printing straight to your inbox!