How to take advantage of the benefits of ceramic additive manufacturing: Experts give their advice!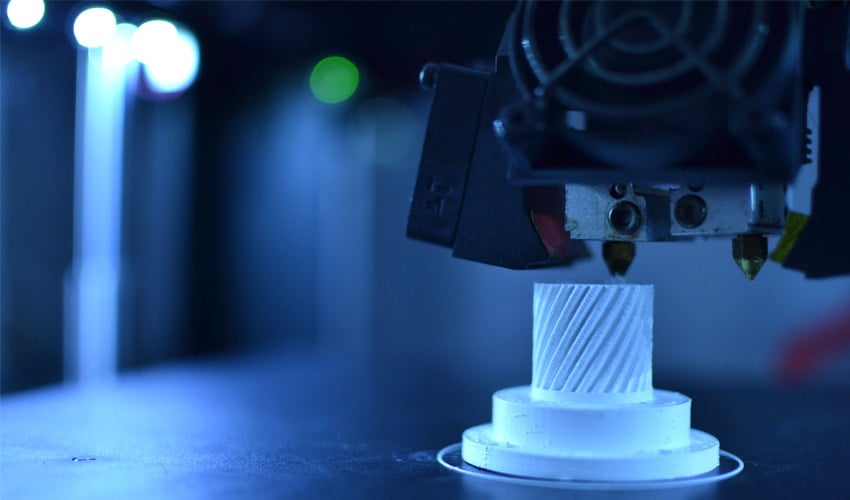 Last year, SmarTech Analysis released its latest report on ceramic 3D printing, estimating that the technology will be worth approximately $4.8 billion by 2030. A real opportunity is gradually emerging for the industry, with additive manufacturing offering concrete advantages in terms of part geometry, available materials, as well as manufacturing costs and lead times. Though traditionally better known in the world of machining, ceramics have several interesting properties and characteristics for the aerospace, medical and precision casting sectors. The possibility today of 3D printing zirconia, alumina or carbide parts has an impact on the manufacturers' workflow and their traditional production methods. But why should they turn to 3D ceramic printing? What are the associated benefits? What are the remaining challenges? Our experts gave us their opinion and advice on how to effectively integrate the technology.
Our first expert is Dr. Romain Faye who holds a PhD in Science and Materials and is the current R&D Project Manager for Nanoe's 3D printing. The French company is an expert in the production of innovative raw materials and has started to develop materials for additive manufacturing, particularly ceramic and metal filaments. Our second speaker is Vagelis Mavropoulis, Director of Lino3D's 3D department. The Greek group assists manufacturers in their manufacturing process, helping them to choose the right process, the right materials and how to acquire the necessary skills to understand the stakes and functioning of 3D technologies. Finally, our third expert is Olivier Greck, the Innovation and Development Business Manager at AVIGNON CERAMIC. The French company has been specialized since 1870 in injection molding of refractory ceramic cores for investment casting. The past few years, It has been investing in ceramic additive manufacturing.
Currently available technologies and materials
It is important to remember that ceramic 3D printing processes are numerous and are based on different forms of materials today (filaments, powder, resin, etc.). Without going too in depth, you will find stereolithography technologies with actors such as 3DCeram, but also Lithoz with DLP. Also, there is binder jetting with ExOne and material jetting with XJet. Additionally, ceramics can also be used with fused deposition modeling (FDM) with some actors such as Nanoe launching into the production of ceramic filaments compatible with many different machines on the market. According to Romain Faye, the key element before embarking on any investment is to "understand the advantages and disadvantages of each technology. It's a matter of being able to anticipate your needs in terms of part production, precision, speed, design, etc.". This specification is not only valid for ceramic additive manufacturing, but is important to keep in mind.
The process will depend on the choice of material. Several types of ceramics currently exist on the market, we will consider the three major families mentioned by Romain Faye: oxides, carbides, and nitrides. The first category includes technical ceramics such as zirconia and alumina, but also ceramics that are highly biocompatible and therefore more popular in the medical sector. Carbides and nitrides, on the other hand, have excellent thermal shock resistance and high hardness, and thus are more commonly used in high-temperature applications. Olivier Greck adds: "In additive manufacturing, we can work with all oxide ceramics (porcelain, zirconia, alumina, alumina-zirconia composites, cordierite) and recently also with non-oxides (carbide and silicon nitride) to cover new applications that require abrasive wear resistance, rigidity or super refractoriness properties."
What are the advantages of ceramic additive manufacturing?
One of the benefits of 3D printing in general is its ability to produce complex parts with geometric shapes and patterns that would not otherwise be possible. This is especially true with ceramic AM because the materials used today (otherwise known as technical materials) are more difficult to shape due to their hardness. Vagelis Mavropoulis explains: "One of the most significant advantages of 3D printing for all material types is its unique ability to fabricate risky geometries that are impossible to achieve with traditional methods. This is especially relevant for ceramics, as additive manufacturing also allows for the excellent quality required for their properties. Therefore, the production of small series in ceramics will certainly be more economical and efficient." An opinion shared by Olivier Greck who explains that additive manufacturing allows him to design very complex turbine blade cores. A part that could not have otherwise been produced. 
Beyond this geometric complexity, the technology brings real benefits in terms of production lead times and costs, as well as in the obtained final properties. It is not uncommon for 3D printed ceramic parts to replace metal or polymer components that were themselves chosen not for their properties but because they are easier to shape.  Vagelis Mavropoulis continues: "As an isotropic, very dense and neutral material, ceramics are beginning to make their way into various industries to replace metal and plastic parts. This is a challenge in itself that requires the development of specific skills in 3D printing. "And that's where a user needs to be trained: ceramic AM requires solid knowledge, both in terms of 3D printing but also of the material. Romain Faye explains: "A company that masters part design and polymer 3D printing will have to take into account the facilities needed to carry out heat treatments. For a company coming from the world of ceramics, it is the 3D printing aspect that they will need to understand."
Challenges to be met
Heat treatment, and more particularly the sintering phase, is a key step in ceramic additive manufacturing, a step that could be one of the major obstacles to the full adoption of the technology. Oliver Greck states: "As far as ceramics are concerned, the control of shrinkage during sintering is a key parameter of success. This influences the level of mechanical properties and will not spare additive manufacturing techniques which are inherently inhomogeneous since they are built up in successive layers. A company wishing to integrate ceramic additive manufacturing must take this sintering process into account; it is a critical point both in terms of material health and investment." This shrinkage should be considered as early as the design phase of the part. The user must therefore bear in mind that 3D modeling plays a very important role in producing quality parts. This point is emphasized by Lino3D's expert: "Understanding the capabilities of the technology and adapting it to the right application while opening up new possibilities that were impossible with traditional methods is essential. Of course, knowledge of all available materials and their properties is also an important factor. In addition, it is really important to understand that a new type of design approach is needed to get the most out of CAM. Integrating the technology itself is not so difficult."
Some last advice from our experts
Ceramic additive manufacturing has a bright future ahead, especially when it comes to medical applications. As we know, the health crisis has highlighted several weaknesses in our current systems. These weaknesses could be partially resolved using 3D printing technologies. On this point, Olivier Greck adds: "Real opportunities exist in response to the growing requirements of product specifications that are pushing towards the use of ceramic materials and towards specific geometries for additive manufacturing. The acceleration of design cycles and the need for quality prototypes that are produced quickly and without investment in expensive forming tools also open up great prospects. Beyond this, in the medical field of bioceramic prostheses adapted to the unique morphology of the patient, the use of additive ceramic manufacturing is obvious."
Romain Faye adds: "Zetamix is an excellent solution to start in ceramic 3D printing because it is a low investment (10K euros). In addition, Zetamix is easy to handle and very versatile since it can be used for both plastic and metal."
Vagelis Mavropoulis concludes: "Don't hesitate to start with Service Bureaus in order to check the compatibility of the results and enable yourself to compare different solutions. Once the picture is clear, it is much simpler to make the move and purchase an appropriate in-house system." 
*Thumbnail photo credits: Nanoe
What do you think about ceramic additive manufacturing? Let us know in a comment below or on our Facebook, Twitter and LinkedIn pages! Sign up for our free weekly Newsletter here, the latest 3D printing news straight to your inbox!