BCN3D Reveals its New Resin Technology, VLM, for Multi-Material 3D Printing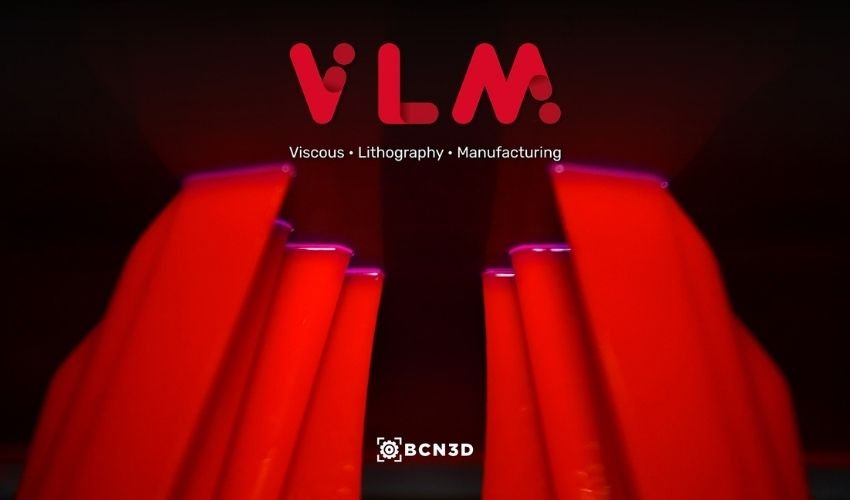 Already present for 10 years on the FDM printer market, BCN3D has reached a turning point today with the unveiling of a new technology. After 3 years of research and development, the Barcelona-based manufacturer will be releasing its "Viscous Lithography Manufacturing" (VLM) technology. As the name implies, it is a printing technology for viscous resins based on stereolithography. Sharing many similarities with the mSLA and DLP processes, BCN3D's VLM technology is actually very different from them. But how exactly does it work?
Viscous Lithography Manufacturing Technology
The new technology was revealed in a press conference from BCN3D on March 2nd. There, we learned that through the use of a viscous resin, BCN3D is able to temporarily fix (in suspension) the material under the film (in the form of a roll) that carries it from the resin cartridge to the printed part. This resin is then cured by a UV-A light source masked by a monochrome LCD screen. Once the layer is produced, the film moves the non-polymerized resin into a filtration system for reuse.
Since the VLM system uses independent resin cartridges and a moving film, VLM printers do not have a resin vat. Thus, parts are produced directly on a printing plate and do not soak in resin. In addition, it offers the possibility to print different materials simultaneously, which was previously impossible with other resin technologies, opening up a number of new applications. By using a roller, BCN3D avoids contamination between materials. It should be noted however that when printing multi-materials, part of the resin cannot be reused to avoid contamination, leading to slightly more waste.
Why VLM?
This technology allows the printing of materials up to 50% more viscous than current processes. BCN3D has partnered with Arkema to offer a range of high performance resins. Please note that it is possible to add additives in higher proportions to change the mechanical properties of your parts. By using these viscous resins, BCN3D guarantees parts that are up to 3 times more resistant to impact and a 200% increase in tensile strength. According to BCN3D, the high viscosity facilitates the production of biomaterials and the production of highly isotopic parts, after post-processing. These post-processing steps are the same as in current resin printing processes.
Although BCN3D does not currently offer these machines for sale, they have devised an adoption program to offer eligible companies the opportunity to test this new technology. This new process should enter the market within a few years with machines that will be offered at less than €50,000 we assure BCN3D. This new announcement also seems to mark a turning point for the Spanish manufacturer. Though previously, it had always been open-source, it now is actually patenting this new technology. Rest assured however, during the press conference, we were assured that BCN3D would be keeping the machines and FDM processes open-source. You can find out more on BCN3D's website HERE.
What applications could benefit from VLM technology? Let us know in a comment below or on our Linkedin, Facebook, and Twitter pages! Don't forget to sign up for our free weekly Newsletter here, the latest 3D printing news straight to your inbox! You can also find all our videos on our YouTube channel.