BCN3D Has Launched its New 3D Printer Cloud Management Technology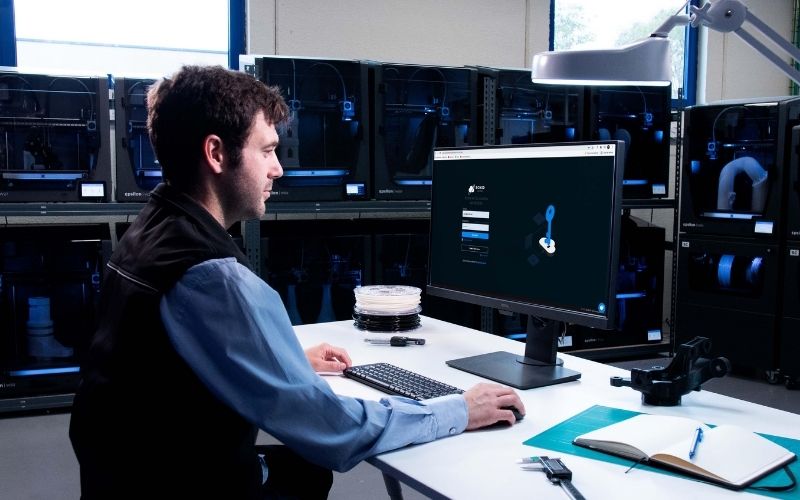 Earlier this year, leading FDM printer manufacturer BCN3D acquired 3D printing cloud software management platform AstroPrint. Now, building on that acquired cloud technology, the Barcelona-based company is launching a new cloud platform, that will allow the centralization of remote 3D printers, as well as improve resource management by establishing one location for the simple administration of systematic workflows.
BCN3D currently provides 3D printing solutions in more than 60 countries, with major clients including Nissan, BMW, NASA, and Louis Vuitton."For BCN3D's current clients, the integration of AM processes in their business is becoming more critical as the applications are more demanding, an indicator of the tendency is that BCN3D machines are currently printing more than 12h a day on average. With such increasing printed part volumes, more people, and more machines interacting, the workflow needs to be robust and seamless. To support those customer needs, the vision of BCN3D is to provide software layers that add effective value on top of hardware, closing the circle of an enterprise-level solution." explains Daniel Arroyo, Chief Software Officer of BCN3D.
3D Printer Cloud Management
Businesses that are scaling their output by adding more machines to their fleet, turn to cloud management to help optimize operational decisions. These operational decisions include such managerial questions as 'which available 3D printer in the fleet would perform optimally for an upcoming print job?' Or, 'if a project requires several copies of a single part, should the parts be printed all on one machine or spread across several machines?'. These questions are streamlined with the implementation of cloud management software. 
With this new software launch, BCN3D will be offering three tiers of service in their enterprise plans, Standard, Teams, and Private. The Standard plan, which is included for all BCN3D customers, is ideal for driving the initial adoption of additive manufacturing. The primary feature of this plan is the clusters—these allow users to group printers according to certain characteristics, and then view the statistics, providing companies with real-time analysis. Next, Teams enables the Workflow feature and departmental structure, allowing for customized roles and different permissions levels for team administrators. The Teams plan costs 495€ per year (595$/year)—with a three-month trial period. Lastly, the Private plan is designed for corporations that have rigid privacy and security requirements.
What do you think of BCN3D cloud software for 3D printer fleet management? Let us know in a comment below or on our Facebook and Twitter pages. Don't forget to sign up for our free weekly newsletter, with all the latest news in 3D printing delivered straight to your inbox!
*Cover Photo Credit: BCN3D