Taking AM to The Streets: How BASF Forward AM Enables Automotive Solutions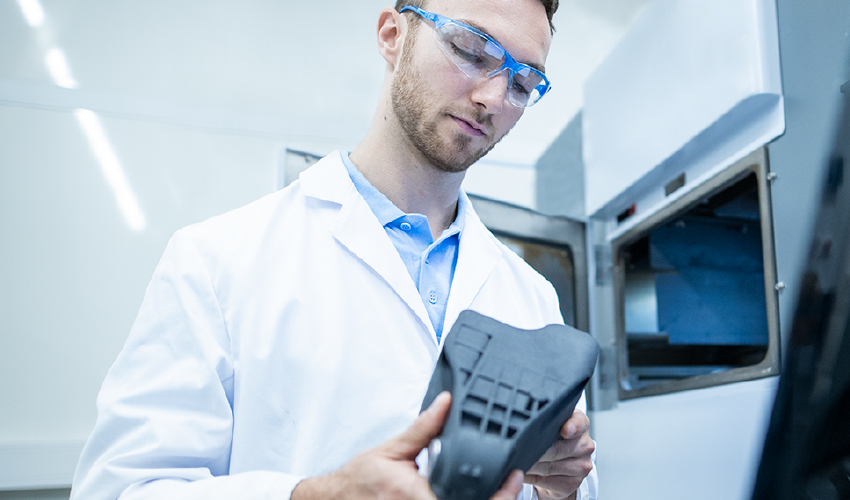 The automotive industry is undoubtedly one of the sectors that has most adopted additive manufacturing technologies, for the development of prototypes at first, and for the creation of end-use parts currently. According to the study published by SmarTech Publishing, this market is expected to reach $5.3 billion in revenue in 2023, and $12.4 billion in 2028.
During the next 10 years, this segment should represent the largest market in the global 3D printing industry, achieving the so-called Additive Automotive. One of the players that is promoting this growth is Forward AM, the German company BASF's additive manufacturing specialist. Experts in materials, they also specialize in accompanying companies that wish to enter the 3D printing sector to achieve automotive innovation.
Forward AM was created with the goal of developing high-performance materials for 3D printing. Launched in 2017, the division already boasts one of the largest ranges of materials in the sector. Due to their knowledge in materials and industrial adoption, they have also developed post-processing, and consulting solutions for companies in any industrial sector wishing to take their additive manufacturing applications to the next level. The French company Sculpteo, owned by BASF, also provides professional online 3D printing for on-demand production of prototypes, individual products as well as short-run manufacturing.
Additive Manufacturing in the automotive industry
Many car manufacturers have already started using additive manufacturing technologies, from Audi, BMW or even Ferrari for their Formula 1 cars. The applications of additive manufacturing in the automotive sector are many, but we can divide them into three main groups:
Prototyping: still the most widespread today, which allows the quick development and testing of different parts.
End-use parts: emerging a couple of years ago thanks to material and hardware development. According to the latest State of 3D Printing report from Sculpteo, 50% of the companies that have used 3D printing in the last year have done so to produce end use parts.
Jigs & Fixtures: commonly known as tooling parts, they accelerate production. Jigs are tools that guide the cutting or machining tool in a production line and fixtures are tools which hold the work piece with the machine bed precisely at the desired location.
The adoption of 3D printing technologies allows for increased production and lower costs, but has also opened the door to mass customization, allowing OEMs (Original Equipment Manufacturers) to offer unique parts, while also being able to reach the end user with customized parts for their cars.
Forward AM and its commitment to the automotive industry
While we know that Forward AM is an expert in materials within the industry, we should not overlook the fact that they have acquired equal experience in the automotive industry through their collaboration with different manufacturers, and the OEMs that collaborate with those manufacturers. For the latter, the German company offers simulation, post-processing and 3D printing services. They allow the adoption of additive manufacturing to be carried out in a studied way, guaranteeing a successful implementation. In fact, BASF Forward AM has been involved in multiple projects in the automotive sector; there are two in particular that have caught our attention:
Forward AM and Daimler: developing engine supports in less time
The relationship between Daimler and Forward AM dates back to several years ago, when the German multinational company was seeking to accelerate the development process of engine mounts –  key engine parts that enable stability and adequate NVH (noise, vibration, harshness) behavior. To allow the move from injection molding to 3D printing, they began by testing materials. They also aimed to reduce costs by reducing development cycles time. Therefore, they carried out different tests, settling in the end for the highest-performing material for this part: Ultrasint® PA6 MF, a polyamide with mechanical and thermal stability, which can be used with Powder Bed Fusion (PBF) technologies. With the adoption of Ultrasint® PA6 MF, prototypes were developed in a short time. This reduction was considerable when we compare it to the weeks it takes to develop parts with injection molding.
Forward AM and OECHSLER: optimizing motorcycle saddle design
OECHSLER, a polymer processing specialist, and Forward AM joined forces to develop latest generation motorcycle saddles. The main objective was to develop a prototype to improve on the design of the motorcycle saddle. Thanks to the design benefits of 3D printing, the saddle was developed in one piece with a lattice structure, thus reducing manufacturing and assembly time. They used Forward AM's Ultrasint® TPU01, ideal for producing parts that require excellent long-term shock absorption and flexibility. Its characteristics make this material perfect for series development with HP Multi Jet Fusion technology. The assembly process was indeed much simpler and shorter, no gluing process needed, and the top cover did not need to be attached with metal staples. In addition, the saddle's weight was reduced by 25%, which directly translates into material reduction.
Forward AM has collaborated in different automotive projects to allow a growing number of companies to leverage the benefits of 3D printing by implementing the technology successfully. You can find more information in an in-depth webinar about their solutions for automotive or contact them HERE.