BANYAN ECO WALL, fully 3D printed self-watering wall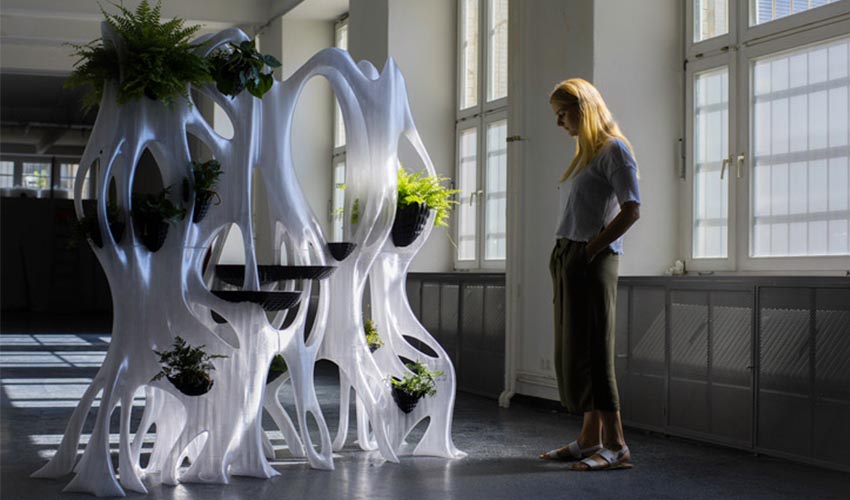 The BANYAN ECO WALL is a fully 3D printed irrigated green wall, featuring an embedded drainage system, which also showcases bionic design. It is the work of NOWLAB using BigRep's large-format 3D printers. This prototype is a perfect example of the unprecedented innovations we can achieve in design with the use of 3D technologies. It is not only innovative in terms of design but also in terms of functionality, technology and size.
The green wall features an innovative embedded water supply and drainage system, BigRep CEO Stephan Beyer, PhD explains, "Our BANYAN ECO WALL is adopting nature's principle with a complex, smart, elegant design only achievable with AM. Traditional technologies such as milling or injection molding cannot deliver this level of complexity and dual functionality. For the first time, thanks to AM and advanced CAD software, it is now possible to create complex functional designs with a fully digitized process chain."
Before this prototype, a drainage system would have been integrated later on, based on complicated set-ups involving many different parts. It is a key piece of this green wall, as excess water must be removed. As a result, a plant can grow easily in this optimised environment.
The miniature internal channels are designed for optimal water flow, to irrigate the plants precisely where needed. This is part of a very well thought-out design process, "Generative design software was crucial in the creation of the BANYAN ECO WALL to optimize the structure for printability and stability while allowing a rapid iterative design process. This prototype will push the boundaries of AM not only in irrigated plant systems, such as in vertical farming and green facades, but for any application requiring embedded functionalities", adds BigRep CIO and NOWLAB Managing Director Daniel Büning.
The BANYAN ECO WALL was developed by NOWLAB, the BigRep Innovation Consultancy, with Mirek Claßen, Tobias Storz and Lindsay Lawson as lead designers.
What do you think of the BANYAN ECO WALL? Let us know in a comment below or on our Facebook and Twitter page! Don't forget to sign up for our free weekly Newsletter, with all the latest news in 3D printing delivered straight to your inbox!