The Bambu Lab A1 Mini: The Brand's Best Features in an Even More Affordable Package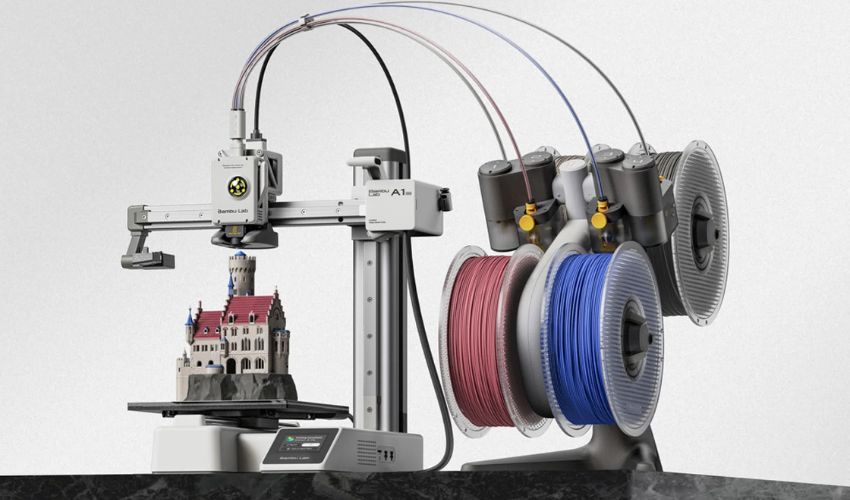 Since its entry onto the desktop 3D printing market, Bambu Lab has been making waves with its solutions including of course the original X1 as well as the P1S and P1P 3D printers. Now the manufacturer is back with yet another solution: the Bambu Lab A1 Mini. This bed slinger has been designed to be fast and will be the cheapest among Bambu Lab's already affordable 3D printers.
We have already told you about Bambu Lab's solutions before. Indeed, in our most recent review we took a closer look at P1S to see if it was worth the hype (be sure to check out the article to enter the giveaway to see for yourself!). But the Bambu Lab A1 Mini is already looking a little different. For one, it is a bed slinger. For those who may not be aware, bed slingers are one of the most common forms of lower-cost desktop FDM 3D printers, and are often compared to the more conventional CoreXY technique which is widely praised for its speed, stability and ability to print even high vertical pieces.
Indeed, Bambu Lab from its first marketing put having no more bed slingers as a key goal in their journey. The A1 Mini obviously diverges from this. Though, Bambu Labs claims that this particular bed slinger will have CoreXY-speed and quality for high-speed precision. This is thanks to a number of features including a rigid frame, full-metal rails, a nozzle pressure sensor, accelomaterors, powerful MCU and an advanced motion control system. All these have poised the machine to be a highly anticipated, low-cost offering on the market.
What Can You Expect from the Bambu Lab A1 Mini?
Of course, being a bed slinger has also had other impacts on the Bambu Lab A1 Mini while also contributing to its lower price. For one, unlike the other solutions offered by the company, this one does not have a closed chamber. Still it has its own advantages. Like a camera lens cover to block the camera and prevent privacy concerns (an increasingly common concern for users). And as previously mentioned Bambu Lab seems to have worked to compensate for the traditional problems in bed slingers with features like all-metal rails for reliability, comprehensive filament monitoring including a runout and tangle sensor, real time monitoring and more.
But that is not all. The Bambu Lab A1 Mini also includes the possibility of multicolor printing (with the AMS lite which is not included in the most basic model) standard of all Bambu Lab machines, full-auto calibration (including automatic bed-leveling and z-offset) meaning no manual adjustment will be necessary, smooth corners thanks to active flow rate compensation, printing silently (at under 48 dB), precision even with an acceleration of 10000 mm/s² and of course the integration of MakerWorld, Bambu Lab's new software. Nozzle switching has also been optimized
Currently, Bambu lab A1 Mini 3D printers are only available for pre-order, so how it will be received remains to be seen. But, given Bambu Lab's popularity, even despite its mishaps earlier in the year when printers started automatically overnight, it seems likely as well that this latest solution will earn its spot in the spotlight. The basic model of the machine is offered from $299, while the combo with the AMS Lite costs around $459 and the Mega Combo (which includes a free gift) is available from $509. You can find out more on Bambu Lab's website HERE.
What do you think of A1 Mini 3D printer from Bambu Lab? Let us know in a comment below or on our LinkedIn, Facebook, and Twitter pages! Don't forget to sign up for our free weekly Newsletter here, the latest 3D printing news straight to your inbox! You can also find all our videos on our YouTube channel.
*All Photo Credits: Bambu Lab