Australian Army Tests 3D Printed Metal Armored Vehicle Parts in the Field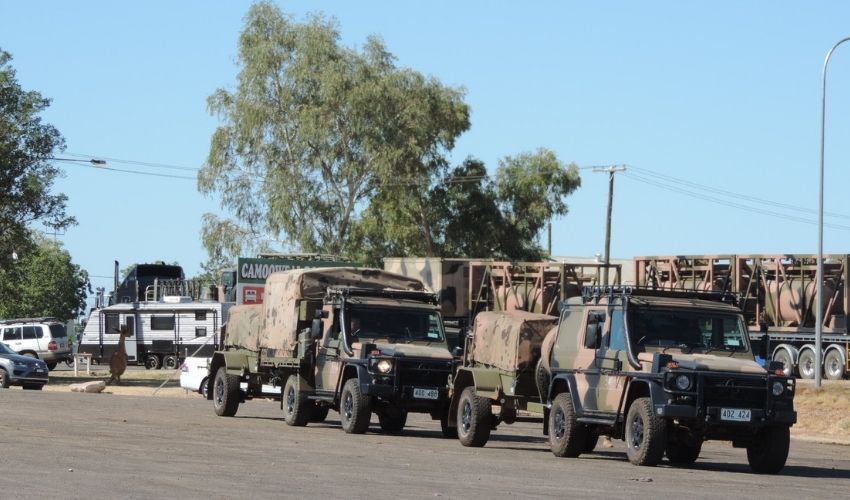 The use of additive manufacturing (AM) in the military has been going on for a long time. From helmets to runway mats, the speed and flexibility of 3D printing has proven to be useful to armed forces the world over. Now, there has been yet another application of AM in the sector. Namely, the Australian Army recently proved that is is possible to 3D print and replace armed vehicle parts in the field using technology from SPEE3D.
We have previously covered SPEE3D's innovative cold-spray technology and its usefulness for a number of industries. For example, earlier this year the technology was also used as part of the SPAC3D project which aims to make rocket engines using metal 3D printing. In this specific case, the WarpSPEE3D 3D metal printer was used allowing for faster more cost-effective metal parts when compared to other metal processes on the market. WarpSPEE3D is also the largest SPEE3D printer with a build volume of 1000mm x 700mm and able to print large metal parts of up to 40 kg at a rate of 1 kg per minute. This speed and agility is crucial for the armed forces and they hoped to prove that the printer could be effectively used to create spare parts for combat vehicles.
Metal 3D Printing Trials with the Australian Army
The company has previously worked with the Australian government and have been working with both the Australian Army and Royal Australian Navy to test the possibility of deploying metal 3D printing in both the barracks and in the field. SPEE3D has also helped train the Australian Army's Additive Manufacturing Cell (AMC) technicians. These technicians were charged with leading these tests of the parts for the M113 Armored Personnel Carrier during the annual bilateral military exercise, Exercise Koolendong. This particular trial was a continuation of 2020 case studies which demonstrated the printer's robustness in the Australian bushland.
During the trial, the AMC produced more than a dozen different replacement parts for the vehicle as they aimed to prove that metal 3D printing can produce military-grade parts which can be valdiated and certified in the field. Each of the parts were manufactured on-site using 3D printing, before being certified and installed on the vehicles. These included a wheel bearing cover which was printed in 29 minutes and which cost only $100 AUD. This part in particular was interesting because it is one that is often damaged in journeys through Australia's bushland, meaning that being able to replace it quickly and cheaply with 3D printing would be a huge benefit to the army.
SPEE3D's CEO, Byron Kennedy, concluded: "This is a great example of how expeditionary Metal 3D Printing can improve Defence readiness. Field trials conducted in 2020 proved SPEE3D technology was deployable. This year's trial extension was bigger, longer, and more remote, making it the worlds' toughest and longest metal 3D printing trial so far." You can find out more in the video below or on SPEE3D's website HERE.
What do you think of the Australian Army's metal 3D printing tests and especially their use of SPEE3D's technology for vehicle replacement parts? Let us know in a comment below or on our Linkedin, Facebook, and Twitter pages! Don't forget to sign up for our free weekly Newsletter here, the latest 3D printing news straight to your inbox! You can also find all our videos on our YouTube channel.
*Cover Photo Credits: Kerry Raymond, CC BY 4.0, via Wikimedia Commons