Top 5 Videos: Australian Army's First-Ever Additive Manufacturing Team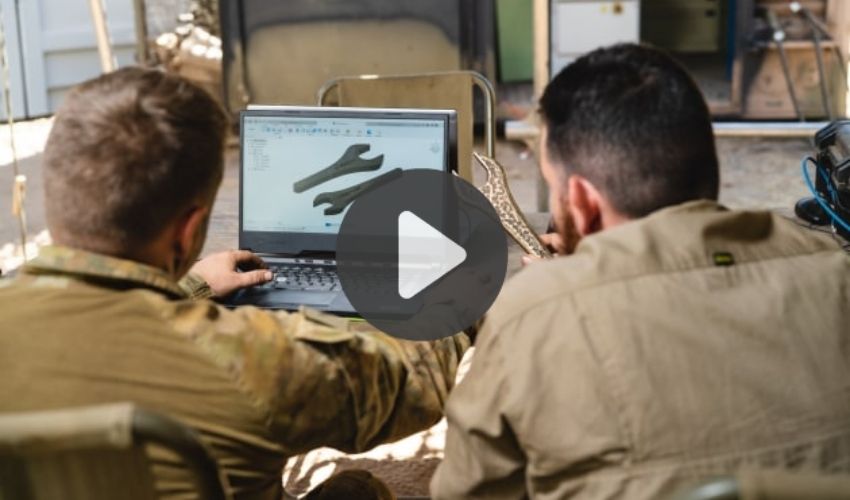 In this week's Top 5 3D printing videos, we'll check in with the Australian Army's first-ever additive manufacturing field cell who recently completed field trials using the WarpSPEE3D metal 3D printer. Next, take a look at how HP is trying to be more ecologically responsible. Additionally, we will learn how to 3D-print and assemble a component that adjusts the height and angle of an IKEA desk for students. Finally, an industrial solution that provides great benefits to companies in the additive manufacturing sector: the 3D printer ElemX, from Xerox. Do you want to know the characteristics of the new ElemX machine? Then don't miss this compilation!
Top 1 – Australian Army Additive Manufacturing Team
After successfully completing field trials with the WarpSPEED tactical 3D printer to augment their supply train, the Australian Army is now training their first-ever additive manufacturing cell team. The cell team specializes in design, printing, machining,  and certification. The video highlights some of the testing the cell team has been able to carry out in the northern territory of Australia. Find out more below:
Top 2 – The Sustainable Side of 3D Technology
Environmental responsibility is a very important aspect to be taken into account by companies in the manufacturing industry. The multinational HP has also carried out initiatives with a great perspective on sustainability. In fact, it is focusing its additive manufacturing efforts and capabilities to reduce the environmental impact of these production processes. In this video, we see how Fast Company reveals what is behind the HP Innovation laboratory, located in Palo Alto, and more specifically, the future of digital manufacturing focused on empowering and promoting the circular economy.
Top 3 – D.I.Y Router Table
This D.I.Y. router table uses 3D printed parts made with PLA and TPU and was designed in Rhino 3D with Grasshopper. While this makeshift router table may not be a proper replacement, the maker certainly crafted a well-made temporary substitute suitable for basic woodworking requiring minimal support and versatility.
Top 4 – Additive Manufacturing Disrupting Supply Chains
As we have seen well during the health crisis, supply chain disruptions are a huge problem for manufacturing companies around the world. To solve this pothole, the video introduces us to the Xerox® ElemX ™ 3D printer, from the Xerox company. This solution could allow manufacturers to increase the resilience and flexibility of the supply chain. How? Creating production-grade parts in a matter of hours. We let you discover it for yourself!
Top 5 – Rapid Prototyping
Prototyping is where a lot of additive manufacturing projects get slowed down due to long lead times and high costs. A critical step in any 3D printing project, producing a prototype with the same functionality as the final project requires the same processes used to create the final part. However, in this video, Formlabs demonstrates how costs and time can be reduced using their rapid prototyping printer and software.
What do you think of this week's compilation of 3D printing videos? Let us know in a comment below or on our Facebook and Twitter pages. Don't forget to sign up for our free weekly newsletter, with all the latest news in 3D printing delivered straight to your inbox!