Atome3D on desktop 3D printing's key role to accelerate production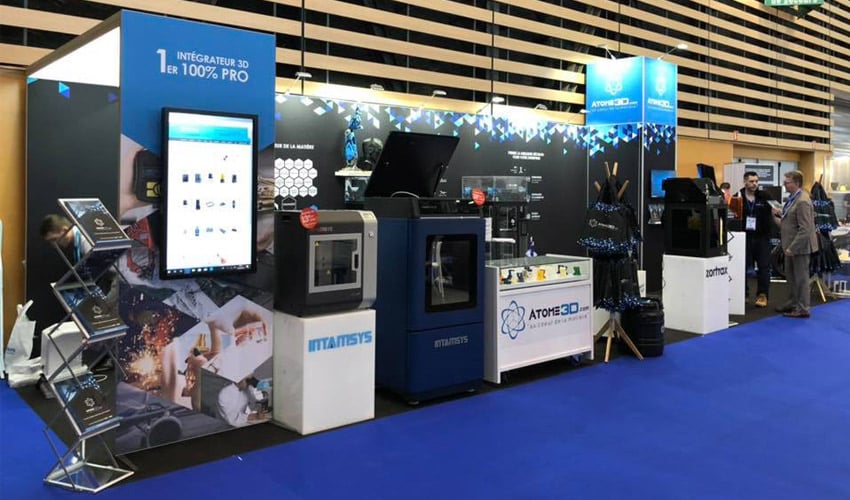 The company Atome3D is one of the main players in additive manufacturing in France. Today, it distributes a wide range of desktop 3D printing solutions, from printers, materials, to 3D scanners, and supports professionals and industrialists in the integration of the technology. It masters the processes of fused filament fabrication (FFF) and photopolymerization, as they believe that polymers have a key role to play in the 3D printing sector. We met the founder of Atome3D, Benoit Michaut, to learn more about the company's ambitions, projects and vision of the market.
3DN: Can you introduce yourself and Atome3D?
I'm Benoit Michaut, the president of Atom3D. Trained as an electro-technician, I discovered 3D printing by equipping myself with a personal machine. It was a Dagoma Discovery. I really wanted to learn more about 3D printing. That's when I realized the potential of additive manufacturing in the industrial sector. When I was looking for my first printer, I realized that it was too complicated to understand the difference between machines, what was good and what was not. I told myself that the user really needed to be supported in the choice of technology, machine and materials. That's when I decided to create Atome3D, to create simplicity where it was too complex.
I founded the company in 2016. Today, we are one of the leading distributors in France, with a strong focus on customer satisfaction. We are also a wholesaler, we are able to provide resellers with a wide choice of equipment and consumables, from spare parts to filaments. We started on a 25 m2 premises and have now grown to 500m2. Our asset is our reactivity: we have a huge stock which allows us to deliver quickly, in less than 24 hours, anywhere in Europe. There is a huge market to be exploited in European countries.
3DN: Who are your customers? What are they looking for?
We have several customer segments, including manufacturers such as Air France, Thales, Bosch, as well as VSE/SMEs. They are mainly looking for functional parts and tooling. We also have a lot of jewellers, watchmakers and dental professionals who are looking for resin 3D printing solutions. The fact that we are a Data Dock certified training organization also allows us to support customers in the handling of the machine. Training is a key step in the 3D printing sector – actually, it was one of our first areas of development at Atome3D.
3DN: How can additive manufacturing help manufacturers be more competitive?
In my opinion, desktop 3D printing is taking a major turn because consumers are now more informed, they know what they can expect from the technology. They have real concrete projects for manufacturing functional parts, which was not the case a few years ago. They want to go further. I think that the challenge for the industry is finding tailor-made solutions. Manufacturers have to be able to offer machines that adapt to their needs, materials that meet their requirements, a personalised design, etc.
Additive manufacturing must be part of the company, integrated into its DNA and I am convinced that fewer and fewer companies will turn to subcontracting. Having a machine in-house is more accessible, easier and offers more choice. For me, 3D printing is not competing directly with other technologies, its flexibility and speed of execution make it a very interesting production method for more and more manufacturers. Of course, 3D printing does not replace machining or injection, it's just a new tool that you have to understand in order to integrate it at the right time.
3DN: What trends do you observe in terms of materials?
PLA is no longer enough, manufacturers are looking for more technical materials: we have to use materials such as PP, Nylon, Polycarbonate, composite materials filled with carbon fiber, glass or Kevlar. There is also a real growth in high-performance thermoplastics. Typically, many manufacturers are familiar with PEEK because they are used to machining it, but they don't necessarily know how to print it. The family of polymers is very large and there is a lack of knowledge about the capabilities of thermoplastics, their specificities and properties. Many parts today are made with metal when they could be 3D printed with plastic. The result is more expensive, the part is heavier and the process is slower. This is where we come in to help manufacturers make the shift to polymer additive manufacturing.
3DN: How do you see the future of additive manufacturing?
For me, all companies will be equipped tomorrow with a FFF 3D printer and a resin 3D printer. We won't be able to do without them. It has become so accessible and offers so many benefits that it will become a necessity.
3DN: What are Atom3D's future projects?
The market is constantly on the move and we're always on the lookout for new products. Our goals are, on one hand, to continue to provide high customer satisfaction and, on the other, to pursue our growth in order to become the distribution leader in France. If we take short term projects, we are working on a new version of our website with new functionalities. We have also launched our affiliate partner program.
3DN: A last word for our readers?
I invite manufacturers to acquire knowledge in additive manufacturing, to test different technologies and materials. Companies need to equip themselves and develop their skills. Your future employees will have discovered 3D printing in their studies and they will need it, so don't wait any longer and take the decision to boost your company by contacting our team! You can find more information on our website.
Do you think investing in a 3D printing solution is key for manufacturers? Let us know in a comment below or on our Facebook and Twitter pages! Sign up for our free weekly Newsletter, all the latest news in 3D printing straight to your inbox!