Atome3D Is Opening a Franchise Network to Promote the Development of 3D Printing in France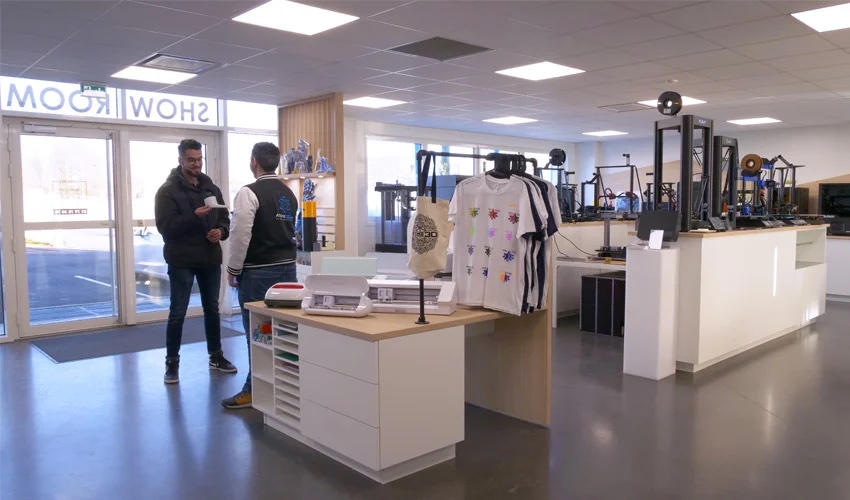 The French distributor Atome3D is accelerating its development in France and wishes to reinforce its presence on the territory thanks to a new franchise concept. The company's objective is to open a number of Atome3D showrooms, i.e. stores that will be able to rely on the brand's tools and expertise and resell the entire catalog currently offered. Franchisees will thus be able to benefit from real know-how, whether commercial or technical, and promote the development of 3D printing in France. Five stores should already open before the summer, with a target of 20 by the end of the year.
Benoit Michaut expands: "The main advantage of this franchise network is its proximity. Our current problem is not being able to be as physically close as we want to our customers throughout the country. By sharing our know-how with motivated and autonomous entrepreneurs, we erase this geographical barrier." Thus, professional users of 3D printing and communities will be able to have a knowledgeable intermediary. The goal is to make additive manufacturing even more accessible on the French territory and allow users to rely on local experts.
Starting a business is a challenge that requires finding the right resources and partners. Today, the franchise concept offers significant security since an entrepreneur can start their activity more easily and quickly, by relying on the strengths of a brand that is already a market leader. Moreover, the concept of franchising is widely adopted in France: in 2022, there were more than 1,950 franchise networks, with a global turnover of 76.6 billion euros, i.e. 11.4% more compared to 2021. And in the additive manufacturing market, we can now count on the Atome3D network.
How to Become Part of Atome3D's Franchise?
First of all, note that you don't have to be an expert in 3D printing to open your own Atome3D showroom. Benoit Michaut, CEO of the company, explains: "The important thing is the human element. You have to like the 3D printing sector without being someone who already is printing. We will bring all this brick of knowledge and accompany the entrepreneur throughout their time as a franchisee." A discovery day will be carried out at Atome3D's headquarters in Toulouse, to discuss the project in a more concrete way and define an action plan.
The franchisee will have to pay an entry fee to join the network and undergo training. He will also have to invest in a local, in machines and furniture to respect the agency concept. The franchisee will then have access to the entire Atome3D catalog, more than 4,500 references, and will be able to resell these solutions to professional customers.
Each franchisee will benefit from support from Atome3D. The franchisee will benefit from two weeks of training, before and after the opening of his store. He will also be accompanied during the year, with information meetings and commercial conventions. Thus, he can count on a solid know-how, whether on a commercial, technical or logistic level.
For the entrepreneur, becoming an Atome3D franchisee allows him to avoid isolation: he can count on the other franchisees and the Atome3D teams to meet his challenges and to answer any questions.
Are you interested in joining the Atome3D franchise network? You can fill in the contact form HERE or meet the company's teams at Franchise Expo Paris from March 19th to 22nd.
*Cover Photo Credits: Atome3D