#TALK3D: Interview with Artyom Yukhin, CEO of Artec 3D
Artec 3D, based in Luxembourg, is developing 3D scanning software and hardware for use in various industries. The company launched its technology back in 2007, and is today a leading company in handheld and portable 3D scanners. The company covers the needs of all types of users, starting with its affordable Eva Lite solution, but also offering more advanced technologies such as the Ray scanner for long-range capturing or the Micro scanner for ultra-high-precision 3D scanning. For our third #TALK3D, we decided to speak to the CEO of Artec 3D, Artyom Yukhin to learn more about the importance of 3D scanning across sectors.
Artec 3D: providing professional 3D scanning technology
3D scanners are useful for a number of applications. In the additive manufacturing sector, through reverse engineering, 3D scanning technology can facilitate the modeling of a part, allowing to collect data on the shape and sometimes, depending on the 3D scanner, the appearance (such as colours). Therefore, 3D scanning enhances the design process, speeds up and reduces errors in data collection and also saves time and money for design and engineering teams.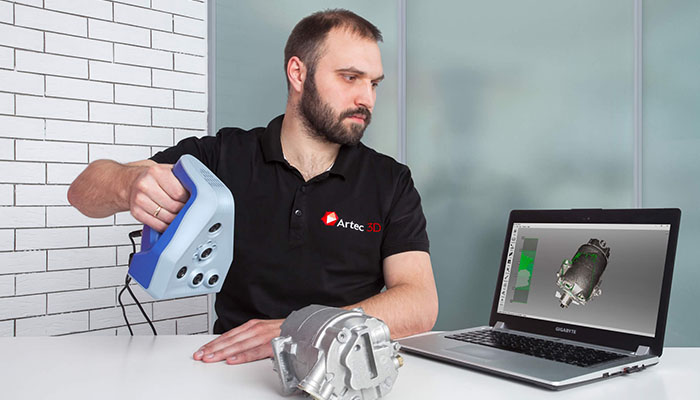 As you may know, 3D scanning can be based on different technologies, the main two being laser technology and structured light technology. Artec 3D offers 3D scanners based on both technologies, depending on the applications one might be more suitable than the other. For example its very popular Eva scanner is based on structured light technology, which is typically used for short distances and quick scanning. Their Ray solution on the other hand is based on laser scanning technology, which is capable of providing high accuracy over a long range (up to 110 meters).
We could sum up 3D scanning as essentially being a method of collecting data on what exists around us. Once this data has been collected, the applications are wide-ranging: from reverse engineering, industrial design & manufacturing, healthcare, science & education, to art & design. Almost all sectors of activity use 3D scanners for some applications. Today, some limitations still exist in terms of the objects that can be scanned, for example shiny, reflective or transparent objects can be difficult to collect data on. Nevertheless, when speaking to Artyom Yukhin, he explained that the next revolution will concern the way we use the data we collect. In other words, by introducing new tools that enable companies to understand the data, much more could be achieved from 3D scanning.
Let's #TALK3D with Artyom Yukhin, CEO of Artec 3D
You can find our previous #TALK3D HERE.
What do you think of Artec 3D's activity? Let us know in a comment below or on our Facebook and Twitter pages if the listing above was useful! Don't forget to sign up for our free weekly Newsletter, with all the latest news in 3D printing delivered straight to your inbox!