Arris Composites on unlocking mass production of high-performance composites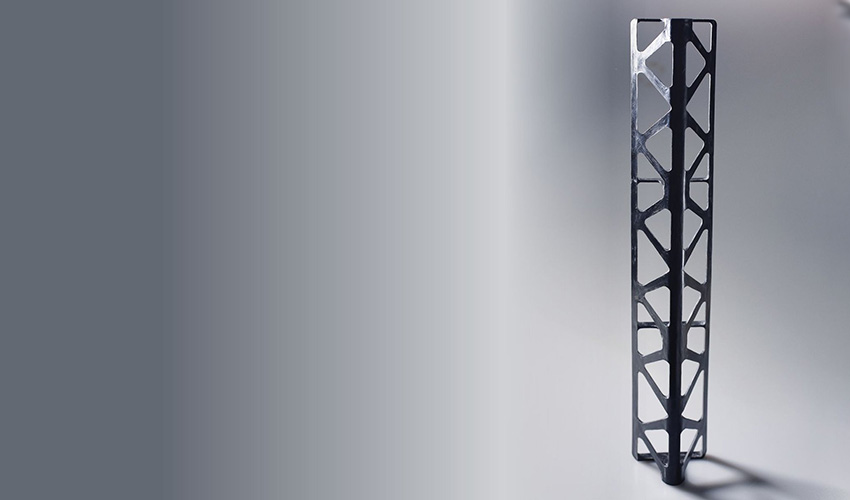 Arris Composites, one of the pioneers of next-generation composites, announced at the end of May that it had secured $48.5M in series B funding to expand its proprietary composite manufacturing capabilities and open new facilities in the U.S. and Taiwan. Founded in 2017, the startup has been working for some years now on the development of its Additive Molding technology. According to the company, this technology enables the mass production of high-strength and low-weight composite parts using additive manufacturing. By applying an AM technique to the conventional manufacturing method of composites, they are able to produce carbon fiber parts at the same speed as plastic molded products. To learn more about the company's vision and the applications it enables, we spoke to its CEO and Founder, Ethan Escowitz!
3DN: Can you present yourself and your relationship with 3D printing?
My name is Ethan Escowitz, CEO and founder of Arris Composites. I've spent over a decade working in 3D printing/additive manufacturing and prior to that I was working with traditional manufacturing technologies. I founded Arris in 2017 with the vision to unlock the mass-production of high-performance composites using additive manufacturing techniques.
Arris Composites' mission is to advance humanity by creating the highest performance products imaginable. We partner with the world's most innovative companies to imagine, design, and manufacture the future.
3DN: Can you tell us more about the role/benefit of composites in AM? Can they compete with metal AM?
First and foremost, let me state the obvious but applicable; there are different tools for different jobs. In suitable applications, particularly prototyping, we at Arris have used plastic, composite and metal AM to get parts fabricated faster than we could have on our CNC machines. That said, there are many applications where we will replace conventional and AM metal solutions. One example of this is metal 3D printed topology optimized brackets. Topology optimization software created these ideal designs, however, there hasn't been a continuous composite manufacturing technology that can produce these structures, so, as a result, lower specific strength 3D printed metal has been sufficient. Arris' Additive Molding™ can manufacture these topology optimized structures with the ideal material (continuous fiber composites aligned through x, y and z axes) and therefore better meet the needs of these aerospace customers. In these applications, we typically meet customer functional requirements with 50% to 70% weight savings.
What's more, the scalable nature (in terms of volume) of our manufacturing process enables us to bring these innovative structural designs into new markets, like automotive, where the high cost of metal 3D printing has prevented commercialization of these optimized structural forms. And, the scalable nature (in terms of size) of our manufacturing process enables us to make large structures that embody these design ideals within a single form that would otherwise need assembly. While this is one application where we overlap with metal AM, we have many other applications, like the production of consumer electronics and recreational equipment, where we excel but metal AM is not relevant.
3DN: Arris Composites recently secured 48.5 million in series B funding, what does this investment mean for your company?
While we've been working with early adopters over the last 3 years, we need to scale our production capacity to 1) bring online the higher volume production orders of our "early adopter" customers who have qualified our manufacturing technology and 2) meet the spike in "early majority" customers who are working on qualification today. As a result, increasing production capacity and engineering/customer collaboration resources are two major areas of expansion at Arris.
3DN: What does mass production using additive manufacturing look like? What are the main benefits and limitations?
Mass production using Additive Molding™ in many ways looks similar to other advanced manufacturing systems because we're leveraging existing technologies like robotics, factory automation and industrial controls. Using best-in-class off-the-shelf manufacturing technology to operate our unique processing hardware delivers the reliability, repeatability and scalability required in production environments.
While we have some great drop-in replacement parts wins, some of the largest benefits to our customers are in the product performance and manufacturing efficiency that comes from consolidating a complex multi-part and sometimes multi-material assembly into a single part at production volumes. Our process can create complex geometries, composed of the strongest and lightest materials for structure adjacent to functional materials (metals, plastics, ceramics, etc.) to optimize the varied performance requirements of a product. Typically these types of architectures would either not be possible or prohibitively expensive.
Our biggest limitation is the same as our piers in the AM space. It takes time to educate engineers and designers about a new manufacturing process, identify the best products and applications to collaborate on and then qualify and bring those new products to market. That said, we are already working with leaders in consumer electronics, sporting goods, automotive and aerospace. I believe the collective efforts of the AM industry, particularly over the last decade, have helped these leaders across industries accelerate the process of evaluating and adopting new manufacturing methods. Regarding technical limitations, our process involves fixed costs that typically don't make sense for less than 100 total parts (That's what we have 3D printers and CNC machines for.)
3DN: Any last words for our readers?
A lot of words have been dedicated to the impact that AM will have on manufacturing and many of them point to 3D printing displacing conventional manufacturing. While this may be accurate for some products, like jet engine nozzles, I would share my experience developing applications across a number of additive technologies. AM improves far more than it replaces the conventional manufacturing technologies that produce the vast majority of products globally. Applications like jigs & fixtures, molds, custom automation components and of course prototyping, all reduce manufacturing setup and operating costs and accelerate time to market. Our Additive Molding technology is essentially a highly integrated example of this point. By applying an AM technique to a conventional manufacturing method, we were able to get the benefits of both.
Lastly, let's look at the coming years in AM. We're at an important point in manufacturing where progress in a number of areas has converged, creating a proliferation of new product architectures. At this moment, we, with new manufacturing technologies, are no longer working against the inertia of incumbent suppliers and previously specified manufacturing technologies. At these moments, logic reigns and the best cost/performance solutions prevail. At these moments, we can accelerate progress along the adoption curve. You can find more information HERE.
What do you think of mass production of carbon composites? Let us know in a comment below or on our Facebook and Twitter page! Don't forget to sign up for our free weekly Newsletter, with all the latest news in 3D printing delivered straight to your inbox!