Exclusive interview with aRks 3D, the creators of the 3D printed bikinis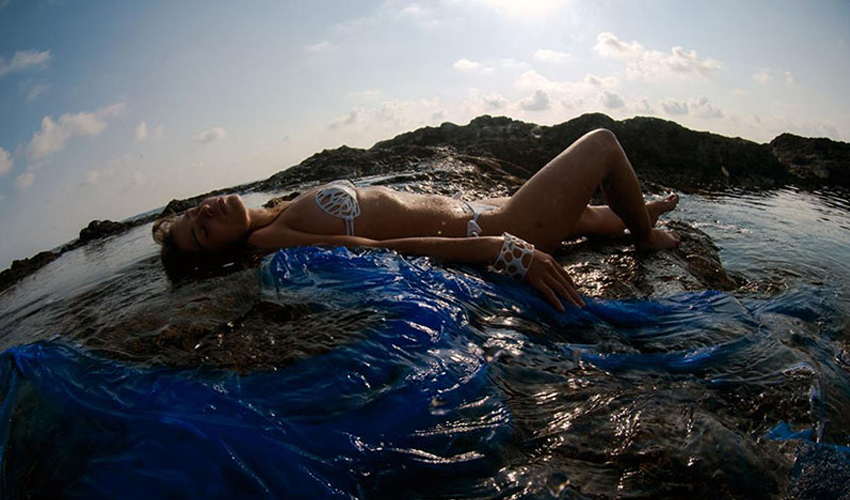 A few weeks ago, we presented you with the first collection of 3D printed bikinis by the Italian design studio aRks 3D. The swimsuit is fully customized, perfectly adapted to your body and is environmentally friendly with a recyclable printed material. It is a testament to what it is possible for 3D printing in the world of fashion. To learn more about this original and unique bikini, we met with the aRks 3D team to understand the impact of 3D technologies in this sector.
3DN: Can you introduce yourself and tell us a bit more about your first experience with 3D printing?
My name is Rosanna Romano and I am an architect. I graduated from the University of Architecture of Palermo in 2007. I also have a degree as a product designer. I discovered 3D printing during my professional experience in Copenhagen, where I was able to propose and experiment with new materials, analyze the advantages and disadvantages of them, the environmental impact and the future trends of the sector. I returned to Sicily in 2014 where I founded aRks 3D.
Samuele is an IT developer and a true enthusiast of technology and innovation. This represents the "technological heart" of aRks 3D. We share the same enthusiasm for technology and creativity, whether in our work or in our private lives. In addition, we work in a beautiful setting, just behind the famous Monreale Cathedral in Sicily, a setting that often inspires us.
3DN: What is the process of creating a bikini? How does aRks 3D incorporate additive manufacturing?
Three years ago, I bought my first 3D printer because as a stylist, I wanted to create my own projects. One of the first things I did was a bikini. I could not find one that I really liked. Plus, I really wanted one that was unique. It was from this idea that everything began: my bikini project became a prototype. The challenge was then to create a real collection that was both easy to produce and to wear.
We have therefore carried out several tests of 3D technologies, well aware of the limits of each. The goal was to find the most suitable technology by mixing different materials, techniques, and solutions. Many models and assemblies have been made; They had to be able to be 3D printed using FDM technology, as fast as possible and without supports.
We wanted to combine tradition and innovation: some pieces are 3D printed but they are linked together by handmade cotton fasteners, guaranteeing a certain comfort for the woman who wears it.
3DN: In the field of fashion, what opportunities have opened since you discovered additive manufacturing technologies?
3D printing allows greater personalization, making each piece unique and each project original because it is created to measure. 3D technologies allow us to open the field of possibilities, to discover new techniques and to respond as best as possible to the expectations of the consumers while transmitting the style of aRks.
3DN: What do you see in the future for 3D printed in fashion?
The whole fashion industry will be upset in my opinion; just like the production process. We will create what we need without any surplus and we will recycle all the resources used in each aspect of our projects. Our new Coral bikinis collection is the perfect example of this.
3DN: Do you have any projects planned for the future?
We are working on several projects in which tradition meets innovation. The older and more artistic techniques are reinvented with 3D technologies, with the introduction of new materials. Currently, we are working on a range of accessories for men, created with both 3D printing and CNC machining.
3DN: Any last words for our readers?
Coral is ergonomic, ecological, unique, and personalized. We were inspired by geometric and organic shapes that evoke a marine microorganism. The swimsuit can be recycled and reused as a 3D printing material. The collection also includes 3D printed accessories like bracelets, necklaces, and earrings.
Check out their official page here
What do you think of these 3D printed bikinis by aRks 3D? Let us know in a comment below or on our Facebook or Twitter page! Don't forget to sign up for our free weekly Newsletter, with all the latest news in 3D printing delivered straight to your inbox!