Aptera Motors Launch 3D Printed Self-Charging Electric Vehicle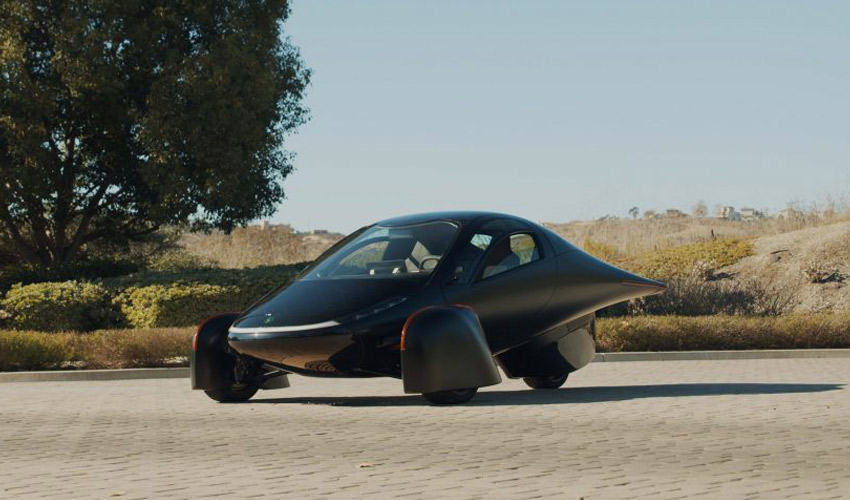 Last week, Californian company, Aptera Motors opened preorders for their new never-charge solar electric vehicle (sEV), Aptera. Aptera is the most energy efficient vehicle currently available on the market, combining metal additive manufacturing, solar and electric power, and aerodynamic design. Equipped with three wheels and made of carbon fiber, kevlar and hemp, this compact car should be produced and delivered by 2021, a flexibility made possible thanks to additive manufacturing. Using 3D printing, Aptera Motors has developed a rapid, high-volume, and cost-efficient method of vehicle design and production. Comprised of just four main pieces, the vehicle is 4.4 metres long, 2.2 metres wide, and 1.4 metres high, accommodating two adults and a pet. The new sEV uses in-wheel and liquid-cooled electric motors, permitting the vehicle to accelerate from 0-60 in just 3.5 seconds and reach up to 110 mph. Its vectorised torque control and all-wheel drive assures comfort, stability control, and resilience against inclement weather. Drivers can also stay updated in real time with ways to conserve energy and extend range using the adjustable settings built into Aptera's user interface.
Founded in 2005, Aptera Motors is built on the idea that super-efficient, safe, fun-to-drive vehicles are at the heart of managing the Earth's natural resources for the sake of future generations. Until now, the company had released just one prototype vehicle, able to run 100 miles on a single charge. This prototype was met with limited success, forcing the Aptera Motors to closed its doors in 2011. After a successful crowd funding campaign the company returned with a new vehicle boasting ten times the range of the first prototype.
There are three models available: the Paradigm (with a 400-mile range); the Paradigm+ (with a 1000-mile range); and the custom Aptera. Both the Paradigm and Paradigm+ have already sold out. The custom Aptera has options to personalise the vehicles' range, interior and exterior colour, and solar power location.
User experience is a key aspect of Aptera Motors' design. Aptera boasts a level of passenger safety that exceeds the majority of vehicles on the road today. It is equipped with a Formula-1 inspired safety cell, advanced airbag technology, and energy-absorbing composite material made of steel and aluminium. Aptera Motors also offer several upgrades allowing customers to personalise their experience. The vehicle can be upgraded to include a self-driving feature. Fitted with an advanced SafetyPilot, including facial tracking, lane keep, adaptive cruise and emergency braking, Aptera boasts Level 2 autonomy capability. Other upgrades include enhanced audio improving sound depth along with an added lightweight transmission-line subwoofer for accurate and deeper bass response, as well as off-road, camping and pet kits.
Aptera is the first vehicle able to fulfil most demands of daily driving using solar power alone.  Drawing less than 100Wh per mile for everyday driving, it's range is five times larger than other sEVs with the same-sized solar system. It can also be fully charged using electric power from a charging station or cord. Aptera's integrated solar is over 3 square metres, comprising 180 efficient solar cells designed into the body structure, and provides a daily range of up to 45 miles. The vehicle comes with a battery pack ranging from 40kWg to 100kwh depending on the model. In order to optimise energy efficiency, and consequently the vehicle's range, Aptera Motors prioritised lightweight structures as well as low-drag aerodynamics and cooling. Additively manufacturing resin-infused sandwich-core plastic composites enables the weight of the vehicle to be controlled and minimised. The success of which is evident in the comparison of an average car, weighing about 1300kg, with the 60kWh Aptera, weighing only 800kg.
The electric vehicle costs between $25,900 and $46,900, depending on the batteries and transmission system chosen by the user. Aptera already plans to expand its range to include aerodynamic and efficient vehicles with more seats and more wheels. You can find more information HERE.
What do you think of the new Aptera? Let us know in a comment below or on our Facebook and Twitter pages! Sign up for our free weekly Newsletter, all the latest news in 3D printing straight to your inbox!