Applications for 3D Printing at the Heart of the Railway Industry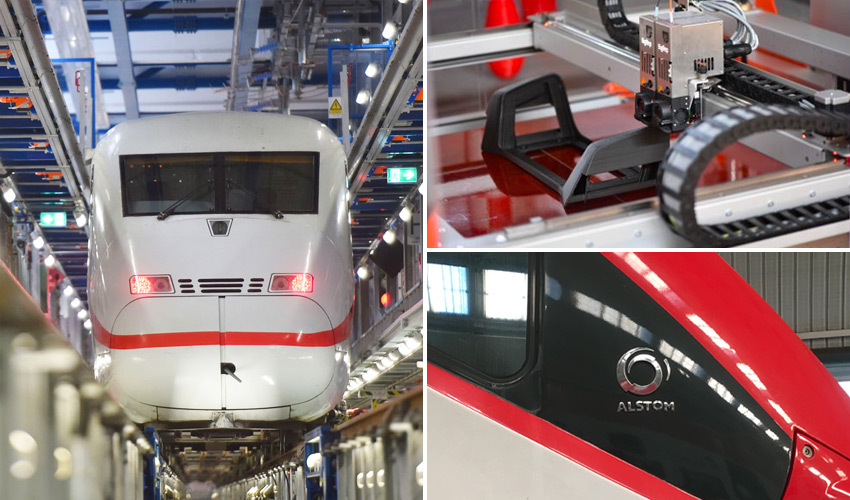 Present in many fields, 3D printing is also making news in the railway industry. The technology offers many advantages to players in the sector, particularly in terms of speed and cost of production. Whether it's to design armrests, seats or other components for trains, additive manufacturing has proven to be a more than viable alternative on many occasions. In order to better understand the different uses of 3D printing in the railway sector, 3Dnatives proposes today to look back at some of the most outstanding projects in the industry.
Additive Manufacturing for Train Maintenance
You may have already heard of SNCF, a major player in the French railway industry. The public company has integrated additive manufacturing into its activities to design spare parts more quickly and thus avoid long downtimes. Bruno Langlois, Director of Equipment at SNCF, explains: "To ensure train availability, SNCF must be able to change a defective component the same day. However, since trains are made up of a large number of parts, we have to manage a large stock. With additive manufacturing, we could reduce it by creating parts as needed." In 2021, SNCF announced the integration of 3YOURMIND software to identify and qualify spare parts that could be 3D printed. At the time, the solution identified 10.3% of 3D printed parts that could be made using AM out of more than 30,000 spare parts and reduced delivery times by 85%, statistics that have certainly increased since.
Alstom and 3D printing of spare parts
In 2016, Alstom presented its "Industry of the Future" program, in which additive manufacturing certainly plays a role. The group is indeed convinced of the added value of 3D technologies in the railway sector, especially when it comes to gaining flexibility and reducing downtime that can represent heavy financial losses. In 2021, the French company presented a concrete case study on tramways, more precisely for the Algerian Setif network. Thanks to its 3D printing center, Alstom was able to design drain plugs made of TPU 92A to prevent the headlights from breaking.  A dozen parts were printed in 48 hours, reducing fixed costs by 80%. Usually, it takes 45 days to receive a replacement part.
Polgar and 3D printed seat prototypes
A manufacturer of parts for the automotive industry, Polgar also designs some components for trains. Using Omni3D's Factory 2.0 industrial 3D printer, and in partnership with the scanning company Metris 3D, Polgar has 3D printed a prototype seat. The company says it has significantly reduced the cost of prototyping, saving €370,000, or 90 percent of the cost. Polgar adds that it was able to complete the part in just three weeks, whereas traditional methods require 16 weeks. In order to design the relatively large part, the seat was printed in different components before being assembled.
Renfe 3D Prints Spare Parts
Renfe is the leading rail transport company in Spain and it has a manufacturing and maintenance division that integrates a range of 3D technologies for the development of spare parts. Located in Madrid, the pilot center integrates an area with polymer 3D printing equipment, as well as a section dedicated to post-processing and another with 3D scanning and reverse engineering solutions. The integration of these new technologies should enable Renfe to create spare parts, as well as small batch and short series orders. Among the benefits they have been able to observe are cost and time savings in the manufacturing of parts, compared to other traditional methods. This adoption is part of their objective to incorporate the most advanced methods currently available on the market into their business.
The Run2Rail project
Launched in 2018 and led by Professor Simon Iwnicki of the Institute of Railways Research (IRR) at the University of Huddersfield, the European Run2Rail project aims to transform train manufacturing processes. To do this, the researchers want to use 3D printing and carbon fiber to design lighter, safer and quieter trains. Thanks to the composite material used and the technology, those involved in the project believe they will be able to manufacture parts with complex geometries, with reduced weight but increased strength. For example, Professor Simon Iwnicki explains that 3D printing will make it possible to manufacture small components, such as axle boxes or bearing parts. Bringing together no less than 15 European partners, Run2Rail also aims to reduce the ecological footprint of the European railway industry.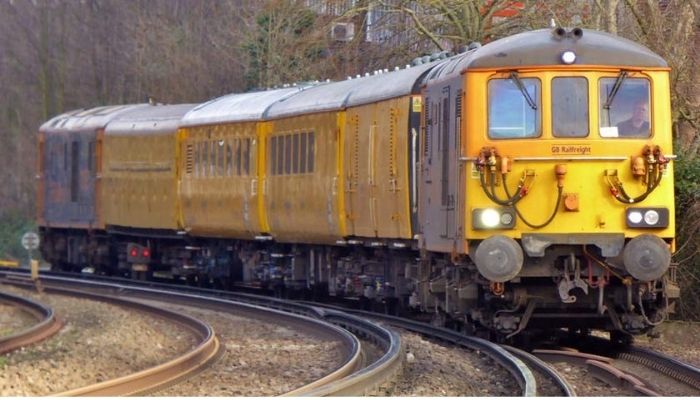 Angel Trains Collaborates with Stratasys
UK train rental specialist Angel Trains has partnered with ESG Rail and Stratasys to design some of the parts dedicated to the interior of trains. Using 3D technologies, the partners want to transform the railway industry and offer faster and, more importantly, cheaper manufacturing solutions. For now, the project members have designed armrests, handles and folding shelves using Stratasys FDM printers. As for the materials used, Angel Trains says it used the American manufacturer's Antero 800 NA filament, a material made from PEKK, which has better properties than traditional thermoplastics.
UK's High Speed Rail Network, HS2, Uses Concrete 3D Printing
The HS2 has been in development since 2012 in the United Kingdom. It was conceived as a way to not just improve infrastructure in the country, but also to give a more environmentally friendly option for travellers. Considering this last point, reducing environmental drawbacks and costs has been a driving force behind the project. For that reason, the London tunnels contractor SCS JV (Skanska Costain STRABAG Joint Venture) has turned to concrete 3D printing to accomplish its goals in making this railway.  Using "Printfrastructure" technology (using the 3D concrete printing process and adding graphene for additional strength), SCS JV plans to use computer operated robots to print concrete allowing them to make structures on site. This will help cut down on carbon emissions from transportation and assembly of slabs as well as allow the company to work in physically-restricted areas.
NS Enters the World of 3D Technologies
Another application of 3D printing in the railway sector is in the Netherlands, specifically by the company Nederlandse Spoorwegen (NS), who announced the 3D printing of 20 parts for its trains. And it is not only focused on additive manufacturing, but has also adopted other types of technologies, such as 3D scanners and digitization. According to NS, they have been able to manufacture complex and difficult-to-reproduce parts, such as dashboard frames. To do this, they 3D scanned old models and then created new components using additive manufacturing. This integration by NS helped to significantly reduce manufacturing times as well as maintenance processes.
Bombardier Transport's Partnership with Stratasys
Bombardier Transportation is a world-renowned and leading company in terms of rail vehicle manufacturing. With its core business in the railway sector, the Germany-based company has been partnering with one of the leading companies in 3D printing, Stratasys, for some time. Stratasys, which is known for its large-scale solutions in the world of additive manufacturing, is now enabling Bombardier Transportation to produce various prototypes, tools and also final parts for trains and streetcars – all from a 3D printer! Thanks to the use of additive manufacturing, Bombardier Transportation can benefit especially in terms of cost and time efficiency. The Stratasys F900 3D printer, which offers a print volume of 914 x 610 x 914 mm, is particularly well suited to Bombardier Transportation for 3D printing air ducts, protective housings and cable trays, and it also enables the customization of rail parts.
Mobility Goes Additive Democratizes 3D Printing
Berlin-based Mobility Goes Additive (MGA) has been focusing on additive manufacturing for several years now. MGA's goal is clear: to democratize the use of 3D printing within the railway sector and the mobility sector in general. And it has already been able to celebrate great successes, such as in 2019, when the first 3D-printed component for the railroad sector was approved, a safety-relevant part. Specifically, this is a brake suspension made of metal, which is now serving its purpose in a subway in Hamburg. For MGA, which was founded in 2017, the approval of the brake component was made possible thanks to the cooperation with quite a few partners: Siemens Mobility, Deutsche Bahn AG and the Fraunhofer Institute. Finally, before the final approval of the 3D-printed part, the necessary quality assurance was also carried out by TÜV – and passed!
Union Pacific Integrates 3D Printing
Unlike on many other continents, notably Europe and Asia, commercial rail transportation is not as prominent in the United States. That being said, railroads still cross the country, and are used primarily for freight shipments, playing a critical role in the American economy. Union Pacific (UP) is the second longest with 8300 locomotives over 32,300 miles (51,800 km) covering 23 states. And way back in 2013, the company started turning to additive manufacturing to help make locomotive operations safer and more efficient. Though they have not revealed which 3D printing technologies are used, apparently the company has used 3D printing extensively for prototyping.
CAF Uses Additive Manufacturing for Train Components
RL Components is the subsidiary of CAF Manufacturing, a Spanish company dedicated to the manufacture of trains and railway equipment. A few years ago, they developed the first light rail vehicle that integrated a series of 3D printed front-end components. The project, carried out together with the Zaragoza Tramway, involved the design and manufacture of parts for the CAF Urbos vehicle. To do so, they used 3D printing of advanced polymers that comply with the most stringent rail industry regulations regarding fire and smoke. In addition, this technology is presented as a competitive alternative in the supply of spare parts. It is worth mentioning that RL Components was also able to develop the reverse engineering of the spare parts using 3D scanning.
Siemens Mobility Services et la Fortus 450mc
Siemens Mobility Services has been relying on the services of 3D printing since 2020. Since day one, it has been using the Fortus 450mc 3D printer developed by Stratasys for innovative manufacturing in the rail industry. The reason for Siemens Mobility Service's investment is clear: by means of additive manufacturing, the company wants to be able to act more agilely and efficiently in the production of important components and their maintenance. In particular, the fact that some train models and the associated spare parts are no longer manufactured in some cases makes repair work much more difficult. To ensure that not only can parts be manufactured, but that they can also be traded profitably, 3D printing offers a major advantage: Siemens Mobility Services is now able to produce the parts it needs ad hoc and in individual series – so the days of bulk orders and storage problems are over.
Deutsche Bahn is Opting for Additive Manufacturing
The fact that Deutsche Bahn is always moving with the times has become clear at the latest since the acquisition and intensive use of large-format 3D printers. The German monopoly company uses additive manufacturing primarily for the maintenance of its trains in order to make this more efficient and faster. Therefore, in addition to tools for train repair, individual parts, to be precise spare parts made of plastic, are already being produced using 3D printers. Deutsche Bahn stated as early as 2021 that it would make use of the key technology, as this would enable them to have the necessary spare parts in stock on the spot, regardless of supply chain problems and raw material shortages. In addition, Deutsche Bahn states that the use of additive manufacturing for its rail sector industry would also be faster, more resource-efficient and in some cases even cheaper than using conventional manufacturing methods.
What do you think of these 3D printing applications in the railway sector? Let us know in a comment below or on our Linkedin, Facebook, and Twitter pages! Don't forget to sign up for our free weekly Newsletter here, the latest 3D printing news straight to your inbox! You can also find all our videos on our YouTube channel.