AON-M2 2020, a high-temperature machine compatible with hundreds of materials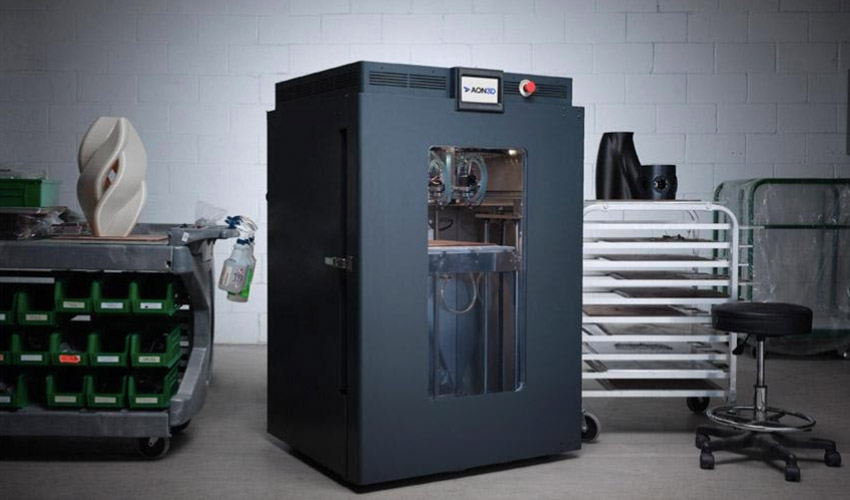 Canadian manufacturer AON3D has just launched a new industrial machine, AON-M2 2020, compatible with a wide range of thermoplastics including high performance materials such as PEEK, PEKK and ULTEM. Equipped with a fairly generous build volume of 454 x 454 x 640 mm, the 3D printer will meet the needs of many industrial companies who seek to create parts that are resistant to aggressive chemicals, extreme temperatures and intense mechanical stress. The machine is an open manufacturing platform, allowing different materials to be used to address the needs of a wide range of users worldwide.
The Canadian company made its market debut in 2015 with its first machine, the AON-M2, compatible with a variety of engineering thermoplastics too. Since then, the manufacturer's goal has been to provide an open and reliable platform for creating functional prototypes and finished parts. Today, with the development of the AON-M2 2020, it is taking it to the next level by integrating more than a hundred thermoplastics, from ABS, PEKK to Nylon or Polycarbonate. Andrew Walker, R&D Director of AON3D, explains: "We are seeing a growing demand for an additive manufacturing platform that can print the strongest thermoplastics, as well as an increasing recognition that reaching the maximum mechanical property potential for any part-material combination is a challenge best met with expert support. The AON-M2 2020 is the bedrock of a complete solution we offer customers for getting from CAD file to end-use parts, without sacrificing affordability."
3D printing of parts with high performance materials involves some temperature management, and this is done through three different elements: the build plate, the extrusion and the build chamber. The AON-M2 2020 printer offers an extrusion temperature of 470°C to ensure good layer bonding and part stability. Its print chamber can reach 135°C to maintain a strong interlayer bond and prevent shrinkage. Finally, the plate heats up to 200°C to ensure optimal adhesion. It therefore offers optimized temperature management for designing any type of part.
The AON-M2 2020 offers a print volume of 454 x 454 x 640 mm, a maximum speed of 500 mm per second, and two extruders to create more complex parts with substrates. It builds on the design of its bigger sister, capitalizing on its strengths and improving on its weaknesses. The company's CEO, Kevin Han, adds: "From the all stainless-steel frame to minimize thermal expansion, to the chamber heater redesign that offers precise control of the thermal environment and heats up in less than 15 minutes, the AON-M2 2020 is an exciting step-up for AON3D. We are thrilled to continue offering customers the widest range of material options for their applications and materials expertise that goes well beyond the machine design."
Finally, the industrial machine is an open platform: AON3D collaborated early enough with raw material and material manufacturers to offer a very wide range of solutions. These include players such as Solvay, SABIC, Kimya, DSM and Infinite Material Solutions. You can already order the AON-M2 2020 on the manufacturer's website HERE.
What do you think of the AON-M2 2020 solution? Let us know in a comment below or on our Facebook and Twitter pages! Sign up for our free weekly Newsletter, all the latest news in 3D printing straight to your inbox!