Anycubic Launches Two New Ranges of FDM and LCD 3D Printers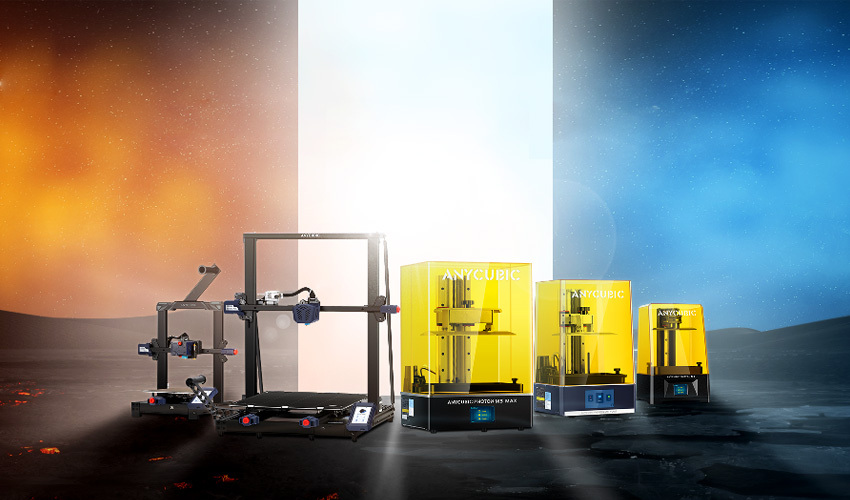 We are not far into 2022, and already we have seen the 3D printing market flourish. Between mergers and acquisitions and a number of exciting launches, the additive manufacturing sector seems healthier than ever. Now, in the latest news, Anycubic has announced its own launch of two new 3D printer ranges. The leading Chinese 3D printer manufacturer will be releasing Anycubic Kobra and Photon M3 Series as well as some ecological products, the Anycubic Photo Nex, Anycubic Water-Wash Resin+ and Anycubic AirPure.
Anycubic has grown immensely since its founding in 2015. Known, of course, for their affordable 3D printing solutions which are targeted to a variety of customers including, but not limited to consumers, hobbyists, designed and schools, they have put an emphasis on innovation in recent years. Just last year at TCT 2021, they unveiled new disruptive products including Anycubic Photon Ultra and Vyper, which was Anycubics first FDM printer with fully automatic levelling. These latest releases are expected not only to upgrade further these lines but also to expand possibilities for users from all walks of life, allowing them to "unleash their imagination and turn creativity into reality." But what exactly can you expect from these newest products?
A Closer Look at the Anycubic Kobra and Photon M3 series
First up, Anycubic's newest range of FDM printers. Named Kobra, the series consists of the Anycubic Kobra and Anycubic Kobra Max. According to Anycubic, the Kobra printers have been designed to the bed-leveling process thanks to the new Anycubic LeviQ smart leveling system. With this, the printers should automatically adjust any unevenness, eliminating the need to calibrate manually.
Of course, automatic calibration is not the only benefit. The Kobra uses direct extrusion, allowing for quicker, more reliable filament extrusion. Additionally, thanks to a textured, flexible, spring steel sheet held in place on the build platform, users will be able to lock parts down during printing when hot and then easily remove them with no tools after cooling. The Kobra Max will be ideal for those interested in printers with a larger build volume, coming in at 17.7 x 15.7 x 15.7 in. /45 x 40 x 40 cm (HWD).  This printer enables users to print large-scale objects. Thanks to its stable double Z-axis, Anycubic notes that the Kobra Max should be more stable to operate, resulting in more even prints.
Meanwhile, the Anycubic Photo M3 series is the latest LCD printer range offered by the company and consists of the Anycubic Photon M3, Anycubic Photon M3 Plus and Anycubic Photon M3 Max. As might be expected with printers using photopolymerization and thanks to both the Anycubic LightTurbo and high-resolution monochrome screens, the printers are expected to provide outstanding printing details at fast print speeds. In addition, Anycubic has also worked to improve the user experience. This has been done through a number of ways including adding a replaceable anti-scratch film between the protective screen and the screen of the printers to extend the service life and reduce the frequency of screen replacements.
Looking at the printers themselves, the most basic printer in the line is the Anycubic Photon M3 which Anycubic touts as an entry-level resin 3D printer for beginners. It is slightly larger than the Anycubic Photo Mono at 18 x 16.4 x 10.2cm (HWD) and is equipped with a 7.6" 4K+ monochrome LCD screen. Notably, thanks to the 400:1 contrast ratio, the 3D printer is able to achieve more precise edges and corners with a print resolution of up to 40 microns.
Moving to the other machines, beyond the benefits already mentioned, the Photon M3 Plus is equipped with a 9.25" 6K exposure screen and has a build volume of 24.5 x 19.7 x 12.2 cm (HWD). Anycubic notes that the printer's  auto feed module should relieve concerns of resin runout during printing. Moreover, the M3 Plus will allow users to remotely control and monitor 3D printing processes as it is the first machine that will support Anycubic cloud. The Photon M3 Max has these features as well as a larger build volume (30.0 x 29.8 x 16.4 cm) than its siblings. It is also anticipated for its 13.6″ 7K LCD screen and 6,480 x 3,600 pixels resolution.
Other Launches from Anycubic
Of course, these printer rangers are not the only products that Anycubic has launched. Anycubic also introduced the Water-Wash Resin+ series which they explain can be used to reduce cleaning costs for parts. Additionally, the resin has a milder odor and could be dispersed in water without requiring isopropyl alcohol (IPA). This could make post-processing easier while also being more eco-friendly. In addition, the company released the Anycubic AirPure to reduce the smells coming from resin 3D printers and provding users with efficient purification and lasting freshness. Anycubic also announced its first-ever concept 3D printer, Anycubic Photon Nex. In the promotional materials, Anycubic states that it marks the company's breakthrough exploration in speed, smart printing, and science-fiction-inspired design, hopefully establishing the foundation for Anycubic's future 3D printers with new functions and designs.
Commenting on these launches, James Ouyang, Vice President of Anycubic stated, "The release of these products is our new breakthrough in the 3D printing field. Moving forward, we will continue listening to users' voices and feedback to release more excellent products for our users. We will also adhere to our initial intention – 'For Freedom to Make' and work with our users to build a better future with intelligent manufacturing." In terms of pricing, the Anycubic Kobra and Anycubic Photon M3 both start at $299 while the Kobra Max starts at $539, the Photon M3 Plus at $699 and the Photon M3 Max will soon be on pre-sale starting at $1099. Additionally, the Anycubic Water-Wash Resin+ starts at $42 for 1kg and the Anycubic AirPure is available starting at only $30 You can buy the new solutions in a variety of places including Anycubic's official store.
What do you think of Anycubic's latest launch? Let us know in a comment below or on our Linkedin, Facebook, and Twitter pages! Don't forget to sign up for our free weekly Newsletter here, the latest 3D printing news straight to your inbox! You can also find all our videos on our YouTube channel.
*Cover Photo Credits: Anycubic