Annie Foo, creator of 3D printed shoes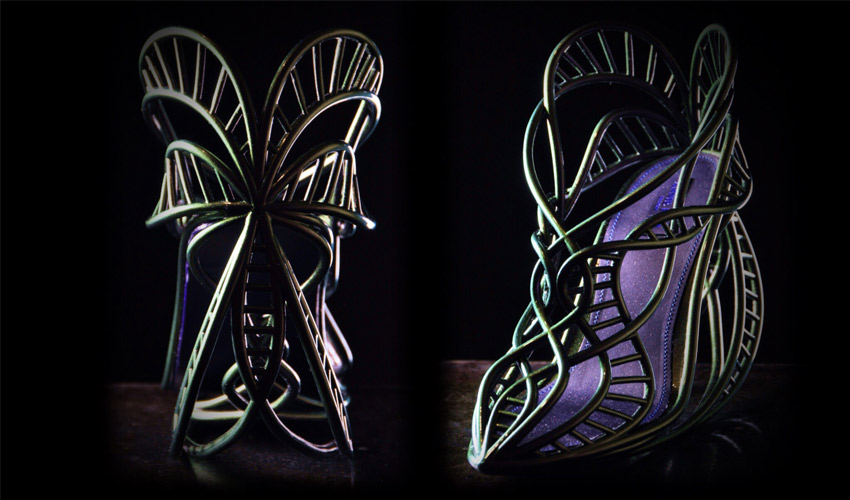 While the Chinese brand PEAK recently announced the manufacture of fully 3D printed shoes for the general public, we met with designer Annie Foo who designs high-end shoes using 3D technologies. By combining 3D scanning and additive manufacturing, it is able to manufacture custom products with complex geometric shapes. 3D printing is a new way for this young designer to express her creativity and offer end consumers more environmentally friendly, sustainable and personalised products. We asked her a few questions to find out more about her work and her vision of the market for the future.
3DN: Can you present yourself and tell us about your link with new technologies?
"The world doesn't need more shoes but it deserved innovation." Coming from fashion industrial background, I am determined to explore innovative methods of making  whilst merging style with desire to help reduce the impact fashion has on the environment. I am fascinated by the combination existing footwear manufacturing methods with modern technology and materials to create something 'new' for the future.
3DN: Can you tell us more about the manufacturing process?
I scan the shoes or human feet first and then I draw and craft around the model in (VR) virtual reality using the latest 3D modeling programme like Gravity Sketch which successfully captures my freehand brush stroke to create new three dimensional form of modern footwear, exported to Oculus Medium to refine details, then touch up in Rhino 3D before sending the file for printing. The final pieces that I produced for catwalk were made with the HP Jet Fusion 4200 3D printer, using PA12 Nylon (SLS). I am yet to discovered a more flexible material for the upper part of shoes, for example printed TPU.
3DN: Why did you turn to 3D printing?
I am a sculptor and worked with different raw materials from ceramic, wood, metal and plastic etc.,  I understand that each material has its own characteristics, benefits and limitations. For the complexity and integrated details of my footwear structure, 3D printing is a suitable option for my project.
3DN: What are your sources of inspiration?
My work is strongly inspired by linear construction, London pop culture, architectural structures, organic form and contemporary abstract art as well as sculpture in general.
3DN: Do you think 3D printing can help the issue of sustainability?
I believe the buying behaviour is changing, consumers are more concerned about the materials than before, quality and origins of the product matters more nowadays in comparison to decades ago. I think we are moving in a positive direction, making improvement to our future environment and generation. As I stated before, there is no such thing as zero waste fashion unless you don't consume. 3D printing will help reduce the fashion waste during the manufacturing process, having said that, every good invention could turn bad if people misuse or don't use it responsibly. As contemporary designers and producers, we have the responsibility to think carefully before we create. I am not against plastic except when we can't use it responsibly and for good causes.
3DN: According to you, what is the future of 3D printing in fashion ?
This is gonna be a rapidly growing and revolutionary market especially in fashion industry, people are looking for unique pieces and truly fitted products, I foresee every household will have a 3D printer at home in the very near future. Also consumers will be able to just place an order online by sending their 3D scanned figure, designers will be able to create custom pieces that anyone can print at home. Of course this could easily be set up with fashion footwear, accessories and eyewear products until we could print out flexible material that feels like leather and fabric in the future.
3DN: Any last words for our readers?
Be responsible, think twice before you buy or create something.
You can find Annie Foo's instagram account HERE.
What do you think of this interview? Let us know in a comment below or on our Facebook and Twitter pages! And remember to sign up for our free weekly Newsletter, to get all the latest news in 3D printing send straight to your inbox!