Top 5 Videos: Meet the CEO of Anisoprint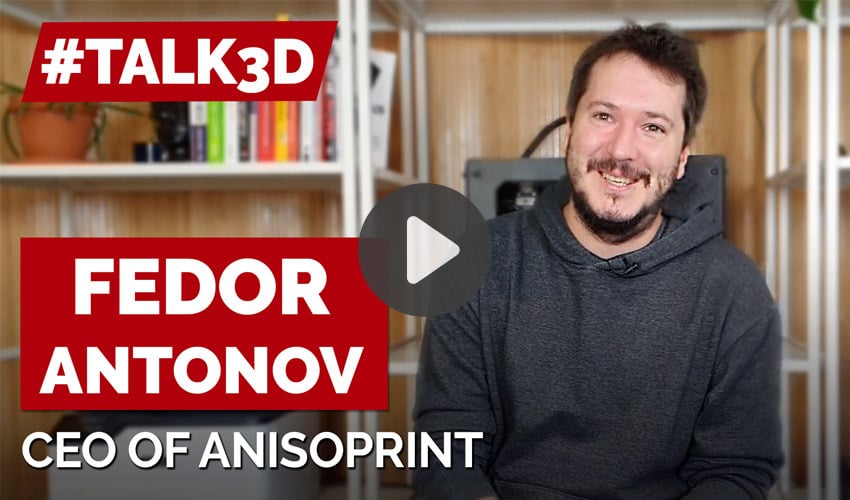 It's Friday and you know what that means. It's time for our weekly top 5 videos about 3D printing! This week, 3Dnatives was able to meet and talk with Fedor Antonov, co-founder and CEO of Anisoprint, a manufacturer of continuous fiber composite 3D printers. He told us a little more about his company, its development, and its ambitions. After that, additive manufacturing company GROB presents its latest 3D printer. Next, you'll find out how 3D printing can save a dog's life, and then you'll be introduced to Titomic, a company that produces metal parts for the aerospace sector. Last but not least, you'll be able to take a look at Karim Rashid's incredible designs, which were made with the help of direct-to-textile 3D printing. Like always, don't forget to tell us which one you liked most. Have an amazing Sunday!
Top 1: Meet the CEO of Anisoprint
In recent years, there has been a significant growth in composite 3D printing, which can now be used to design parts that are very light and sometimes as strong as metal parts. We had the opportunity to meet one of the leading players in this sector, Anisoprint, a manufacturer of composite machines that allow manufacturers to produce parts with continuous fibers. Its co-founder and CEO, Fedor Antonov, answered our questions, and we were able to learn more about the company's ambitions. Find out all about it in the video!
Top 2: 3D Printing With Liquid Metal
The additive manufacturing company GROB presents its latest 3D printer. With this machine, it is possible to process aluminum alloys via material feed in wire form using 3-axis kinematics. The machine also reduces the risk potential by eliminating powder handling as well as with the built-in sensors for process and system monitoring (droplet, nozzle and component height monitoring).
Top 3: Saving Lives With 3D Printing
If you know all about additive manufacturing, you probably already know that it's not only beneficial for humans, but for animals as well. 3D printing can help animals by enabling the design of devices such as orthotics, prosthetics, and implants to correct or relieve pain. In the first part of the video, you learn about Murphy the dog and how he was saved by 3D technologies. Then, meet Twente Additive Manufacturing, a company that builds houses using 3D concrete printing:
Top 4: Titomic and Aerospace 3D Printing:
The Australian manufacturer Titomic has developed manufacturing solutions that rely on cold spraying. Specifically, it is now possible to produce metal parts for industries as demanding as the aerospace sector. One of the key advantages of this technology is its ability to combine multiple metal powders. In the video below, Titomic discusses its partnership with BAE Systems, a British company that operates in sectors such as defense and aerospace.
Top 5: Additive Manufacturing at Milan Design Week
Take a closer look at Karim Rashid's incredible designs, which were presented at the Milan Design Week 2022. It is now possible to 3D print designs directly onto textiles, with the J850 TechStyle 3D printer, powered by 3DFashion technology. Learn more about it in the following video:
What do you think of the company founded by Fedor Antonov? Let us know in a comment below or on our LinkedIn, Facebook, and Twitter pages! Don't forget to sign up for our free weekly Newsletter here, the latest 3D printing news straight to your inbox! You can also find all our videos on our YouTube channel.