Anisoprint launches industrial continuous fiber 3D printer: ProM IS 500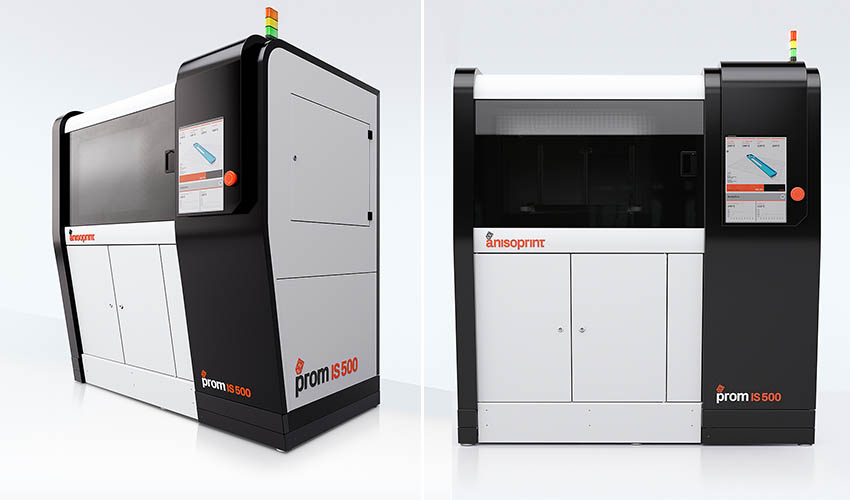 Anisoprint provides additive manufacturing systems compatible with composite materials reinforced with continuous fibers, as well as providing these materials themselves. Continuous fiber composites are up to 30 times stronger than pure thermoplastics and comparable to metals. Their benefit also lies in the fact that they are several times lighter and cheaper than metal 3D printed parts. The market for composite 3D printing has been growing rapidly, and Anisoprint is one of the leaders in this market. At Formnext, the company launched a new machine called ProM IS 500: an industrial solution specifically designed to print high temperature thermoplastics with continuous fiber reinforcement.
When speaking to Fedor Antonov, CEO of Anisoprint, he explained: "Through the interaction with our customers we've learned that everyone is looking for bigger parts. Today, most of the 3D machines on the market have small build areas. Bigger parts need higher strength, however the main challenge for printing big parts is productivity. With our ProM IS 500 solution we've found ways to increase productivity dramatically by using reinforced fibers of different sizes and a microlayering approach. You can reinforce perimeters with thin, more tolerant fibers, while switching to much more productive thick fibers in infills and regular zones. Together with industrial motion control and guideways, we can achieve a productivity which is 5 to 10 times higher than in the current systems. And, contrary to traditional machining techniques like milling, we save weight by saving machine time — this is the beauty of additive. You will have large scale jigs for welding, assembly, bending and milling that are robust, lightweight and precise – made on demand, on your machine shop, in a matter of hours. No compromise."
The ProM IS 500 is based on Anisoprint's patented Composite Fiber Co-extrusion (CFC) technology and represents another step towards a new approach to manufacturing that enables design freedom and material choice, by offering users choice beyond plastics and metals. The ProM IS 500 is the second solution from the manufacturer after the Composer, its desktop continuous fiber 3D printer, also based on the same technology. It enables the creation of complex shape continuous fiber composite tools, spare parts and functional prototypes matching industrial standards for aerospace, automotive, robotics and other industries.
The machine design includes industrial components, CNC, quality control and safety systems in order to provide precise, repeatable and reliable manufacturing of mid-sized composite parts. The build volume on this machine is 600 x 420 x 300 mm, and it is equipped with a heated chamber for printing high temperature polymers such as PEEK or PEI. Other features include automated calibration, material and print quality controls, high-precision motion control, supporting industrial interfaces and safety requirements. The machine is designed to run 24/7 in a factory environment.
"Developing an additive manufacturing product which would meet industrial standards is a challenge for us as well as for the whole 3D printing industry. Industrial enterprises are always more demanding on the equipment that they use, therefore we are providing higher quality, productivity and thoroughly delving into customers' requests and goals. I believe that with a machine such as the ProM IS 500 and our knowledge in composites we can show that additive manufacturing is at least comparable or even more effective than traditional manufacturing technologies for many applications," explained Evgeny Babarykin, Design Engineer at Anisoprint.
In fact, Anisoprint's proprietary Composite Fiber Co-extrusion technology allows manufacturing of optimal composite parts that are stronger and lighter than their metal or non-optimal counterparts. The manufacturer explained that plastic reinforced with Anisoprint materials has 860MPa tensile strength while the density is 1.4 g/cm³, which is 2 times lighter than aluminum and can have special fiber laying (in the form of lattices) that allows getting the maximum properties with minimum material usage for the design loads. It significantly reduces weight, production time and eventually the price of the part.
In terms of materials, ProM IS 500 will have up to 4 changeable print heads for printing composites and pure plastics. With these it will be possible to reinforce different zones of the part with different composites (e.g. carbon/basalt) depending on the user's goal. High temperature plastics such as PEEK and PEI will be available as a matrix material for composites anisoprinted on ProM IS 500, significantly expanding applications of 3D printed parts. You can find more information on Anisoprint's website HERE.
What do you think of the ProM IS 500? Let us know in a comment below or on our Facebook and Twitter pages! And remember to sign up for our free weekly Newsletter, to get all the latest news in 3D printing send straight to your inbox!