Startup of the Month: AnatomikModeling
Published on November 2, 2017 by
Jamie D.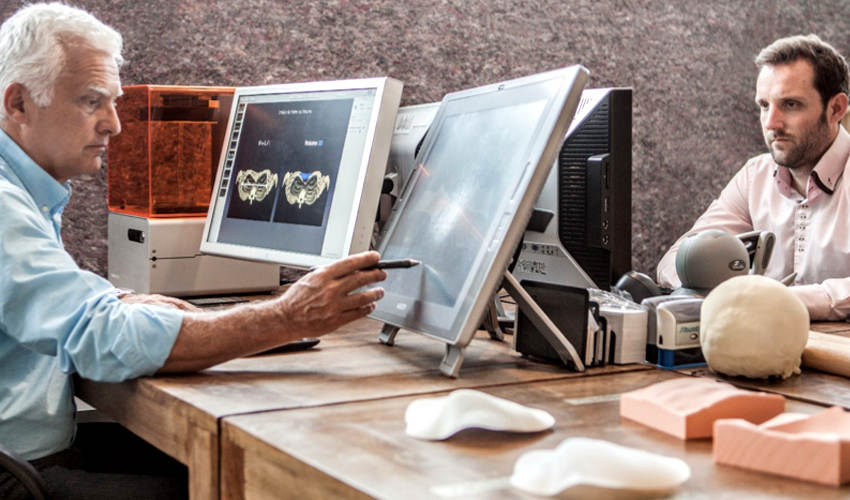 This week's startup of the month is AnatomikModeling, a company focusing on using 3D tech to help improve various conditions such as for congenital thoracic pathologies. Despite only being started two years ago, AnatomikModeling is an exciting new company that is rapidly expanding. We spoke to them about what they use 3D tech for, what they think for the future of the industry, and their plans for improving humanity.
3DN: Can you introduce AnatomikModeling and its link with 3D technologies?
AnatomikModeling is a young innovative company founded in 2015 following several years of R&D conducted with Professor Jean-Pierre Chavoin, Former Head of Department of Restorative Surgery and Aesthetics and the serious burns unit of the University Hospital of Toulouse and myself, Benjamin Moreno.
The company is evolving in the MedTech sector, namely the Medical Devices industry. AnatomikModeling specializes in Computer Assisted Design/Manufacturing (CAD/CAM) of customized 3D implants for Restorative Surgery, Thoracic Surgery, Maxillofacial/Orthopedic Surgery, and Pneumology. The company supports its know-how on the control and optimization of 3D technologies such as 3D processing of data from medical imaging (X-ray tomography, magnetic resonance imaging etc), 3D design (CAD), computer simulation, 3D machining (subtractive manufacturing) and 3D printing (additive manufacturing).
3DN: What is the process of manufacturing an implant?
Two major phases can be considered in the process of manufacturing an implant:
3D DESIGN PHASE
The first step is to receive patient data (medical scanner, MRI) securely and dematerialized, they are sent to us by surgeons and health professionals (hospitals and clinics) with whom we work. We receive data from patients around the world very quickly.
The second step is to process these data to obtain the virtual 3D model of the patient with all the tissues of interest (skin, muscles, bones, cartilage, fat, etc). We then obtain a digital double of the patient's body to an accuracy less than millimeter. This step uses a set of mathematical algorithms and the use of high performance graphics computing stations.
Then, on this double, we use Computer Aided Design (CAD) to design the future customized implant. This step uses 3D modeling and numerical simulation software.
      2. 3D MANUFACTURING PHASE
The 3D model is then sent to our CNC or 3D printing machines for the realization of the mold or the positive model of the implant. The choice of 3D additive or subtractive manufacturing technology depends on the geometric complexity of the implant.
In the case of our custom 3D implants made of medical grade silicone, the molds and positives are sent to our partner in Paris, Groupe SEBBIN, a leader in the manufacture of medical silicone implants. Implants are then sterilized and sent to surgeons.
In the case of 3D anatomical models intended for surgeons and health professionals for the preparation and anticipation of the surgical procedure or the training, they are performed directly in house by 3D printing.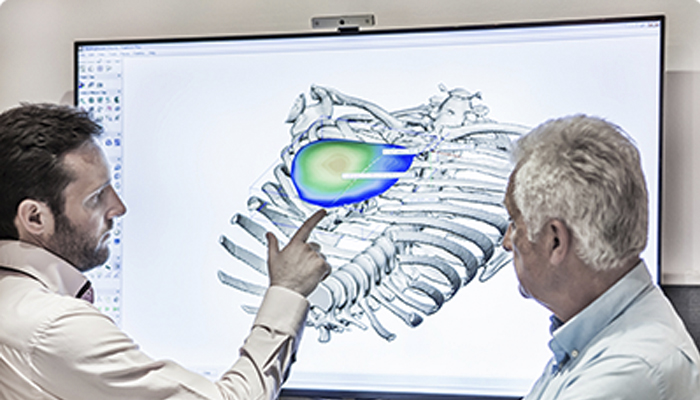 3DN: What are the benefits of 3D printing of anatomical models, and what are its limits?
The use of 3D printing has several advantages: one can go directly from the 3D digital model to the 3D physical anatomical model while keeping a very good precision. Saving time is important with reduced costs. This allows to fully enter the era of personalization of medical devices.
It is also possible to make 3D anatomical models with very complex geometric shapes that would be very difficult to obtain via traditional manufacturing techniques.
Limits are mainly related to the materials available. Indeed, the standards require the use of biocompatible materials or having validated properties for the creation of molds to avoid the transfer of particles or molecules from the mold to the final implant. Materials meeting these criteria that can be used in medical 3D printing are still few. But manufacturers are working to provide more biocompatible materials or meet the standards.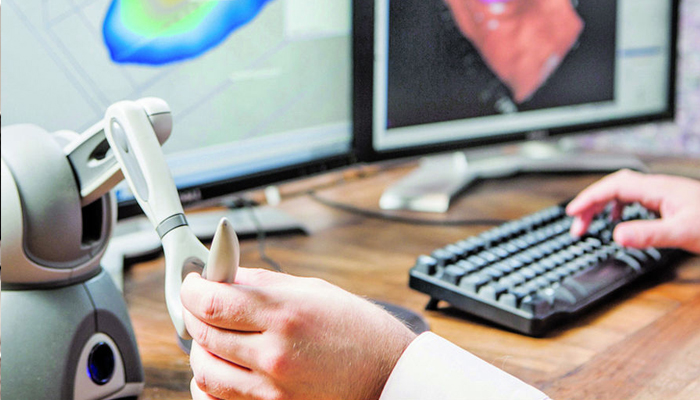 3DN: Who are your partners today and what are your future developments (in terms of customers, research, new medical devices)?
We have academic partners such as the University Hospital of Toulouse with the Medical Device Evaluation Platform (EDIT), the Institute of Advanced and Surgical Technologies (ITAC), the Restorative Surgery and Interventional Pulmonology Services, the Cancéropole de Toulouse , the Cancer-Bio-Health competitiveness cluster, the CNRS CIRIMAT laboratory, and the Anatomy laboratory of Montpellier University of Medicine.
We are continually investing with our R&D partners to bring to market new and innovative medical devices to meet the challenges of tomorrow's medicine. For patients, accessing personalized medical devices that are perfectly adapted to their anatomy enables a better quality of life and lower complication rates. It also reduces the medico-economic costs of health systems.
We currently have a bespoke 3D implant range marketed in more than 35 CHUs and clinics in Europe for the Surgery Repairing Congenital Chest Abnormalities affecting one in 300 people. These implants are also starting to be marketed in South America and Asia. We train about twenty new surgeons from around the world every year who then join our network of referring surgeons and introducing our implants. We continue to deploy this network to enable patients to find a surgeon close to home who is trained in good implant placement practices: this is an important quality guarantee for the patient.
Then, we have a new generation of implants for Pneumology and Thoracic Surgery: the tailor-made 3D tracheobronchial stents. We are currently in phase 1 clinical trial with implantation in 10 patients at the Interventional Pulmonology Department of Toulouse University Hospital. We will implement Phase 2 in 2018 with a larger cohort of patients.
Recently, we have also been offering healthcare professionals the 3D printing of pathological anatomical models to prepare and better anticipate the surgical procedure. They can also be used for surgical training based on real medical data.
3DN: How do you see the future of 3D technologies in the surgical field?
3D technologies have been present in the medical sector for many years, particularly with the explosion of medical imaging techniques that allow sharp diagnostics without touching the patient. Robotics guided by real-time medical imaging is also booming (neurology, vascular surgery, urology …). In the surgical field, 3D printing will bring a lot in the very near future: reduction of operating times (implants "Plug & Play"), better morphological and functional results, fewer complications, better management of complex pathologies …
The arrival of new active and intelligent biomaterials, tissues and complete organs printed in 3D will revolutionize the medicine of the future. Today, we are only at the beginning, but things will go very fast. These technologies will allow us to live better, longer.
3DN: Any last words for our readers?
Every day, our ambition is to bring new therapeutic solutions for a better quality of life and a better care of the patients. The customization of our medical devices thanks to new 3D technologies allows us to achieve this goal.
Last month's Startup of the Month was Livrea Yachts. You can check this article out here.
What do you think of AnatomikModeling? Let us know in a comment below or on our Facebook and Twitter pages! Don't forget to sign up for our free weekly Newsletter, with all the latest news in 3D printing delivered straight to your inbox!