AMUG 2022: A Round Up of all the News From the Event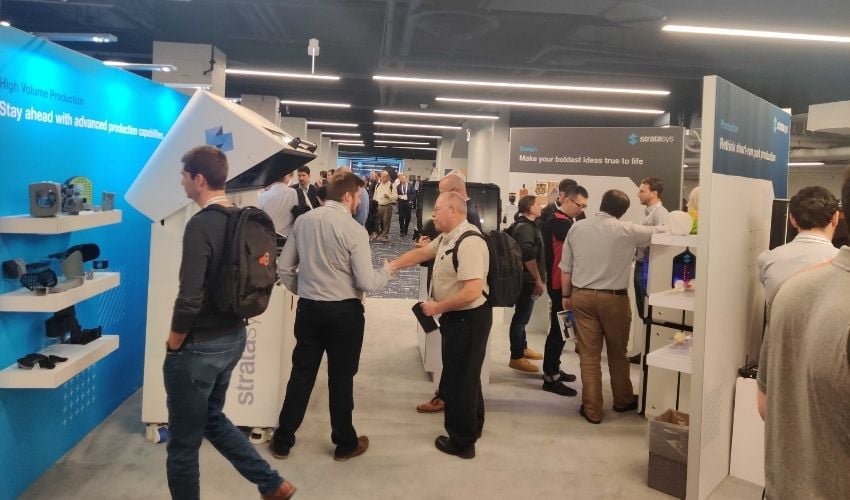 AMUG 2022 is officially over! The annual AM conference "for users – by users" took place this year from April 3rd to 7th in the Hilton in Chicago, Illinois. Once again, attendees were treated to packed days full of conferences, training sessions, technical sessions, workshops, awards and more as well as nights with dinners and networking. And though this is not the first AMUG to physically take place since the start of COVID-19, this year marks a clear move towards normality for the conference.
In fact, Stefan Ritt, the Director of the International Committee at AMUG commented, "AMUG 2022 saw a return to the old glory from before COVID. This year, there were just under 2000 when in 2019, it was about 2500. We are all super happy to see that so many people were able to make it over. We noticed the enthusiasm and interest that people have in the community for speaking and connecting face to face. Secondly, it is clear that the additive manufacturing community survived well through COVID and travel restrictions, we saw a number of new and innovative projects as well as new markets for AM. These include those, unfortunately, related to the conflict in Europe and the effects of that, but also those to help address other technological problems in the world. For example, the new space race with small rocket launches." This is certainly a promising sign for AM in general as well as future conferences that will take place in 2022 and 2023. And for those who were unable to attend the event, we have prepared a recap on all the news that came from the week of the conference.
3D Systems Introduces the SLA 750 at AMUG 2022
It has already been a busy year for 3D Systems. Back in February, the company showed its intention to re-enter the extrusion market with the acquisitions of Titan Robotics and Kumovis, and now they have announced the release of their latest SLA printer, SLA 750. Available as either the SLA 750 or SLA 750 Dual, the world's first synchronous, dual-laser SLA printer, the printers are, according to 3D Systems, the fastest SLA printers  on the market. Attendees at AMUG 2022 were able to learn more about the printers and its parts and applications at 3D Systems' booth. You can learn more HERE.
NANOE and KIMYA Aim to Take Over the North American Market for Technical Materials
We have previously told you about NANOE. The French company is specialized in materials especially as it relates to ceramic and metals, notably powders. However that is not all. Through their Zetamix brand, they also offer ceramic and metal filaments for a variety of applications. Now, the company is looking to take over the North American market as these filaments will now be offered by KIMYA. Discussing the agreement, Guillaume de Calan, co-founder of NANOE, commented, "We are delighted to be expanding our distribution channels in strategic regions like North America thanks to our partner KIMYA, with which we share a vision and the know-how in technical materials for the production of finished parts. We are fully confident in its ability to represent our filament range in this market and to help us extend the use of ceramic and metallic additive manufacturing on the international stage." Attendees at AMUG 2022 were able to meet with de Calan to find out more in a round table and press meeting to discuss the news. You can read more about it in the press release HERE.
Siemens and Roboze Enter Strategic Partnership for More Industrialization in AM
In yet more news from just before AMUG 2022, Siemens and Roboze announced a strategic partnership to pool their skills to create "complete workflows for the industrializing of 3D printing and increase the production opportunities of companies involved in the energy, mobility and aerospace sectors." This news follow certain trends we have been seeing in AM recently, notably a move towards industrialization which in an of itself if pushing companies to adopt full production workflows, often through partnerships between different businesses on the AM value chain. This time, Siemens, a technological pioneer, infrastructure and mobility, is hoping that the work with Roboze, a leader in industrial 3D printing of super polymers and composite materials, will increase productivity, competitiveness and efficiency of manufacturers. You can read more about the partnership HERE.
Mantle Shows 3D Printed Tooling Inserts at AMUG 2022
Ahead of AMUG 2022, Mantle, one of our 3D startups of the month in 2021 known for its TrueShape technology and unique metal process, announced new collaborations for its TrueShape 3D printed tooling inserts. Collaborations with Westminster Tool, Wepco Plastics and Precision Laser Technology have allowed the startup to expand the applications of its H13 Flowable Metal Paste material, showing its equivalence to conventional H13 tool steel. Attendees at the conference were able to see the precision components (made for prototype and production tools, molds and dies) as well as learn more about Mantle's hybrid technology. You can find out more about Mantle HERE.
Did you attend AMUG 2022? What did you think of the event? Let us know in a comment below or on our Linkedin, Facebook, and Twitter pages! Don't forget to sign up for our free weekly Newsletter here, the latest 3D printing news straight to your inbox! You can also find all our videos on our YouTube channel.
*Cover Photo Credits: 3Dnatives