AMOTool, a free solution to estimate the cost of metal additive manufacturing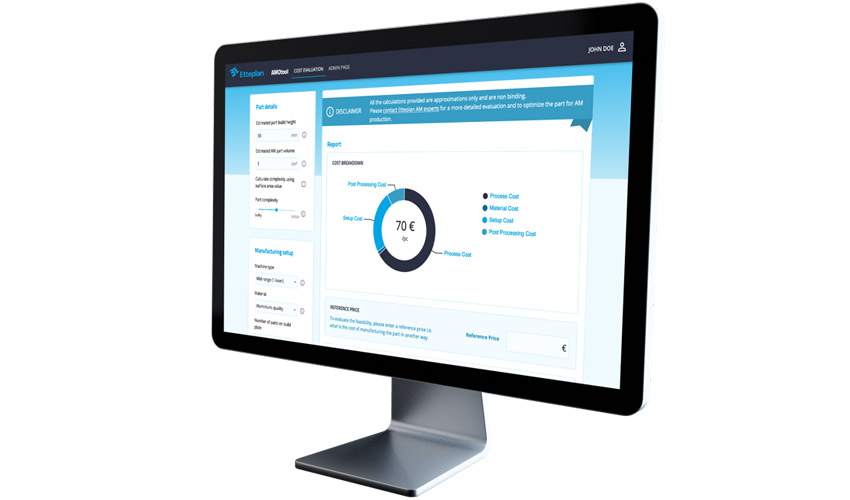 What if you could estimate the production costs associated with additive manufacturing? This is what AMOTool, the new online tool developed by the Finnish company Etteplan, offers. It is actually designed for metal 3D printing technologies and would allow companies to quickly and safely calculate their manufacturing costs, free of charge. Etteplan has now been testing its solution for three years and, after obtaining sufficiently satisfactory results, has decided to finally unveil it to the world. AMOTool allows you to evaluate the cost of materials, the printing process itself and the post-processing steps. A useful tool for understanding the economic benefits of additive manufacturing before 3D printing anything.
While additive manufacturing offers many benefits, it represents a hefty investment for some, especially when it comes to metal technologies. The price of machinery is much higher than average, while the price of metals is rising rapidly. Therefore, it is not easy for a company to get started! Profitability is key for any business and it is vital to keep track of where the expenses are and how much money can be made. With this in mind, the Finnish company Etteplan has been developing its free software for three years now with the support of Business Finland.
How the AMOTool platform works
The solution is based on an algorithm developed by Etteplan's Additive Manufacturing & Optimization (AMO) team, which has been used for many years for various applications. Riku Riikonen, Senior Vice President of Engineering Solutions at Etteplan, explains: "With this tool, our goal is not only to remove a major obstacle, but also to encourage our customers and the industry as a whole to use 3D printing technology and improve product competitiveness. The tool allows us to compare metal 3D printing with traditional manufacturing methods".
AMOTool is cloud-based and can be used free of charge by any user. Users do not need to upload their 3D file to the platform, thus eliminating any intellectual property issues. All they need to do is enter the height and volume of the part in question, information that is easily found in the CAD file. The solution facilitates the following questions: when should metal additive manufacturing be chosen? How much would my part cost if it was 3D printed in metal? Is it necessary to redesign the part? What ROI can I expect? What is the impact of the material on the final price? Finally, AMOTool helps designers make decisions by providing them with valuable additional information. For example, the tool indicates how much material needs to be removed to achieve a financially viable 3D printed product or what would be the best orientation of the part if you need to maximise the number of components on the build plate.
Toni Mattila, Director of Business Finland's Sustainable Manufacturing Finland programme, concludes: "Additive manufacturing methods offer excellent opportunities for companies to improve their profitability and competitiveness. It also increases operational flexibility, which is particularly valuable in exceptional times such as the current one with coronavirus. In addition, these technologies help manufacturing companies to improve material efficiency and sustainability. However, despite the many benefits, many companies remain sceptical about the costs associated with the use of additive manufacturing. This is why it is very useful to open these up with the help of a calculation service such as Etteplan AMOTool. We hope that this free cloud-based computing service will lower the threshold for companies to try 3D printing as a way of adopting future technologies." You can already test the tool HERE.
What do you think of such a solution? Let us know in a comment down below or on our Facebook and Twitter pages! Don't forget to sign up for our free weekly Newsletter, with all the latest news in 3D printing delivered straight to your inbox!