AML3D Created the Largest, Verified Oil & Gas Piping Component Using 3D Printing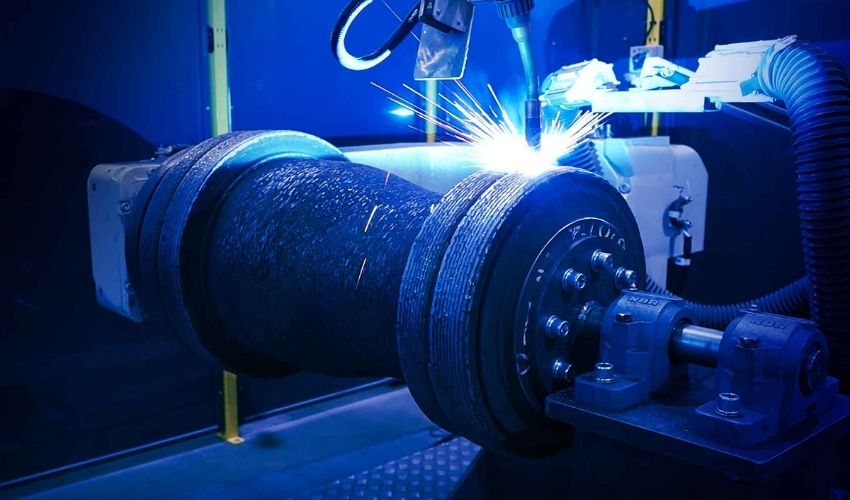 Additive manufacturing in the oil & gas industry is continuing to grow. AML3D has announced that they have made the largest, verified, metal oil & gas high-pressure piping component using 3D printing. It was created using AML3D's Wire Additive Manufacturing (WAM®) process which has can also be used for applications in Aerospace, Defence, Maritime, Manufacturing, Mining and more. Additionally, the was made in accordance with strict safety considerations, notably meeting the highest American standards for parts in the industry.
The announcement of this comes a mere few weeks after MX3D used its own DED-derived technology, WAAM (Wire Arc Additive Manufacturing), to create a safety critical part for the oil & gas industry. Also verified by Lloyd's, the clamping part was created using a hybrid approach and was hoped to decrease environmental, human and safety risks. This shows the increased importance of AM in areas like oil & gas and notably in subsea applications. AM has found a home in the sector as it allows users to quickly make complex parts.
What do we know about the 3D printed, oil & gas part from AML3D?
The part was made using AML3D's patented WAM process which combines combines an electric arc with certified welding wire in a Directed Energy Deposition (DED) process. According to the company, it is notably as it can be used to print large metal parts an open free-form fabrication environment using localised inert gas, eliminating the need for a chamber. The high-pressure component was printed in one piece and showed improved material properties and was manufactured in significantly less time than traditional methods.
Safety was also paramount when it came to the part. In fact, the940kg monocque "piping spool" component was created in accordance with the stringent and newly released American Petroleum Institute (API) Standard 20S before also passing acceptance testing for ASME B31.3, another well used American standard for these applications. It went through rigorous high pressure testing and according to AML3D, it is the first of its type to be metal 3D printed and independently pressure tested, in the world.
Andrew Sales, AML3D's Manging Director, concluded "AML3D is thrilled with the results from the high-pressure testing witnessed and verified by Lloyd's Register. We now have a high level of interest already shown by participants in the Oil & Gas sector and are in discussions with several opportunities. The ability to demonstrate to this sector the capabilities and outstanding test results of our patented Wire Additive Manufacturing (WAM®) process opens the door for far greater applications." You can find more information HERE.
What do you think of this oil & gas piping component from AML3D? Let us know in a comment below or on our Linkedin, Facebook, and Twitter pages! Don't forget to sign up for our free weekly Newsletter here, the latest 3D printing news straight to your inbox! You can also find all our videos on our YouTube channel.