AMFG on its end-to-end workflow management solution for autonomous AM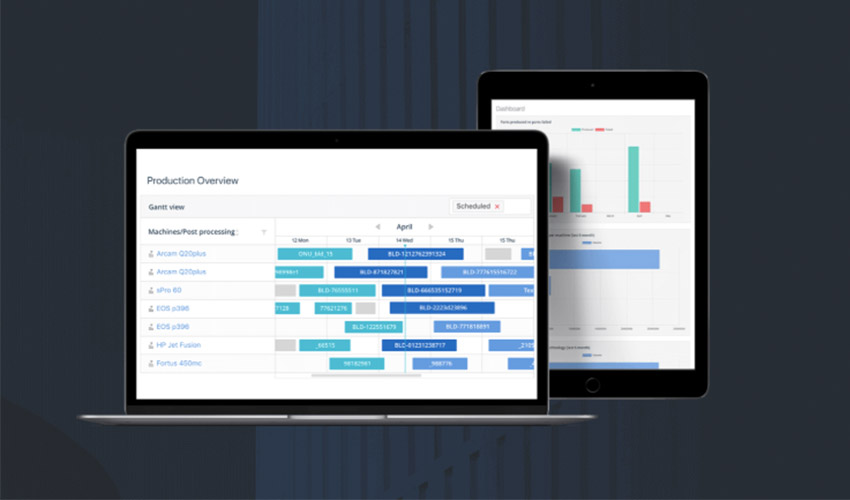 As companies start to adopt 3D printing at a larger scale, the need to adopt a tool to manage the additive manufacturing workflow is becoming greater. Any industry needs software to manage operations if it aims to be efficient and grow. In the 3D printing sector, the London-based company AMFG  identified this need clearly and decided to offer AM workflow automation software for companies. Their software is a complete, end-to-end workflow management solution – What does this mean? What are the benefits of adopting such a solution? Which sectors are already benefitting from the adoption of automated software? In order to answer these questions, we spoke to the founder and CEO of AMFG, Keyvan Karimi. 
3DN: Could you present yourself and your link with additive manufacturing?
My background is in Industrial Engineering, in which I graduated. For a number of years, I worked across the automotive, retail and banking industries, leading global enterprise automation projects. I've been working professionally within additive manufacturing for over 6 years now — but I've always been fascinated by the technology's potential. I truly believe that AM can revolutionise manufacturing and supply chains, and therefore have a profound impact on society. 
3DN: Could you tell us more about AMFG? How would you describe the company to someone who doesn't know what you do?
AMFG offers workflow automation software for additive manufacturing. AMFG stands for 'Autonomous Manufacturing', and that is our vision — to enable autonomous additive manufacturing through automation.  The company was founded because we saw a crucial need in the market. The industry was making the shift towards manufacturing, and more and more companies were beginning to adopt 3D printing as they recognised the technology's potential for applications other than prototyping. 
Yet, companies lacked the in-house capabilities to effectively manage their operations. They had invested in hardware and materials, but hadn't really thought about the software side of things.  Everything was manual, from handling requests to scheduling production. In traditional manufacturing you have Manufacturing Execution Systems (MES) to optimise production processes — and we believe it should be the same for additive.  So AMFG was founded with the goal of empowering companies to automate, streamline and connect their AM workflows. We've had customers who've come to us having previously used spreadsheets, disparate software systems or even paper-based processes to manage their production, which just isn't scalable. 
Our solution is unique because it's the only software platform that offers a complete, end-to-end workflow management solution for AM. This means we're able to manage the entire workflow, from request management, printability analysis and machine analytics to production scheduling, post-processing management and communicating with suppliers.  Another benefit is the level of flexibility our software offers. I'm confident in saying that we offer the greatest level of flexibility on the market. We know that every company has its own unique approach to AM, which is why we've made it a priority to offer flexible software solutions. We have OEM customers across all industries, including automotive, consumer goods and industrial goods, as well as specialist service bureaus. We offer tailored solutions for both segments.
3DN: What are the benefits of implementing workflow automation solutions for additive manufacturing? For which sectors is it most beneficial?
Workflow automation software is crucial for any company looking to get the best ROI from additive. It eliminates the time you spend on manual tasks like data collection, cost tracking, scheduling builds etc., and makes the entire production process much more efficient. For example, imagine you're running an RP department, where you're handling large volumes of requests on a daily basis. Ensuring the files are suitable for print, communicating with internal users, standardising the request process — all of these tasks are incredibly time-consuming when done manually. 
A good workflow software solution automates this process. In this scenario, AMFG offers an integrated order management system to streamline the order management process. In turn, the RP department benefits from faster lead times, a better user experience and greater transparency, allowing it to scale its activities effectively. Equally, whether using AM for prototyping, tooling or end-use parts, companies often struggle with inadequate planning tools and not having a clear overview of their machine status. This is a particular bottleneck when a company is running operations in different locations and lacks that visibility. 
We approach this challenge by offering a centralised production planning and scheduling system, which enables you to track parts and view projects, allowing for greater traceability. We're also working on connecting directly to the machines themselves, which will take us one step further towards a fully automated AM production line. Ultimately making a business case for AM is key. Workflow software can provide the ROI needed by making significant cost savings, optimising machine utilisation and eliminating the risk of human error. 
3DN: Could you give some concrete examples of how your software works?
In the automotive industry, some of the largest car manufacturers are using AMFG to manage their end-to-end AM workflows, from order management to production scheduling — and even managing their suppliers. For example, one manufacturer, having already established a business case for additive manufacturing internally, is deploying our software to support their ordering and manufacturing processes. They've been able to increase the efficiency of their operations and enhance communication between the different departments by using our software. 
Another manufacturer had established a new business unit specifically for AM. From the outset, they were looking for workflow software to manage this process, but this needed to be integrated with their existing ERP software. We were able to meet both needs, and now they have a smooth, synchronised workflow. 
We also have a lot of great examples on the service bureau side. We recently published a case study on how a large UK service bureau, Graphite Additive Manufacturing, increased revenue by implementing several modules of our workflow software. Bowman International, which is a leading manufacturer of bearings, is using our software to manage important backend tasks like project management and production scheduling. Those are just some of the examples of companies successfully using AMFG to solve key challenges. 
3DN: Do you think many companies will adopt AM workflow automation software in the years to come? What sort of companies?
I believe that the demand for workflow automation software will only increase as companies continue to adopt 3D printing internally. Manufacturers producing only a few hundred parts annually could continue without workflow software, as these volumes can be managed on a small scale. That said, companies with a vision of scaling their AM operations — and we're talking production into the tens and hundreds of thousands of parts per year here — will undoubtedly need workflow software to run their operations efficiently.  Fortunately, companies are beginning to recognise this need. And looking at the overall growth of the industry, we're very positive about the opportunities for the workflow software market in the years ahead. 
3DN: Any last words for our readers?
3D printing is a really exciting space right now, and the industry is seeing huge progress in terms of its maturity and industrialisation. We can comfortably say that 3D printing has become a viable manufacturing technology. Our aim is, and has always been, to be at the forefront of enabling autonomous manufacturing, so that companies can truly unlock the benefits of AM.
What do you think of AMFG's platform? Let us know in a comment below or on our Facebook and Twitter pages! Sign up for our free weekly Newsletter, all the latest news in 3D printing straight to your inbox!